How John Krasinski Went From Jim Halpert On The Office To A Certified Action Star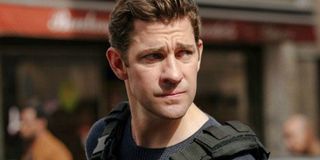 For quite some time after the inaugural episode of The Office premiered on NBC on March 24th, 2005, it seemed that John Krasinski would be permanently known and referred to as "Jim from The Office" by the public-at-large. It was one of those defining roles that stuck to the TV actor no matter how he tried to branch off after his time in the workplace-based sitcom end. While it's a good fortune for performers to find that level of adoration and recognition with their work, it has also made fans of the show wonder, "What will John Krasinski do next?" Luckily, he's finally branching out beyond Scranton and his former alter ego.
Over the past year+, John Krasinski released the one-two punch of A Quiet Place and Amazon's Jack Ryan, two action-intensive projects which suggest that Krasinski will have a fruitful, intriguing career away from Dunder Mifflin Paper Company. Here's how Krasinski went from being Jim Halpert to proving himself as an unexpected action star, not to mention his promising turn behind-the-camera as a writer/director. After all, it has been a long time coming, and unlike Jim Halpert, Krasinski hasn't been lazy when it comes to finding success.
Early Career
During the early days, John Krasinski, a soon-to-be actor, expanded himself in a variety of different fashions. He caught the acting bug fairly early in his life, making his debut on the stage as Daddy Warbucks in a sixth-grade production of Annie. Krasinski also starred in a play written by B.J. Novak, his future Office co-star, in high school. Before he went to college, however, young John Krasinski taught English as a foreign language in Costa Rica.
Also, in college, John Krasinski helped to teach youth basketball at Gordon School. He attended college at Brown University, studying for an English degree, not for acting. He always had an interest in plays and theater, and he continued that interest when he attended the National Theater Institute. Before that, John Krasinski studied at the Royal Shakespeare Company in England and the Actors Center in New York. Clearly, he branched out.
From there, John Krasinski continued to pursue acting in NYC. He found himself in commercials and TV shows. The actor also interned as a scriptwriter for Late Night with Conan O'Brien in 2000. It would not be until a few years later when the rising actor found his big break with NBC's The Office.
Starring As Jim Halpert In 'The Office'
For most actors, the dream is to make it big doing what they love. Few sitcoms have matched the high success The Office found when it first aired in 2005. A remake of the excellent BBC series of the same name, now often referred to as The Office U.K., there was reason to believe NBC's The Office would be another lackluster attempt to recreate a classic British sitcom for American audiences. But as it turns out, there is something universal about the mundane world of corporate work. Through their own unique array of characters and added bouts of heart, the series made a big impact.
One of the main reasons why The Office became such a smash success, however, was John Krasinski's adorable, lovable puppy-dog performance as Jim Halpert. The class clown of the company known for pulling elaborately-staged pranks on his fraught co-worker, Dwight Schrute (Rainn Wilson), and harboring a secret/not-so-secret crush on Pam Beesly (Jenna Fischer), Jim Halpert would typically break the fourth wall in this mockumentary series with his knowing looks to the camera. He also used his wry, deadpan sense of humor to try to make sense of the quirky trivialities of his 9-to-5 workplace.
As a result, Jim Halpert became the everyman Midwestern/coolest guy in the room that audiences could either relate to or wish they were in the office setting. Even though there was sometimes a maliciousness to his pranks on Dwight, Jim was clearly a good-hearted guy who knew what to say to get a quick laugh, but he was also sweet and mild-mannered in a way that made him seem cuddly and appealing during the endearing sitcom's constant "will they/won't they" romance peppered throughout the series' extended run. It was a winning combination, one that found John Krasinski earning a wealth of fans and loyal viewers as The Office continued to skyrocket in popularity.
Of course, when one thinks of Jim Halpert, they don't necessarily think "action."
Work In Movies And Television
When Jim Halpert wasn't fulfilling his duties at Dunder Mifflin, John Krasinski branched into different projects. The actor played roles in underwhelming studio comedies like License to Wed, Leatherheads and Something Borrowed. However, Krasinski proved his drama chops with the underrated indie Away We Go, and the actor also took supporting turns in Jarhead, Kinsey, Dreamgirls, The Holiday, It's Complicated, and Shrek the Third, to name a few different roles.
Additionally, when John Krasinski wasn't working on The Office, the actor was hard-at-work on his directorial debut, an adaptation of David Foster Wallace's Brief Interviews With Hideous Men. An ambitious but ultimately middling first film, it did showcase a sense of drive and determination behind the camera that wasn't yet fulfilled. He later co-wrote the intriguing, if lukewarm, drama Promised Land with Matt Damon, and he also directed his sophomore film, The Hollars, which was another underwhelming Sundance effort that was benefitted by strong performances from its talented cast.
Beyond extending himself as a producer, including an executive producer credit on Best Picture-nominee Manchester By The Sea, John Krasinski took one of his biggest departures from his familiar comedic persona with one of the lead roles in Michael Bay's 13 Hours, which required the lanky actor to bulk up and play with serious firepower. It wasn't a success, but it did show promise for the one-time sitcom actor to potentially be a big name in a different genre. Additionally, his small appearances in dramatic films like Big Miracle and Kathryn Bigelow's Detroit showed the sitcom star wanted to put comedies behind him.
Directing And Starring In 'A Quiet Place'
After several attempts to strip away his calling card as Jim Halpert fell short, John Krasinski finally found a project that proved his versatile talents. A Quiet Place was a concept-heavy horror-thriller co-written and directed by Krasinski, which the actor also starred in alongside Emily Blunt, his real-life wife, and Millicent Simmonds and Noah Jupe, that didn't necessarily seem like a guaranteed success at first. While the trailer was promising, it wasn't clear if this movie was going to actually live up to its firm potential, or if it would become one of those underwhelming films that didn't match the trailer.
Thankfully, A Quiet Place was the former rather than the latter, telling a heartfelt, commendably-handled story about the terrors weary parents face in a dangerous and uncertain world. It not only showed that John Krasinski had what it take to lead a dramatic film with ease and wide appeal; it also showed that the third time was the charm for Krasinski as a director, with the film carrying a craftsmanship and careful control that was only fleetingly found in his previous directorial efforts. Particularly when it came to the intense action-based scenes, Krasinski held his own — in front and behind the camera.
Later that same year, John Krasinski frontlined the new Amazon series, Jack Ryan, which was yet another adaptation of the popular literary character. Recent attempts to bring the character to the screen have ultimately fallen short, but Krasinski used his newfound star power from A Quiet Place to bolster up the dramatic, action-packed series, while also showing viewers that when it came to his acting capabilities, A Quiet Place wasn't a fluke. He could successfully carry himself as an action performer. Can you think of any other sitcom stars who have made such a stark transition into action?
Indeed, John Krasinski might've been short-changed in the past, but it's clear that even from the beginning, the actor had ambitions to push himself into new territory and expand himself in a variety of different ways. That will continue with A Quiet Place 2, which Krasinski is currently directing. The horror sequel is expected to hit theaters on March 20th, 2020.
And without getting into spoilers, Krasinski will primarily be sticking behind-the-camera this time around, which should hopefully let the filmmaker continue to excel and allow viewers to see what else he can do as an on-the-rise director.
Additionally, Jack Ryan has also been renewed for a second season, which should also come out sometime next year. Indeed, John Krasinski is certainly keeping himself busy with these two projects in particular, and it's clear that he has the muscle to stretch himself as an action star now too. We'll continue to keep you posted on the latest news related to John Krasinski and more right here at CinemaBlend.
Your Daily Blend of Entertainment News
Will is an entertainment writer based in Pittsburgh, PA. His writing can also be found in The Playlist, Cut Print Film, We Got This Covered, The Young Folks, Slate and other outlets. He also co-hosts the weekly film/TV podcast Cinemaholics with Jon Negroni and he likes to think he's a professional Garfield enthusiast.