From John Cena To Steve Urkel: The Weirdest Scooby-Doo Crossovers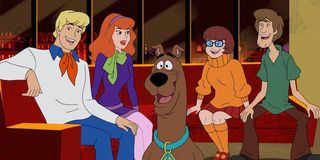 Scooby-Doo, Fred, Daphne, Shaggy, and Velma are back to solve more creepy mysteries, but they are not alone this time. With Boomerang's new series Scooby-Doo and Guess Who?, Mystery Inc. will team up with a rotation of famous guest, featuring Sherlock Holmes, Wonder Woman, Ricky Gervais, and even Jaleel White reprising his Family Matters role of Steve Urkel.
While many of those people sound very unlikely for a Scooby-Doo adventure, that's just the tip of the iceberg regarding how weird these crossovers have gotten. Throughout its 50-year history, Mystery Inc. has joined forces with the likes of The Three Stooges, The Harlem Globetrotters, Gary Coleman, and many other team-ups that resolve big mysteries and involve things like haunted carnivals.
If just those names are enough to raise your eyebrows, just you wait. Read on to learn about the most puzzling, yet often endearing, Scooby-Doo crossovers ever.
Batman
Kevin Conroy is set to star in his first team-up with Scooby-Doo as Batman in Scooby-Doo and Guess Who? However, this will be far from the first pairing between Mystery Inc. and the Caped Crusader.
In two episodes of Hanna-Barbera's The New Scooby-Doo Movies in 1972, Scooby-Doo required the help of Gotham's Dark Knight to solve mysteries, both involving The Joker and The Penguin. Those episodes would later serve as the basis for a 2018 feature-length movie, Scooby-Doo & Batman: The Brave and the Bold, featuring Diedrich Bader as the voice of Batman.
A crossover of this kind sounds completely out of left field, especially if you follow Frank Miller's or Christopher Nolan's interpretations of the DC crime fighter. However, given the less dark approach to the character in the early '70s and Batman: The Brave and the Bold series' attempt to capitalize on that old-fashioned take, it's no mystery why this pairing works.
Johnny Bravo
The fast-talking, slow-witted, egomaniacal, pretty-boy title character of the Cartoon Network original series Johnny Bravo has become an iconic figure of the Hanna-Barbera lexicon since its seven-year run ended in 2004. Early in Season 1, the show saw a meeting between Johnny and one of Hanna-Barbera's most essential characters, Scooby-Doo.
Johnny Bravo is stranded on the side of the road on the way to his Aunt Jebedissa Bravo's creepy old house when he hitches a ride on the Mystery Machine with Scooby-Doo, Shaggy, Fred, Daphne, and Velma. The visit turns into a mystery to find the missing Aunt Jebedissa and the prime suspect is a Ghostly Gardener, who turns out to be Jebedissa trying to scare Johnny away because she sees him as a family embarrassment.
This crossover episode of Johnny Bravo feels like a natural fit for Scooby-Doo and the gang, given the kooky persona Johnny shares with the characters, mostly Shaggy and Scooby, of course. Still, Johnny spends less time gathering clues and more time hitting on Daphne and maintaining the shape of his hairstyle.
Davy Jones
No, not Pirates of the Caribbean's Davy Jones. The Monkees' Davy Jones. You know, the singer?
Back in 1972, when Scooby-Doo cartoons still had a laugh track, Scooby-Doo and Mystery Inc. found themselves on the property of pop singer Davy Jones (voiced by himself for an episode of The New Scooby-Doo Movies), who has been dressing up as a knight trying to scare away a Headless Horseman haunting his inherited castle. Scooby-Doo, Shaggy, Fred, Daphne, and Velma decide to help Davy stop the villain.
The episode, like the many Scooby-Doo team-ups that feature musicians as guests, including Sonny and Cher or Josie and the Pussycats, plays out much like a psychedelic music video. Mystery Inc. soon discover that in this mystery, with Davy Jones by their side, their best weapon against evil is music.
KISS
Speaking of music, in 2015, Scooby-Doo and Mystery Inc. teamed up with a musical group that actually sounds like a fitting pairing given the kind of career the group has had.
In Scooby-Doo! And KISS: Rock and Roll Mystery, the gang must join forces with rock stars Gene Simmons, Paul Stanley, Eric Singer, and Tommy Thayer to stop an evil witch haunting KISS World, the band's own theme park. If that does not sound exaggerated enough to you, the members of KISS also have superpowers.
As expected, this straight-to-video feature-length animated Scooby-Doo film features many hits from the KISS catalog, including "Rock and Roll All Night" and "I Was Made For Lovin' You." Bonus fact: it also features a brief voice cameo by director Kevin Smith.
John Cena
If you think that Scooby-Doo teaming up with a rock band is odd, how about a professional wrestler? Who else but John Cena?
In Scooby-Doo! WrestleMania Mystery, Scooby-Doo, Fred, Daphne, Shaggy, and Velma win tickets to the huge WWE event, which happens to be threatened by a giant ghost bear. The gang helps John Cena, Triple H, The Miz, AJ Lee and more (voiced by themselves) to solve the mystery.
John Cena's animated counterpart bears a near perfect resemblance to the wrester-turned-actor. For extra authenticity, his shirt is off almost 100 percent of the time.
Bobby Flay And Giada De Laurentiis
The one thing that Scooby-Doo and Shaggy would rather do than investigate eerie phenomena is eat. If only they could incorporate food into their mystery solving without it being a distraction…
In 2018's Scooby-Doo! and the Gourmet Ghost, Scooby-Doo and Shaggy finally get their wish when Mystery Inc. pays a visit to Fred's uncle, the world famous chef Bobby Flay, who is hosting a culinary resort with his Food Network Star co-host Giada De Laurentiis. Of course, wherever the gang goes, ghosts appear, and that is just what happens.
Seeing Scooby-Doo and Shaggy join forces with professionals whose work they greatly admire is delightful. That is until the food puns begin to wear thin.
Supernatural
The long running CW series just about reached the peak of its comedic tone in Season 13 when Dean Winchester (Jensen Ackles), Sam Winchester (Jared Padalecki), and Castiel (Misha Collins) went animated. That way, they were able to solve a mystery with their childhood heroes: Scooby-Doo, Fred, Daphne, Shaggy, and Velma.
In this special Supernatural episode, titled "ScoobyNatural," a haunted television sucks Dean and Sam Winchester into the animated world of Scooby-Doo and Mystery Inc. When a dangerous phantom begins attacking Crystal Cove, the paranormal investigators must all must band together to stop it.
"ScoobyNatural" is an interesting change of pace for both of the worlds it brings together. The episode gives the Supernatural characters a chance to really let loose with their more cartoonish side and finally forces Scooby-Doo and the gang to confront an actual ghost and not a greedy real estate developer in disguise.
It is nice to know that whenever Scooby-Doo, Fred, Daphne, Shaggy, and Velma are facing trouble, they can often rely on a random celebrity or fellow character of popular fiction to help them save the day. Are there any other bizarre Scooby-Doo crossovers I missed? Give me a clue.
This poll is no longer available.
Jason has been writing since he was able to pick up a washable marker, with which he wrote his debut illustrated children's story, later transitioning to a short-lived comic book series and (very) amateur filmmaking before finally settling on pursuing a career in writing about movies in lieu of making them. Look for his name in just about any article related to Batman.
Your Daily Blend of Entertainment News
Thank you for signing up to CinemaBlend. You will receive a verification email shortly.
There was a problem. Please refresh the page and try again.