6 Rock Bands Who Need A Film Like Bohemian Rhapsody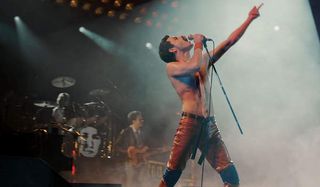 Bohemian Rhapsody's story has had the world talking about Queen again and has sparked a new wave of interest in the band's music. It wouldn't be surprising if a lot of other current and former rock groups are taking note of the success and planning their own big-budget biopics for the world to see. In no particular order, here are some rock bands' stories we'd like to see recreated on the big screen.
Black Sabbath
There's plenty of heavy metal bands from around the same era as Queen and beyond that could get a Hollywood feature about them, but only one has Ozzy Osbourne. Of all the rotating members Black Sabbath had throughout its run, he's the Freddie Mercury to the band's Queen. Well, at least in the sense that he'd need a portrayal worthy of the stories surrounding him, and a character most the audience would like to see the most of.
Ozzy's wild antics that led to his dismissal from Black Sabbath, and that would be a point of interest, but it's not the only part of the band's history worth telling. The band also featured Ronnie James Dio, Deep Purple's Ian Gillan, and even an alleged audition from Michael Bolton. A scene built on the latter mention alone would be worth the price of admission, especially in a movie with the ability to get as dark as the ritual the band is named after.
The Beatles
This is a fairly obvious one as it seems inevitable someone will attempt to create a comprehensive story of the Fab Four on film. They'll have quite a difficult task on their hands as condensing the story and various phases of The Beatles will be difficult to accomplish. It's probably why all attempts prior to now have largely focused on one member (like Nowhere Boy) or very specific events.
The most interesting portion of The Beatles' career to tackle would be the era between Abbey Road and the well-publicized end of the band. All other pieces of the band's past could be relived in short flashback moments, perhaps in a way similar to The Social Network. The tension and factual nature of events would be a challenge to nail down, but if Hollywood got it right, it'd be the film fans have been waiting on for a long time.
Devo
There's more to that band who sang "Whip It" than weird hats, and it could make for a solid story. For those that don't know, Devo's concept was rooted in the belief that mankind was de-evolving over time. The concept began as a joke between two Kent State art students Gerald Casale and Bob Lewis, who met keyboardist Mark Mothersbaugh the same year as the infamous Kent State shootings. The joke then became the basis for their band.
Devo's schtick and impact on music videos would keep them in the public eye for quite a while. Its style and type of humor still jive with the memes of today, mainly because it's so offbeat. A movie, if nothing else, would at least shed some light on the vision the band sought out to spread, and the bizarre success they created with it. Plus, it might get "Whip It' on the radio again, which is never a bad thing.
Red Hot Chili Peppers
This is another band that would be hard to do a cohesive movie on because the Red Hot Chili Peppers legacy bleeds into so many eras. Obviously, the band didn't find mainstream success until 1989, but that success has continued all the way up into the modern day at an even rate. That said, a '90s-era flick would certainly hit on the nostalgia of an era that hasn't gotten a music film in a while.
This could lead to depicting events such as Woodstock 94, which could then create cameo appearances by folks portraying Trent Reznor, Green Day and others. Of course, there's the typical rock and roll struggle as well that makes RHCP a great subject in general. With the band still making music, it may be a while before this happens, so I can only hope they'll one day sell their story and "give it away, give it away" to a competent screenwriter.
Led Zeppelin
How has Hollywood gone all these years without trying to "get the Led out"? Sure the band had a fleeting reference in Almost Famous, and Thor: Ragnarok and School of Rock wouldn't be the same without "Immigrant Song," but where's the feature-length film that captures the band's wildest exploits when its members were at their peak?
Specifically, a Led Zepplin film should delve into the wild time the band spent at The Edgewater hotel in Seattle. There have been some pretty wild allegations that are rumored to have gone down during that stay, the wildest of which involved a mud shark. Beyond that bit of grotesque imagery, there was enough debauchery of other sorts that resulted in one of the nation's top acts being permanently banned from the establishment. Basically, this could be the ultimate party movie.
KISS
This is just in case Kiss Meets The Phantom Of The Park or Detroit Rock City didn't tell enough of the band's story. Obviously, there have been attempts to capitalize of the highly marketable nature of KISS throughout its career, but will there ever be a story that tells the true nature of the band? Will the world ever get a real biopic that covers a real factual account of all the members' time in the band?
If not, it wouldn't be the worst thing in the world. After all, if there was any band that someone could highly exaggerate and stylize the story of, KISS has the perfect image for it to be done. Just imagine Across The Universe but with KISS songs, and try to act like it's not the rock opera the world has always needed.
Obviously, this only scratches the surface of the multitude of bands that deserve their own big-budget adventure. Readers can make their suggestions in the comments below, and for more on Bohemian Rhapsody, read more on Rami Malek's transformation into Freddie Mercury and the depths of his character he sought out to explore in the rock legend.
This poll is no longer available.
Mick likes good television, but also reality television. He grew up on Star Wars, DC, Marvel, and pro wrestling and loves to discuss and dissect most of it. He's been writing online for over a decade and never dreamed he'd be in the position he is today.
Your Daily Blend of Entertainment News
Thank you for signing up to CinemaBlend. You will receive a verification email shortly.
There was a problem. Please refresh the page and try again.