John Cena's 5 Best Movie Roles, Ranked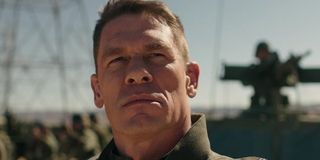 Both physically and professionally, John Cena has been a big man for a very long time. But these past few years have been huge for the professional WWE wrestler-turned-Hollywood actor. In less than five years, John Cena went from being a popular athlete on television to one of the most bankable actors in Hollywood at the moment. Not everyone can say they've done that before — or, at least, that they've done it well as Cena has these past couple years.
Indeed, John Cena's fame is ballooning just like his biceps, and it doesn't look like things will be slowing down anytime soon. Particularly with hot roles coming up soon in major studio properties, including his forthcoming part in The Voyage of Doctor Dolittle and his rumored role in The Suicide Squad. With that, we're taking a moment to celebrate the five roles that prove John Cena has become a fun, versatile, committed and commendable rising actor.
Now, before we get ahead of ourselves, it should be noted that I'm ranking these performances according to personal preference from least to greatest, with the first one being my least favorite of the favorites, while the last one here is my favorite of the favorites from the John Cena movies lineup. Hopefully that makes sense. In any case, each of these roles showcase a wealth of promise for the veteran professional WWE wrestler to make his way into the world of film acting.
John Cena has already amassed more credits than muscles at this point, and that's certainly no small feat. There's a good chance that we'll be seeing more of John Cena, the big-time actor, in the years to come. For now, however, here's my ranking of John Cena's best performances to date.
Bumblebee
In the Transformers series, the larger-than-life characters are often the giant anamorphic alien robots who turn into assorted trucks and vehicles. But John Cena give those Autobots and Decepticons a run for their money in the role of Agent Jack Burns, a grizzled, vengeance-focused colonel who sees Bumblebee has a threat that must be eliminated as soon as humanly possible. But while he is one of the main antagonist of the film, that doesn't mean that he puts his movie star charms aside and reside too deeply into the internal anguish of the character.
Often, John Cena's Agent Burns provides the film's funniest lines, particularly through his dry delivery. And yet, his wholehearted commitment to the film's goofy premise helps to sell the film's earnest '80s-esque sense of wonder, giving it the right sense of charm and captivation that was typically lost in the other Transformers sequels. While Cena doesn't quite match the size of his title co-star, his larger-than-life demeanor makes a good impression.
The Wall
As you'll see in this list, John Cena has collected a variety of comedic roles. However, as an actor hoping to prove himself throughout a variety of different roles and films, Cena has also expanded into some serious-minded territory as well. The results have ultimately been more mixed, but he did find a win with The Wall, Doug Liman's intense, visceral war thriller which finds an Iraq War sniper (Cena) and a spotter (Aaron Taylor-Johnson) fighting for their lives when a mission does dramatically (and deathly) wrong.
As U.S. Army Staff Sergeant Shane Matthews, John Cena showcases his comedy chops briefly in the movie's opening moments. But it doesn't take long before shots are fired and violence ensues, and Cena's role in the film becomes a whole lot more dramatic. As a rare opportunity to prove himself beyond his action and comedy skills, Cena proves that he has the potential to expand himself as an actor and elevate himself beyond the short-sighted aspirations of a few casting directors out there in Hollywood. As a result, John Cena's work in The Wall should hopefully allow him to expand as a dramatic actor, much in the same way that Trainwreck allowed John Cena to become the comedy mainstay he has been these past several years.
Sisters
In 2015, John Cena was best known for his memorable work in Trainwreck (more on that soon). But there was another R-rated comedy where his large-and-in-charge comedy stylings proved to be very beneficial. Specifically, that film was Sisters, the Tina Fey-Amy Poehler studio comedy which imagined two party-loving siblings throwing a hell of a rager when their parents suggest they sell their childhood home. In the midst of the party festivities seen on-screen is Pazuzu, a heavily tattooed drug dealer who is invited to bring some weed to the partying.
In the film, John Cena is expected to play it straight more than he normally does in studio comedies, often portraying a silent, menacing type who lets his imposing physicality speak for him. As a drug dealer with an inconceivably high amount of drugs (no pun intended) as his disposal, his presence in the film definitely heightens things, though not in the way it does in the other R-rated comedies mentioned in this article. Nevertheless, through another solid and often-funny role in a major studio comedy, John Cena continued to prove himself as a flexible, yet dependable, big-time comedic presence.
Blockers
Only a few years after the success of Trainwreck, John Cena was once again able to stretch his comedy capabilities in a major studio comedy. It also helped that the actor was given a bigger, more prominent role in the film as well. That movie in question is Blockers, a charming, heartfelt R-rated comedy that is centered around a trio of helicopter parents (Ike Barinholtz, Leslie Mann and Cena, of course), who dedicate to sabotage their teenage daughters' prom night in order to prevent them from losing their virginities. It's a pretty bonkers premise, and one that was definitely heightened by Cena.
As Mitchell Mannes, the beefy softie of the group, John Cena played into the tropes of your typical sports-loving overprotective parent who is so caught up in keeping his daughter's child-like innocence that he is ignoring the realities of your children growing up and becoming functioning adults. By having John Cena in the film in one of the lead roles, there's inherently something outright silly about the film. Because really, how many suburban dads look like him? But to the actor's credit, he really leans into that silliness, playing the film's premise up to the full extent while never making it too goofy or ludicrous for its own good. The result, particularly towards the emotional third act, is a film with a big heart as well as some hearty gaffs.
Trainwreck
While John Cena had already proven himself to be a muscle-bound, charismatic television personality with almost two whole decades of professional wrestling experience under his WWE heavyweight championship belt back in 2015, his acting skills were still left into question a mere few years ago. The actor had tried — and failed — to expand himself into action superstar status with misfire efforts like The Marine and 12 Rounds, and it wasn't crystal clear if audiences would be seeing more of John Cena on the big screen. Well, that certainly changed when Cena proved his big comedy chops in Trainwreck.
In Judd Apatow's sharp, appealing romantic comedy, Trainwreck, John Cena only appeared in a supporting role as Steven, Amy Schumer's muscular, high-strung casual boyfriend. But in his limited screen-time, much like fellow scene-stealer LeBron James, Cena proved to be surprisingly dedicated to the film's raunchy comedy, while also showcasing a surprise knack for improvisation. The result was an impressive and winsome performance which helped paved the way for more roles in future comedies.
While John Cena is in his 40s by now, his acting career remains relatively young. His future roles suggest that his aspirations will be pushed into more blockbusters in the vein of Bumblebee than the smaller-scale comedies and dramas that he has been accustomed to thus far. Hopefully, that transition into bigger and better things proves to be beneficial. If not, there are always comedies out there that could use his skills, his talents and his dedication.
It should also be noted that in addition to the upcoming roles mentioned earlier, we can also look forward to seeing John Cena in Project X-Traction, which is an action-adventure-thriller, also starring Jackie Chan, that's expected to come out later this year. Furthermore, Cena won't be too far from the small-screen either, as he will become the new host of Are You Smarter Than a Fifth Grader?, which begin its revamped run on Nickelodeon in June.
As for what else is in store for his career, there are some murmurs that he might be involved with the new Fast & Furious movie. That's not confirmed, but it's not hard to see Cena lending his larger-than-life muscle-bound talents to those already-ludicrous action flicks. It would probably be one of the best showcases in Hollywood, truth be told, assuming that John Cena would be given a chance to play up the silliness well-established in the series.
But no matter what is in store for John Cena, we'll be sure to keep you posted on all the latest news, updates and more right here at CinemaBlend.
Your Daily Blend of Entertainment News
Will is an entertainment writer based in Pittsburgh, PA. His writing can also be found in The Playlist, Cut Print Film, We Got This Covered, The Young Folks, Slate and other outlets. He also co-hosts the weekly film/TV podcast Cinemaholics with Jon Negroni and he likes to think he's a professional Garfield enthusiast.