The Most Successful Actors Who Ever Guest Starred On CSI, CSI: Miami and CSI: New York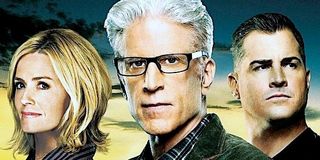 Before the show investigated its last crime in 2015, CSI defined a whole new millennium of hit television. In the years after the CBS crime drama first premiered back in October 2000, CSI blew up into an extremely popular TV franchise, the likes of which will rarely — if ever — be seen on broadcast TV again. That highly syndicated empire eventually expanded with spinoff shows like CSI: Miami and CSI: New York, as well as the more short-lived CSI: Cyber.
CSI was practically an institution of television until the flagship drama and its spinoffs came to their respective ends. There are approximately 797 episodes of CSI out there, which adds up to nearly 25 days of forensics bliss. (Well, not for the victims.) And when each of the CSI series were on the air, they welcomed a treasure trove of talent. It's hard to fathom how many eventually famous faces made their way onto these crime investigation shows — more often than not, these cameos were made before the stars were famous.
Therefore, let's take a moment to highlight just a few of the most noteworthy cameos and surprising guest star appearances, celebrating the insane talent that's been seen on both CSI and its localized spinoffs. There are, of course, a lot of cameos that get overlooked here, for brevity's sake. But be sure to let us know in the comments which are your favorite cameos.
Justin Bieber As Jason McCann (CSI: Crime Scene Investigation)
In 2010, Justin Bieber was quickly becoming one of the biggest pop stars on the planet. The young, boyish musician was known for his radio-friendly tunes, earning no shortage of fans with his bubblegum hits. The singer decided to take a break from music-making, though, to flex his acting skills (or, perhaps, the lack thereof) in the Season 11 premiere of CSI: Crime Scene Investigation. Clearly, in the world of television, this guest star appearance was a big get.
In what was only his second TV acting job, Justin Bieber played Jason McCann, a dangerous young man who was pretty far removed from the squeaky-clean image the young star had built up. Specifically, McCann was both a serial killer and a serial bomber, and was certainly a dangerous opposition for the crimefighters to face.
Justin Bieber's Jason McCann appeared in two episodes, and was killed in a hail of bullets, though not before he'd killed five different people and attempted to slay ten (or more) throughout his time on the show. It was certainly a darker turn than some fans might have expected from the young musician, although acting isn't really something The Biebs returns to all-too-often.
Channing Tatum As Bob Davenport (CSI: Miami)
Channing Tatum broke out big with 2006's Step Up before making an even bigger splash with critically acclaimed movies like Magic Mike, 21 Jump Street, Foxcatcher, Logan Lucky, Hail, Caesar!, Side Effects, The Hateful Eight, The Lego Movie and more. Before all that, though, Channing Tatum was an up-and-coming model and stripper working his way into the acting field with brief appearances in film, music videos and television shows.
One of Channing Tatum's very first acting gigs was an appearance in season three of CSI: Miami, where he played Bob Davenport, a wannabe rapper who said he found a crime scene. There is a point in Tatum's episode where the character of Bob Davenport is suspected to be the murderer, but it's later revealed that he wasn't the one behind the killings. TWIST! That was Channing Tatum's only CSI appearance, for better or worse, and we thankfully know that things really picked up for the actor after that fact.
Taylor Swift As Haley Jones (CSI: Crime Scene Investigation)
Much like Justin Bieber, Taylor Swift was making quite an impression on the Billboard Top 100 in 2009, and it was clear that she was a major star in the making. CBS and the producers of CSI: Crime Scene Investigation wanted to capitalize on that growing fame by having Swift appear on the hit program. But unlike Bieber, Swift didn't play a murderer. Instead, she played a murder victim named Haley Jones, who is portrayed through flashbacks.
The role was Taylor Swift's first ever acting appearance, and while it meant playing a corpse, Taylor Swift was ecstatic about it. Here's what Taylor Swift told MTV about this opportunity to play a cadaver on the popular TV series.
Certainly, there aren't too many people to be happy to play a dead person. But count Taylor Swift contentedly among them.
John Krasinski As Lyle Davis (CSI: Crime Scene Investigation)
Before John Krasinski found his big break on television with the über-popular comedy The Office, he was a working actor trying to find roles wherever they could be found. Sure enough, in addition to appearing on the NBC spinoff Law and Order: Criminal Intent, Krasinski made an appearance on the fifth season of CSI: Crime Scene Investigation. In the early career role, Krasinski played the part of Lyle Davis, a suspect questioned about a very mysterious death.
While John Krasinski is known for his lovable antics on The Office, his character on CSI wasn't quite so nice and affable and worthy of Pam's love. While Lyle didn't murder anyone, he did leave a man to die, and robbed that person to boot. Not exactly an outstanding citizen. In the world of CSI: Crime Scene Investigation, he may not have been the worst person to interact with, but he certainly wasn't nearly as endearing and ultimately sweet as Jim. [Grins into camera]
Chris Pine As Tommy Chandler (CSI: Miami)
Before Chris Pine made a big impression on moviegoers as the new Captain Kirk in Star Trek (2009), and even before becoming the love interest in The Princess Diaries 2: Royal Engagement, he was an up-and-coming actor trying to carve a name for himself in the business. It seems like that's a common trend for actors, since Chris Pine is yet another performer who gained acting experience working on CSI. Pine took on the part of Tommy Chandler.
In season two of CSI: Miami, Chris Pine's Tommy Chandler winds up in the wrong hands, so to speak, and winds up a corpse who died through a fatal bit of erotic asphyxiation. The kinky sex games turned into an accidental murder, and Pine's character wound up in a body bag before the end of the episode. Alas, this is probably not the role that Chris Pine wants to be remembered for the most. But hey, work is work, and this was certainly a high-profile resume builder.
Shailene Woodley As Evie Pierpont (CSI: NY)
One year before Shailene Woodley would find herself in the lead role in The Secret Life of the American Teenager, and several years before she would wow audiences and critics alike through her powerful performance in The Descendants (and eventually Big Little Lies), Shailene Woodley made an appearance on CSI: NY.
In the Season 3 episode, 15-year-old Shailene Woodley played Evie Pierpont, an actress who gets caught in a twisted situation during a reenactment of Marie Antoinette's life when a mock guillotine takes a bad turn. The role is notably a pretty dark one, as one would expect for CSI or its spin-off, but it did help the young actress get on television. Just one year later is when she found a captivated audience with her own hit TV show.
Michael B. Jordan As Morris Calvin (CSI: Crime Scene Investigation)
Before he was launched into the acting stratosphere in major movies like Fruitvale Station, Creed and Black Panther – though less so with the ill-fated 2015 reboot of Fantastic Four – Michael B. Jordan was acquiring TV roles in hit shows like The Wire and CSI: Crime Scene Investigation. On CSI, Jordan played Morris Calvin, a member of a rap crew who took his fandom a little too far, resulting in the Crime Scene Investigation crew trying to figure out who murdered three people.
While the episode's guest appearances by Method Man, Obie Trice, Akon and Blink-182's Travis Barker were perhaps a little more noteworthy at the time of the original airing, Michael B. Jordan's appearance in CSI will no doubt become one of the most prolific in the show's extensive run on TV. Within the MCU and beyond, Jordan is quickly becoming one of the biggest movie stars working today, and this early appearance was a brief glimpse at the actor's rise.
There are many other noteworthy cameos and guest appearances from the CSI franchise, including those from Jeremy Renner, Dakota Fanning, Zachary Quinto, Amanda Seyfried, Jason Segel, Josh Groban, Adam Scott, Diddy and even Kim Kardashian West. However, it's important to note that CSI and its spinoffs were on the air for literally 15-plus years, so it might take a team of professionals to cover every single cameo. Nevertheless, CSI has amassed an incredible run of famous stars.
While the show's forensic team has solved its last case (at least, until the time comes for the inevitable reboot), it's clear that CSI and its spinoffs were fertile grounds for young actors and famous musicians to make big impressions during the early days of their acting careers. But if you have more famous cameos worth mentioning, be sure to comment below. This particular case is far from closed.
Your Daily Blend of Entertainment News
Will is an entertainment writer based in Pittsburgh, PA. His writing can also be found in The Playlist, Cut Print Film, We Got This Covered, The Young Folks, Slate and other outlets. He also co-hosts the weekly film/TV podcast Cinemaholics with Jon Negroni and he likes to think he's a professional Garfield enthusiast.