Game Of Thrones: All Of The Characters That Were Recast And Why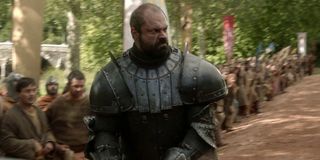 There are only a few actors who saw their characters make it all the way to the end of Game of Thrones. The HBO series was popular for a variety of reasons, and one of the things it was most famous for was killing off key characters in shocking and memorable ways. But not every actor who has appeared on the show left because their character bit the dust. Indeed, there are several actors who found their parts recast throughout the course of the hit program's extensive story.
Being an actor is tough business; it's not all ritz and glamour. You often find yourself working project by project, and you hope that a television role provides the promise of continuous work. Alas, there are always times when an actor needs to leave the role, or they get fired and then recast. It's a pretty common occurrence, for better or worse, and Game of Thrones was no exception. While a number of the lead actors never left their parts, there are several supporting characters who found themselves played by different people throughout the course of the program's many seasons on HBO.
Therefore, we'd let to take a minute to recount all the different actors who found their parts recast throughout Games of Thrones' long-standing run. Also, you should keep in mind that there will likely be some spoilers throughout these casting changes.
Daario Naharis
For three episodes in Season 3, the role of Daario Naharis, the eventual advisor-turned-lover of Daenerys Targaryen (Emilia Clarke), was played by Ed Skrein. You might recognize the British actor from his work in The Transporter Refueled, Deadpool, Alita: Battle Angel and If Beale Street Could Talk, among other movies. He was playing a character who would go on to play a much bigger role in the future seasons. But then, in season 4, the part was filled by Michiel Huisman, who played the part for the remainder of the series. Ultimately, we don't know for certain why this change happened.
Speculation among fans was that Ed Skrien's involvement in The Transporter Refueled prevented him from returning to Game of Thrones. It would seem like the shooting schedules might've clashed, preventing the actor from committing to the series. But when asked about this departure from the HBO series, Skrien gave a terse answer, claiming there was a "more political" reason why he got kicked off the show. He claims in this interview with EW that his plan was to stay with Game of Thrones for the long haul, but that ultimately didn't happen. It's hard to know what Skrien means exactly, but it's safe to say that Michiel Huisman did a dutiful job in the part for the remainder of the character's run, while Skrien did pretty well for himself too.
The Mountain
Perhaps the most noteworthy casting change in Game of Thrones, the role of The Mountain has been played by three different actors throughout the course of the show. In Season 1, the muscle-bound part was played by Conan Stevens. Then in Season 2, Stevens was switched out for Ian Whyte. Then, starting in Season 4, Whyte was replaced by Hafþór Júlíus Björnsson, who played the part for the remainder of the character's run.
When it came to Conor Stevens' participation in Game of Thrones, it was revealed that the actor/professional wrestler left the hit series due to some schedule conflicts, including his role as the Orc king Bolg in The Hobbit trilogy. He was then replaced by Ian Whyte, the British actor/stuntman/athlete who would admitted openly that he struggled when it came to playing this role, who is a brute known for some horrific crimes. He opted to play the part as emotionless as possible, believing it would be more authentic to the books. Ultimately, though, he stopped playing the part after Season 3, and it was taken by Icelandic strongman Hafþór Júlíus Björnsson instead for the remaining seasons. Ian Whyte, however, remained on the show in different roles.
Tommen Baratheon
For the first two seasons of Game of Thrones, the role of Tommen Baratheon, the younger brother of King Joffrey and Cersei's youngest son, was played by child actor Callum Wharry. But when the role got more expansive in Season 4, which seems to a trend among all these recast actors, the part was given to Dean-Charles Chapman, who played the role through season six. It's unclear why Callum Wharry didn't continue playing this part. It should be noted, though, that prior to playing Tommen Baratheon for Seasons 4 through 6, the actor played the part of Tommen's cousin, Martyn.
Myrcella Baratheon
Similarly, for the first two seasons of Game of Thrones, the role of Myrcella Baratheon, the second Lannister child, was played by Aimee Richardson. But when it came time to bring back the character in Seasons 5 and 6, the actress was replaced by Nell Tiger Free. It should be noted that, initially, Richardson was cast as a stand-in, but she won over the creators through her acting chops, and she landed the role. But due to the extended absence of her character, the creators decided to recast the part. Richardson did address the absence on her Twitter account and on her Vine, joking that it was "embarrassing," but it was never made publicly clear why the actress wasn't asked to return to the part, or why the creators decided to recast her role.
Dickon Tarly
It should be apparent that most of the casting changes happened between actors from the first couple seasons and the transitions their characters made in mid-to-late seasons of the show. However, Dickon Tarly is a character who was changed shortly after he appeared in Season 6, which is almost a little after the show's midpoint. In Season 6, the character was played by Freddie Stroma. Then, Stroma was replaced by Tom Hopper (not Tom Hooper, the Academy Award-winning director of the upcoming Cats, mind you) for Dickon's return in Season 7, which became the character's last season.
The reason for this particular casting chance is pretty clear cut. The original actor, Freddie Stroma, was cast in the ABC series, Time After Time. Due to his commitments to that show, he couldn't return to play his character of Dickon Tarly, and this part was subsequently recast for his for Season 7.
Beric Dondarrion
Once again, an actor from Season 1 didn't make the jump between seasons. In this case, it was David Michael Scott's portrayal of Beric Dondarrion, the Lord of Blackhaven, in Season 1. He was replaced by Richard Dormer in Season 3, and Dormer continued to play the part through his return in Season 6, as well as his appearances in Seasons 7 and 8. It's unclear why the original actor didn't return, but it should be noted that David Michael Scott was considered a "featured extra" when he played the part in Season 1. It was subject to be recast, and that is what happened here.
The Three-Eyed Raven
Often hinted at, but never seen for the first three seasons of Game of Thrones, The Three-Eyed Raven was revealed to be British actor Struan Rodger in Season 4 of the HBO series. But the thespian only played the part for a limited time, as he was replaced by the highly acclaimed Max von Sydow. There is no reason given for why Sydow took over the part for Rodger, but when you have Sydow lined up for a role, it's hard to turn the man down.
Leaf
Like the other Children of the Forest, Leaf isn't a character who is constantly on-screen. But she made a change between Seasons 4 and 6. That's because she was played by two separate young actresses during this transition period. In Season 4, Leaf was played by Octavia Selena Alexandru. The actress was replaced by Kae Alexander in Season 6. It's unknown why Octavia Alexandru was replaced by Kae Alexander between two seasons.
The Night King
One of the more noteworthy casting changes came from the replacement for The Night King. The icy character was played by Richard Brake for two seasons — 4 and 5, to be precise. But then, in Season 6, Brake was replaced by Vladimir Furdik, who played the part for the rest of the series. The reason for the casting change remains undisclosed, so it's hard to know what happened. But since the character is cloaked in a combination of CG and make-up, the change was probably not as noticeable as it would've otherwise been.
Lothar Frey
Tom Brooke is probably best known for his work on Preacher, but he did get to play a role in Game of Thrones Season 3. In the role of Lothar Frey, the actor didn't get a ton of screen time, and some of his most memorable moments happened in Season 6, when he was played by Daniel Tuite and turned into a pie. Nevertheless, it's unclear why the part was recast. But it's likely that Brooke's commitments for Preacher likely got in the way here.
Rickard Karstark
This is a casting change you might not have noticed, even if you are a die-hard fan of the show. Rickard Karstark played a very minor role in Season 1, when he was played by Steven Blount. But the part became a little more significant in Seasons 2 and 3, when it was played by John Stahl. Ultimately, since Stahl made more of an impression in the role, he'll probably be remembered for playing it, but it was previously Steven Blount's part.
Selyse Baratheon
This one might be up for debate, since it's unclear if Sarah MacKeever was actually Selyse Baratheon in Season 1. The actress played an uncredited role in the first season, and since she was standing next to Stannis in a crucial scene, people assumed it was meant to be Seylse. But the part was more officially cast in Season 3, when Tara Fitzgerald took on the part and played it all the way to Season 5. So, this one is a bit of a toss-up.
Are there any other Game of Thrones casting changes you've noticed? Let us know in the comments if we missed any of them, and you should also let us know how you feel about these changes. Do you think one actor played the part better than the other? Sound off in the comments how you feel.
Will is an entertainment writer based in Pittsburgh, PA. His writing can also be found in The Playlist, Cut Print Film, We Got This Covered, The Young Folks, Slate and other outlets. He also co-hosts the weekly film/TV podcast Cinemaholics with Jon Negroni and he likes to think he's a professional Garfield enthusiast.