The 10 Best Family Guy Celebrity Guest Stars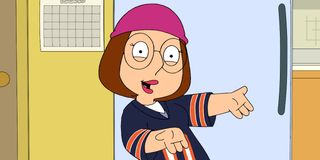 With 17 seasons on television and well over 300 episodes under its stretched belt, Family Guy has become one of the longest-running sitcoms on TV, animated or otherwise. As a risqué show that thrives on pop culture, over-the-top reoccurring gags and shocking bits of humor, Family Guy tries to find different ways to surprise the viewer. More often than not, one of the most surprising aspects of the extended series is the onslaught of celebrity guest stars and cameos that the producers/show-runners have found during the provocative animated Fox series' long-standing run on network TV.
Whether it's Alex Trebek, Johnny Depp, Bob Barker, Simon Cowell, Liam Neeson, the cast of The Simpsons, Ryan Reynolds, Mike Judge's Hank Hill, Bryan Cranston or any of the other high-profile celebrity voices the producers have found in their recording booth, Family Guy has prided itself on its big-name cameos. Here, we aim to celebrate a mere ten standouts from the incredibly long list of short-form star turns on the Seth MacFarlane-created animated sitcom.
First, though, some clarifications. It would be tempting to include some all-time great supporting appearances from Patrick Stewart, the late Carrie Fisher and, of course, the late Adam West. However, these icons were recurring characters as opposed to guest stars. The same goes for Drew Barrymore in the fabulously ditzy role of Jillian. And Conway Twitty?Alas, that's merely archival footage, and not technically a guest star appearance. It's difficult to call someone a guest when they died before the show itself was hard to say that someone made a guest appearance on a hit show if they died years before the show was even in its earliest development stages. And now, let's kick things off!
Cate Blanchett
When one thinks of two-time Academy Award-winning actress Cate Blanchett, Family Guy likely isn't the first reference. Yet, the widely-acclaimed actress did make a guest star appearance on the show, and it wasn't merely a walk-on (or one-line) gag. The thespian played Penelope, the one-time girlfriend of Stewie Griffin (Seth MacFarlane), in the Season 10 episode entitled "Mr. And Mrs. Stewie." Not only that, but in another Season 10 episode, "Family Guy Viewer Mail No. 2," the Australian actress briefly voiced none other than Queen Elizabeth II.
A number of celebrities often make guest appearances to provide a warped perception of their public persona. But it's still rare to see an actress of this caliber lending her voice to the role of a vengeful, chaos-loving toddler who finds herself in a loving relationship with our similarly twisted kiddo, Stewie. It's not something you'd expect, but knowing that Cate Blanchett had a good enough sense of humor to play this role makes her even more lovable and endearing as a high-caliber actress. And she helps to sell what could've easily been a disposable character arc into something that's consistently funny and more emotionally resonant.
Betty White
Betty White is a treasure. The veteran of the stage and screen has been making people laugh for generations, and we will hopefully enjoy Ms. White's company for years to come, Lord willing. While there are countless places where Betty White has delighted the viewing public-at-large, one of the most noteworthy contemporary sources of laughter came from her memorable turn on Family Guy back in Season 4, where the actress played a version of herself reading Peter's erotic fiction in the episode titled, fittingly enough, "Peterotica."
Betty White made an earlier cameo in the Season 2 episode "If I'm Dyin', I'm Lyin'," showing up on Hollywood Squares, as well as in Season 3's "Mr. Saturday Knight." But it was White's Season 4 appearance that cemented her status in the show's legacy (and this list). Having the sweet, gingerly voice of Ms. White read the crude erotic fiction of the sexually bogged patriarch is a combination that's both very wrong and very right. The delightful manner in which she delivers her crude dialogue makes it a stitch, especially when Betty White gets to play herself, outside of reading what Peter wrote on the page. Indeed, it would be hard to top this appearance.
Robert Loggia
Many viewers may not have been so familiar with Robert Loggia until Family Guy made its odd-yet-endearing cutaway joke about his name. The premise was that Peter Griffin once found himself behind the veteran actor while trying to board a plane, but he had no qualms about letting the world know that he is, indeed, Robert Loggia. Can you believe it? It's Robert Loggia. Alas, this appearance was not provided by Loggia himself, despite what some might think. Producer John Viener provided the pipes for the Big actor this time around, but the popularity of the joke turned Loggia back into a regular household name of sorts, even for folks who weren't familiar with the character actor's extensive work.
Possibly in a show of respect for getting his name back out there in a major way, Robert Loggia did eventually make an official cameo appearance on Family Guy. This time around, he was able to play himself without anyone else filling in for Season 9's "Brothers & Sisters." While the unexpected live-action appearance was only one line, it was a delightful, welcomed surprise for long-time Family Guy fans to see the late character actor popping up. And that wasn't even the end of Loggia on the show, as he also came back for a more foul-mouthed appearance in season 11's "Call Girl."
Carol Channing
A legend of Broadway and musical theater, Carol Channing remains one of the biggest figures in musical history. Her squeaky voice and radiant smile were easy to parody, too. (I, myself, particularly enjoyed Ryan Stiles' running impersonation on Whose Line Is It Anyway?). It is hard to top the woman herself, though, especially when she's willing to get in on the joke and have a laugh at her own expense, as she did in the early days of Family Guy.
Carol Channing only made one appearance on Family Guy, but it was certainly a memorable one. The actress appeared in Season 4's "Patriot Games," where the Broadway legend squared off against none other than professional boxer Mike Tyson. As you would expect, things don't necessarily go as planned. While Tyson gets more punches in, Channing is a tough cookie. Anyone who excels on Broadway is certainly a fighter. Sure enough, the actress wins out when Tyson forfeits, resulting in Channing becoming the unexpected winner of the fight.
Norm Macdonald
Often among the more under-appreciated stars of the '90s Saturday Night Live crew, one-time "Weekend Update" correspondent Norm Macdonald hasn't earned the same notoriety as Adam Sandler, Chris Farley or Mike Myers, but he's still one of the funniest sumbitches in the comedy business. It only makes sense that he would find himself on Family Guy, though the role the dry and positive-minded actor played was, perhaps, an unexpected one: specifically, Macdonald portrayed Death.
In the Season 2 episode "Death Is A Bitch," Norm Macdonald found himself playing an unusual, if highly amusing, take on the Grim Reaper. As it turns out, the cloaked figure accidentally twisted his ankle when trying to put Peter Griffin in his eternal sleep, and found himself taking a much-needed vacation. Death being waylaid thus made everyone immortal, which obviously became a problem. Sure enough, Peter Griffin unwittingly has to help Death get back on his feet, which is far from an easy task. Death came back for future episodes, but Macdonald was unable to return, and the role was given to Adam Carolla instead. But Macdonald did came back to read "'Twas the Night Before Christmas" as himself during an episode in Season 16.
James Woods
While James Woods is a controversial figure in his personal life these days, it's hard to deny how funny he could be during his extended guest star appearances on Family Guy. Similar to Adam West and Patrick Stewart, he has appeared on the show enough times that he verges on becoming a fully supporting cast member on the series. But the creative team has always been pretty good about how the semi-annual James Woods appearances get used. Even more thankfully, James Woods was always willing to dig into every absurd idea thrown his way.
James Woods has been a part of Family Guy lore from the get go. His Quahog roots resulted in the local public school being named James Woods Regional High School. But it wasn't long before James Woods became an actual character in the animated series, starting in Season 4 episode, "Peter Gots Woods." From there, much like Sideshow Bob in The Simpsons, the animated Woods has become more bonkers and absurd with each passing year. But the actor was always able to roll with the punches on Family Guy, which resulted in the writers creating very goofy and often enjoyable bits.
Luke Perry
Tragically and very unfortunately, Luke Perry passed away earlier this year. By many accounts, the former Beverly Hills 90210 actor was a very loving and generous man, and he will be missed by many. His lengthy acting career provided him the opportunity for a memorable performance playing himself in Family Guy for the Season 2 episode "The Story On Page One." In it, the actor came into contact with Quahog after Peter Griffin used Meg's name to publish a high school newspaper article claiming that Luke Perry was a closeted gay man. Soon enough, Perry gave Peter Griffin a visit, and lots of celebrity shenanigans ensued.
As we have mentioned in this list, there have been quite a few celebrities who created laughs at their own expense on the crude animated series. But Luke Perry was able to flesh his Family Guy persona out more than simply a walk-on appearance, making this version of Perry his own in the process. It shows that the actor had a good sense of humor, and that he didn't take himself as seriously as his 90210 character, which only makes his death that much harder to take.
Robert Downey Jr.
Before Robert Downey Jr. became a major blockbuster superstar through his career-revitalizing role in 2008's Iron Man, he was certainly trying for a rebound. He starred in a variety of projects, many of which he probably wouldn't find the time to do today, and one of those projects was Family Guy. Downey Jr.'s guest appearance in Family Guy didn't have him playing himself, however, but instead the role of Patrick Pewterschmidt, Lois' long-lost brother.
As it turns out, the producers didn't have to reach out to Robert Downey Jr. Rather, the future Iron Man actor reached out to them, since his son was a big fan of the show. This led to the creation of the Patrick Pewterschmidt character, a handsome and charismatic sibling to Lois Griffin in the Season 4 episode "The Fat Guy Strangler." As you'd expect from that title, things don't go well between Peter Griffin and his malicious long-lost brother-in-law.
Will Ferrell
In the early days of Family Guy, when the animated show had more of a cult following instead of the adoring fandom that it found after its post-cancellation resurrection on Fox, it was a very big deal to land Will Ferrell for a guest star appearance. The actor was well on the rise in the comedy scene as a scene-stealing wild man on Saturday Night Live, and he was only a few years away from becoming a bigger name via Old School and Anchorman.
Will Ferrell first appeared on Family Guy through some bit roles Season 2, it was his memorable turn in the Season Three episode "Mr. Saturday Knight" that helped to cement the actor's high place in the animated show's annals. In the role of The Black Knight, an imposing medieval figure who gives Peter Griffin a hard time about joining the Medieval fair, Will Ferrell was not his usual warm and cuddly self. Indeed, he was an outright antagonistic figure, and it was an interesting turn for early-ish Farrell.
The Cast Of Star Trek: The Next Generation
Seth MacFarlane has made it no secret that he's a big fan of Star Trek, particularly Star Trek: The Next Generation. His newest show, The Orville, is basically a love letter to the franchise, and shows off his lifelong love of sci-fi. Therefore, he has often squeezed in appearances from the Star Trek cast whenever possible, most notably working with Patrick Stewart on numerous occasions, including a supporting role on American Dad and the short-lived Starz comedy Blunt Talk. But it was when he got to reunite the Next Generation cast on Family Guy that he really lived out his fantasy.
While there are several mentions of Star Trek throughout the show, it was in the Season 7 episode "Not All Dogs Go To Heaven" that brought the cast of Star Trek: The Next Generation to animated glory. This was a huge get and a huge honor for the show creator, so he clearly wanted to make the most of this opportunity. Sure enough, it resulted in a humorous and memorable episode, and it wasn't the last time they made memorable guest appearances.
Like we said earlier, these are only a handful of the sensational guest star appearances found on Family Guy, and there are are hundreds more (slightly less great) cameos to be found throughout the extended run of the popular and provocative comedy. We're sure you have your own personal favorites from the hit sitcom. Please let us know your own personal favorites. Hopefully, you'll give your reasons why you think they deserve a place on here more than the ones we listed.
Stay tuned for more of the show, too, as Family Guy Season 17 will debut on Fox on Sunday, September 29, at 9:30 p.m. ET.
Your Daily Blend of Entertainment News
Will is an entertainment writer based in Pittsburgh, PA. His writing can also be found in The Playlist, Cut Print Film, We Got This Covered, The Young Folks, Slate and other outlets. He also co-hosts the weekly film/TV podcast Cinemaholics with Jon Negroni and he likes to think he's a professional Garfield enthusiast.