Family Guy's 10 Most Memorable Guest Stars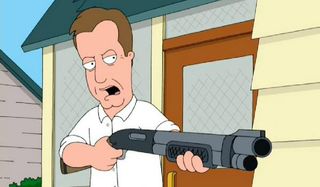 Even after 12 and a half seasons, Family Guy is still one of the most popular shows on TV. The comedy's continued success might have something to do with all the hilarious characters on the Animation Domination, sorry, Sunday Funday series--both regulars and guests alike. Here are ten of the most memorable guest stars to ever appear on Family Guy, at least so far.
10. Seth Rogen
It's probably not a coincidence that one of the best guest voices to appear on the animated comedy is one of Hollywood's funniest actor-writer-directors. Seth Rogen has actually been on Family Guy twice and, even though it was only for one line at a time, both cameos are extremely funny. And both happen in the seventh season. In "Family Gay," the eighth episode, he provides his voice for a 'Seth Rogen gene' injected into Peter before returning as himself in Episode 10, "FOX-y Lady," as a guest on Ellen. I probably shouldn't repeat what he says on the talk show here.
9. How I Met Your Mother Characters
Family Guy has a knack for getting guest stars to show up and poke fun at their own shows. In "No Chris Left Behind," the sixteenth episode of the fifth season, How I Met Your Mother's Josh Radnor and Neil Patrick Harris show up as Ted and Barney for a bit about how the former's search for a wife is really just a way to stay in the closet. It also gives a whole new meaning to "suit up." Oh, and the pair also returned for "Peter's Progress" (S7,E16), this time with co-star Jason Segel, to take a few more shots at HIMYM.
8. Fred Savage
Similar to the last entry, the eighth on the list is another pop-culture reference. Fred Savage and Daniel Stern show up during "FOX-y Lady" to have a little fun at The Wonder Years' expense. This kind of self- referential ribbing happens so often that I could have probably made an entire list of other actors (often in character) appearing on Family Guy to mock their current or former series. Still, this meta-moment is one of the best, with that oh-so-familiar Stern voiceover kicking in right after Brian calls Savage the greatest actor in the history of the world. "I don't need you anymore!"
7. Luke Perry
It might not be quite as good as his cameo on The Simpsons, but Luke Perry's appearance on Family Guy is still one of the latter's most memorable guest spots. In the nineteenth episode of the second season, "The Story on Page One," the former Beverly Hills, 90210 star goes from being the object of Meg's affection to the subject of an article in her school newspaper (written by Peter) that claims he's gay. A claim that turns out to be true. Perry's old co-stars - Tori Spelling, Jason Priesley and Jennie Garth - have also been on Family Guy, showing up in a memorable bit that mocked how old Andrea was compared to the rest of the 90210 crew.
6. Dwayne 'The Rock' Johnson
Over the course of the twelve and a half seasons, Family Guy has occasionally included a live-action guest star and The Rock's cameo in "Big Man on Hippocampus" (S8E10) is more than memorable enough to make list. Unable to show Peter and Lois having sex, the animated comedy decided to cut to the actual Dwayne Johnson simulating the act for the audience with dolls. There's something about his intensity that makes this guest spot extra special. Not to mention how ridiculous it is to see such a huge man smash two dolls together like a 5 year old.
5. Star Trek: The Next Generation Characters
I'm going to go ahead and use one spot to highlight Patrick Stewart along with the rest of his Star Trek: The Next Generation cast. Stewart is an obvious choice, but picking him feels wrong since he's essentially become part of the extended cast voicing a talking cat in "And Then There Were Fewer", Dick Pump in "Halloween on Spooner Street" and Susie Swanson in several episodes. Nothing was quite as exciting though as when he appears as himself or Captain Picard. He, along with Jonathan Frakes' Riker and Michael Dorn's Worf, first showed up in "Peter's Got Woods" before being joined by pretty much the entire TNG ensemble for the eleventh installment of the seventh season, "Not All Dogs Go to Heaven."
4. Gene Kelly
Okay. So this one is sort-of cheating but it's my list so I make the rules. Besides, it's Gene Kelly. And one of the most memorable segments in Family Guy history. The animated comedy has often used archival footage over the years (Conway Twitty comes to mind) but the re-imagined "Anchors Away" dance sequence in "Road to Rupert," the ninth episode of the fifth season, is something special. When I think of the famous number, I don't even see Jerry Mouse anymore, I just see Stewie. "1, 2, 3, 4..."
3. James Woods
You can't make a Family Guy best guest stars list and not include James Woods. I'm sure many people thought he would be number one but the occasionally antagonist for the Griffin clan is coming in at number three for (what I think are) good reason(s). That's not to suggest that his visits to the animated series aren't incredible, starting with his introduction in the aptly named "Peter's Got Woods." The eleventh episode of the fourth season set the stage for what would become on on-going feud, resulting in five appearances. Still not as good as his guest spot on The SImpsons. Sorry! It had to be said.
2. Will Ferrell
Will Ferrell's guest spot on Family Guy is not only hilarious, it's probably one of the most, important in the show's history. The animated comedy was able to secure some decent voice-cameos for the first two seasons but Ferrell as the Black Knight in Season 3, Episode 9, (the perfectly titled) "Mr. Saturday Knight," was the first really big name they were able to land. He was right on the verge of becoming one of the biggest comedians in Hollywood and I remember it feeling like a hug get, probably because Fox marketed the hell out of the appearance. And he didn't disappoint with his arrogant and hilarious, Renaissance Fair jouster.
1. The Simpsons
Was there ever any doubt? I don't think it gets any better than having the entire voice cast of The Simpsons guest star, especially when you're another animated series. It's the holy grail of guests. After Family Guy creator lent his voice to both The Simpsons and Futuraman (the twenty-third episode of the seventh season, "Game of Tones") it was only a matter of time before Matt Groening's characters returned the favor. To b fair, Dan Castellaneta's Homer did show up for "Ratings Guy" but that was nothing compared to the full-on crossover that happened for Family Guy's thirteenth season premiere, "The Simpsons Guy." "Worst. Chicken fight. Ever."
You can catch new episodes of Family Guy on Sundays at 9:00 p.m. ET on Fox.
Your Daily Blend of Entertainment News
Thank you for signing up to CinemaBlend. You will receive a verification email shortly.
There was a problem. Please refresh the page and try again.