Yes, Seth MacFarlane Is Still Planning A Family Guy Movie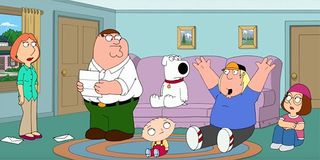 It's been a while since we last heard about a potential Family Guy movie. A feature film of Seth MacFarlane's animated comedy series has been discussed for a long time, but has never actually come to fruition. With Seth MacFarlane increasingly busy with his various other projects, it wouldn't be surprising to hear that he's moved on from the idea and the time for a movie has passed. That is not the case though, because Seth MacFarlane is still planning a Family Guy movie, as he explained:
Talked about for 10 years? Try 12 years, Seth. Yet, despite how long the Family Guy movie has been talked about, and correspondingly, how long it hasn't happened, Seth MacFarlane hasn't given up on the idea and it is still very much something he plans on doing. As he told Sunday Today, the Family Guy movie remains on his To-Do list, but that To-Do list doesn't have a specific due date on it.
So the Family Guy movie should still happen, it's just a matter of when at this point. Seth MacFarlane is a busy guy, and as he said, he hasn't gotten around to it, His many projects have also probably contributed to the long wait. In addition to his continued voice and creative work on his animated series Family Guy and American Dad, Seth MacFarlane also has his live-action series The Orville, which he created and stars in, as well as his music career.
That has all presumably left little time for Peter, Lois, Stewie, Brian, Meg, Chris and the rest of the residents of Quahog to make their first foray onto the big screen. But just because it hasn't happened yet, doesn't mean that Seth MacFarlane hasn't thought about it. As he said, he has a pretty clear idea of what the Family Guy movie will be, but he didn't shed any light on what that is. Still, it's encouraging that he thinks he's got a good idea for it figured out.
In the past, Seth MacFarlane has talked about the difficulty in making a movie work while doing the series at the same time. It's unclear how much that is still a hurdle but he did say that's why he thinks it took The Simpsons 20 years to make a movie. It was actually only about 18 years after that series debuted until The Simpsons Movie (South Park did it in two), but his point stands.
Family Guy celebrated its 20th anniversary this year and its 18th season will premiere this fall, so it has definitely put in the time and as long as it's still going, a movie will theoretically be viable. The beauty of animation is that there isn't a time limit on when you can do it.
Whether the Family Guy movie will be fully animated is an unanswered question though. When we heard some rumblings about the Family Guy movie last year, it was said that the film would also have live-action elements. When Seth MacFarlane talked about the movie 11 years ago, he said that the only reason to do a movie is if it's something you can't do on the TV show, so maybe the live-action elements are part of that.
We'll keep you updated when Seth MacFarlane finally gets around to checking a Griffin family movie off his To-Do list. In the meantime, for movies actually coming out this year, take a gander at our release schedule.
Nick grew up in Maryland has degrees in Film Studies and Communications. His life goal is to walk the earth, meet people and get into adventures. He's also still looking for The Adventures of Pete and Pete season 3 on DVD if anyone has a lead.
Your Daily Blend of Entertainment News
Thank you for signing up to CinemaBlend. You will receive a verification email shortly.
There was a problem. Please refresh the page and try again.