Leah Remini Claims Church Of Scientology Sent Hundreds Of 'Hateful' Letters To A&E Advertisers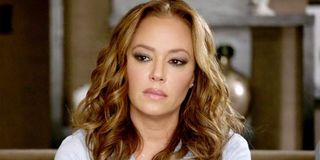 Three seasons after premiering on A&E, the series Leah Remini: Scientology and the Aftermath is calling it quits. Series star and activist Leah Remini isn't sad about it, though. After winning an Emmy for the documentary-style series, the actress believes the show has done what it can to inform the public about Scientology. While previewing the series finale, Remini explained that the Church of Scientology sent letters to the network expressing its distaste with the series.
In an interview, Leah Remini explained the details behind the show's cancellation, whether she'll partner with A&E in the future, and the Scientology policies that dictate what "speaking out against" the religion entails.
Speaking with EW, it's clear Leah Remini has very strong opinions about her former religion and, for many years, she has made it her mission to educate the masses about her experience with Scientology. Though she isn't the only one to bring up the church in public, she has been among the most outspoken. Most recently, she stated that the Church of Scientology, under the guise of the STAND League, has sent hundreds of what she deems "hateful" letters to A&E's advertisers about the show. She stated:
This isn't the first time this has happened. In January, Leah Remini and the Aftermath were, in fact, blamed for someone's murder via some outlets and the Church of Scientology cited this as the reason the series should end. However tumultuous and tense things have been, Remini doesn't think this is necessarily the end for her brand of programming. With the series ending, the actress believes she needs to "move on to the second level."
Leah Remini: Scientology and the Aftermath aired its final episode on August 26. Before ending its run, Scientology and the Aftermath closed out with a two-hour event and discussed the events surrounding The Ranch's Danny Masterson and the sexual assault lawsuit filed against him. For more TV shows to watch, check out our Fall TV premiere schedule.
UPDATE: The Church of Scientology reached out to CinemaBlend to provide a statement about Leah Remini's allegations, which can be seen below.
Leah Remini claims that Scientologists should have no right to complain about the hate campaign she has been waging against their religion. She disrespects a staff member of our Australasian headquarters who was murdered by one of her deranged followers and showers the media that covered the story with a potty-mouthed rant. Remini's hatred has totally consumed her. That alone justifies A&E cancelling her series.
This likely won't be the last time Leah Remini will butt heads with the Church and its members.