The Walking Dead's Carol And Daryl Will Be 'An Emotional Core' For Season 10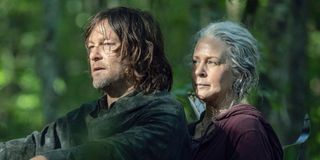 A lot has changed for The Walking Dead characters since the 2010 premiere. With Rick and Maggie gone, Season 10 will be focusing more on Carol and Daryl. The pair has flirted with each other quite a few times, but further fraternizing was prevented by Carol's marriage to Ezekiel. Carol was committed, but they hit a rough patch following the death of their son, Henry, and Carol and Ezekiel's relationship shockingly ended in the Season 9 finale, with Carol heading off to Alexandria without Ezekiel. Could this have opened the door for a potential romance between Carol and Daryl?
Walking Dead showrunner Angela Kang suggests that they'll be at the heart of Season 10. She'd already confirmed that Carol and Daryl will share plenty of scenes together in Season 10, and speaking to TVLine, she teased more of what fans can expect from this potential couple when The Walking Dead returns in October.
Melissa McBride's Carol has faced tremendous tragedies over the course of The Walking Dead. From the loss of Sophia in Season 2 to the death of her and Ezekiel's son in Season 9, Carol has been put through the emotional ringer. She's usually come out stronger on the other side, but Henry's death seemed to hit her the hardest, shaking up the relationship she and Ezekiel shared. After all, the death of a child can have major repercussions on any marriage. However, that doesn't necessarily mean that Carol won't ever speak to Ezekiel again, but it won't necessarily put a wrench in starting up a new romance with Norman Reedus' Daryl, either.
Angela Kang's words could mean anything and everything for the characters. With the core protagonists battling the Whisperers throughout the season, could the impending conflicts somehow bring Carol and Daryl closer together? It's possible. The "human toll" implies that there might be a lot of casualties, which is something The Walking Dead has never shied away from.
Daryl was Rick's closest non-romantic friend, and his disappearance greatly affected Daryl throughout the latter chunk of Season 9. It wouldn't be out of left field to assume that Carol and Daryl could bond over the loss of their loved ones to be there for each other in a way others can't. (Not even dogs.) Either way, the pair will be connected emotionally and that could pave the way for an eventual relationship.
In addition to Rick and Maggie's exits from the series, The Walking Dead will say goodbye to Danai Gurira's Michonne, who has been on the show since Season 3. The actress confirmed that Season 10 will be her last while appearing during the show's panel at San Diego Comic-Con, though she will likely return for the Rick Grimes features.
The Walking Dead Season 10 will premiere on Sunday, October 6 at 9/8c on AMC. For all other new and returning shows coming to TV this fall, be sure to check out our full schedule of premiere dates.
Your Daily Blend of Entertainment News
Your Daily Blend of Entertainment News
Thank you for signing up to CinemaBlend. You will receive a verification email shortly.
There was a problem. Please refresh the page and try again.