The Simpsons Vs. South Park: Which Longtime Animated Series Is Better?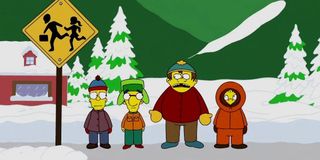 The phenomenal impact that both The Simpsons and South Park have had on counterculture as we know it today — and not merely animated television — cannot be understated. Both series played a big part in influencing modern comedy, and with each show going on for 20+ seasons, it's hard to know when (or even if) either show will ever call it quits.
For many viewers, the Simpsons and the residents of South Park, Colorado are as familiar to them as their closest friends and relatives. People have grown up these characters, and generations of kids still grow up with them. But while viewers get older, Bart Simpson, Lisa Simpson, Stan Marsh, Eric Cartman, Kyle Broflovski, and Kenny McCormick never change in age.
At each their respective high points, both The Simpsons and South Park have created some of the best, most sensational TV moments of the last three decades. But is one better than the other? Both shows have their loyal fans, even in the darkest days, so it's not an easy call to make. But through some deductive reasoning, as well as reflection on where the shows have gone and where they are today, we'll figure out which classic animated sitcom is truly the best and why it has succeeded the most, especially when compared to its trendsetting counterpart.
The Simpsons
Created by Matt Groening, James L. Brooks and Sam Simon, The Simpsons spawned from a series of animated shorts on The Tracey Ullman Show that featured the suburban family. The crudely-drawn sketches earned enough attention that Fox decided to turn them into a weekly sitcom. From the beginning, the conceit was to create an animated series that would serve as an alternative to the lesser live-action sitcoms being aired in the late 1980s.
The first Simpsons episode aired on December 17th, 1989. Under the care of Groening, James L. Brooks and the late Sam Simon (who was called the "unsung hero" of the series by Brad Bird), it didn't take long before The Simpsons shook up the television landscape. Though initially decried for Bart's rebellious attitude, The Simpsons offered a much-needed revision to the sitcom formula, while still producing the winning beats and the heartfelt bouts of humor that audience members hope to find on a weekly basis in primetime.
The Simpsons centers primarily on titular family, including the dense patriarch Homer, the monarch Marge, and their three children, troublemaker Bart, wise and studious Lisa and the baby Maggie. But of course, the Fox animated series expanded Springfield into an exceptional place that feels like a small town despite having giant landmarks and celebrities. Springfield is filled with eccentric weirdos and curious characters, some of whom have gotten their own special episodes in the later seasons.
Wildly revered for its whip-smart pop culture comedy, social commentary and heart-tugging moments, The Simpsons grew from a charming subversion of the drying sitcom formula into a brilliant and beautifully written look at American culture and how this dysfunctionally balanced family could try to keep it together even as they stacked the odds against themselves. Then, somewhere later down the road, The Simpsons started to lose its rhythm and relevance.
What was once a counterculture smash became a strangely and sadly (if not unexpectedly) standard upper-middle-road comedy, one that follows far more familiar patterns with little room for the genuine subversion and striking satire that made it such a revered series through the 1990s. The Simpsons has never quite reascended to those bold and brilliant plateaus, though it has come close at times, most notably in the form of 2007's The Simpsons Movie, which did feel like a solid and surprisingly winning return-to-form on the big screen for the small-screen sensation. But in the years since, the series has only occasionally found itself reaching the same phenomenal heights it once captured all so readily.
South Park
Comedy Central's lasting legacy, South Park is a satirical animated farce that initially centered loosely around the childhoods of its creators Trey Parker and Matt Stone,, who met in college during film class. The show came to be after Parker and Stone impressed executives with their short film, Jesus Vs. Frosty. After the series was rejected by 20th Century Fox Television, where execs had objections with the character of Mr. Hankey, South Park was picked up by Comedy Central.
The South Park pilot, which was crafted entirely in painstaking cutout animation, aired on Comedy Central on August 13th, 1997. While the animated series wasn't an initial hit, having to battle the uphill battle of audiences not accepting its brash, irreverent style of humor, it was adopted by online communities and it soon became a cultural mega hit.
Since its early days, South Park has cemented itself as one of the most sensational — and certainly one of the most highly controversial — TV comedies in history. The raunchy, risqué sense of humor, often juvenile and crude in a way that mirrors the naughty sense of humor of its youthful characters, has been highly praised as well as damningly criticized, notably from parents who were outraged that their children might be exposed to such inappropriate humor based on the animation centered around young children, from "Chocolate Salty Balls" to PC Principal.
The TV series continues to maintain its reputation as a hot button-pushing, conversation-starting work of satire by presenting new episodes at an almost alarmingly rapid rate. Trey Parker and Matt Stone will typically get episodes written, animated and released within one week's time, allowing the comedy to be distinctly in-the-moment in a way that traditionally animated shows cannot be. The result isn't always mega-successful, but South Park has still produced some of the most biting and celebrity-skewing works of comedy from the past three decades.
And while there are a number of controversial comedies that began and ended their tenures years (and even decades) earlier, South Park continues to thrive on Comedy Central. The current runs capture a different spark than the ones earlier episodes did, but modern-day seasons are still considered to be satirically relevant in a way that The Simpsons often fails to be these days. It'll likely continue its reign of snarky terror for many more years to come, as it doesn't seem like South Park's assorted oddball residents have any desire to change their raunchy ways anytime soon.
The Simpsons Vs. South Park
It's never easy to compare two iconic shows, but there are several ways in which South Park and The Simpsons are similar. Both arrived at a time when TV comedy was becoming safer and more banal, in one respect or another. And both shows provided their core audience with a creative jolt that felt vital and refreshing, allowing their respective writers to each to push themselves in terms of risk and creativity.
That hasn't always worked out for either show, but both are often at their best when they're most audacious, and at their worst when they're most uninspired and insincere. When it comes to making current events funny, the folks over at South Park have held a more consistent track record in terms of longevity. I'm probably more likely to get a gut laugh out of a new episode of South Park than I might during any recent episode of The Simpsons. And that's not to say that The Simpsons is outright bad, but it's a shadow of its former self.
Still, The Simpsons has typically got South Park beat when it comes to its emotionally rich characters, and actual moments of warmth. It's very rare for South Park to find itself emotionally vulnerable or sincere. The thick coat of irony that South Park regularly sports can make for some fine bits of barbed comedy, but it's rare that the show will let its guard down and be more grounded in matured depths. These moments do come out at times, particularly in later seasons of the show.
But it's The Simpsons that's often able to find the nice mix of heart and humor in nearly every season of its run, letting us feel that these characters are more fleshed out and pathos-friendly in a way that South Park residents often earn detached interest from the viewer. The long and short of what I'm saying is, you're more likely to cry in a truly great episode of The Simpsons than you are likely to shed a tear during any episode of South Park. Not that it's absolutely unheard of for the latter, depending on what makes one sad, but it's a true rarity.
Still, there is certainly something to admire about Trey Parker and Matt Stone being a continued presence in their long-running series, whereas Matt Groening has not played a creatively heavy hand in the Al Jean-run series for quite some time. That's not to say that he's entirely absent, but he doesn't write or direct and voice the main characters in the way that Parker and/or Stone continue to do throughout their series. Groening has often devoted his interest into new side projects, with his most recent being Netflix's animated fantasy comedy Disenchantment, which will soon be releasing its second season. The changing of the guard behind the scenes at The Simpsons has played a heavy role in the show's middling downfall, with new episodes feeling slight.
When it comes to the supporting characters enveloping the worlds of South Park and The Simpsons, the latter likely has the upper hand, though that's certainly an uneasy choice to make. South Park is filled with a wonderful assortment of perplexing, yet likable and misfortune-filled, characters (Butters being my personal favorite), but the supporting players in The Simpsons have often made the show more substantial, playing a big role in developing and progressing the show as it allows more room for random but endearing characters to take the center stage and feel wholly realized.
While South Park has been doing more nuanced development in recent seasons, notably with characters like Randy Marsh and Mr Garrison, the experience has more often than not felt more enriching with The Simpsons. Springfield's characters and environments feel like a full, vital community with something interesting happening around every corner and inside every school bus, making The Simpson family's own livelihood carry more emotional and comedic heft.
Additionally, there is no denying that the celebrity guest stars seen throughout The Simpsons' run has been extraordinary, with many of the hundreds of cameos coming in the most hilarious and touching episodes. While the cameos can sometimes be distracting, taking away from the core characters and feeling like forced attempt at obtaining relevance for audience attention, the show has more often than not used these celebrity cameos to their immense benefit, producing some wonderful and affecting moments of television.
While South Park has acquired a few noteworthy cameos, they don't often feel as vital and impacting to the success of their respective show. And it's more likely that, since they are hardcore parodying a number of celebrity folks, Matt Stone and Trey Parker will voice many of the characters in their show.
Nevertheless, when it comes to controversies, neither show is stranger to earning stark criticism from a variety of sources. South Park has weathered more than its fair share, for reasons that often vary. It has become such a part of the series' core fabric to ruffle feathers that it's commonplace still when South Park does or says something that offends people. Still, there is no denying that the show has battled its fair share of media firestorms, which the show has more often than not played to its benefactor in terms of ratings and attention directed its way.
With The Simpsons, though, some of its most notable controversies have given fans pause on how they perceive the show and what they feel should be done henceforth. Most notably in relation to the character of Apu and how many critics have become outspoken about the character's shallow perception of racial identity. The show creative team responded with poor and inconsiderate measures, though they're not taking the character off for good, and Apu will still be around in new seasons. Sure enough, South Park has made fun of The Simpsons for their false steps in this matter, which makes it clear that when it comes to controversies, South Park ultimately has the upper hand in how they deal with them.
Then, there's the matter of the movies. Both The Simpsons Movie and South Park: Bigger, Longer and Uncut have shockingly avoided the curse that often comes with movies based on TV shows. Both feature-length films have taken great care and exceptional due diligence towards how their shows should be translated onto the big screen.
South Park used its opportunity to insert all the violence, language and all the perverse sex talk they couldn't get away with on television. Not merely to do so, but rather to make a broader point about censorship, creative restrictions and overprotective parents. And, how the parents who try to act too moral can often be blindsided by what little good their intended good deeds actually do.
Also, it helps that Bigger, Longer and Uncut is a bonafide musical, with no shortage of tremendously catchy tunes that rival anything else made in the musical scene in the past twenty years. The movie doesn't age perfectly, (the way most raunchy comedies don't age entirely well over the course of twenty years) but it's extremely impressive what South Park: Bigger, Longer and Uncut could accomplish with its bigger, longer and much more coarse big movie event.
The Simpsons Movie, meanwhile, is also another refreshing and surprising exception to the rule when it comes to movies based on long-standing TV shows. The film is a wonderfully inspired tale of family bonding in the face of commercial influence, with the show's focus on familial love being clearly felt and emotionally resonating throughout the self-aware commentary liberally spiced throughout.
It's a movie filled with great scale, a heightened sense of stakes in a world where such a thing is often left unfounded, and a bunch of laughs to boot. Compared to the South Park movie, it's not quite as daring or memorable, but there is quite a bit to love in The Simpsons Movie, especially if you have been a long-time fan.
So, which one is better overall: The Simpsons or South Park? While they are both easy to champion for a number of different reasons, and they have both made a deep impact in pop culture and how we perceive comedy today, it's ultimately the outstanding legacy of The Simpsons which gets the slight upper hand here.
While South Park is filled with hilarious moments, particularly when it fearlessly attacks its comedy targets, The Simpsons is a little better at capturing the mix of heart and humor that people hope to find in a well-rounded sitcom, and the show's high points remain untouched in the scheme of things, even if the newer episodes can periodically make you forget why this animated show was so damn extraordinary in its heyday.
The Simpsons is a show that can be appreciated by audiences of many ages and generations, often in the same way that South Park can sometimes be a bit inaccessible to certain folks who don't (or can't) appreciate its dicey comedy. The warm and tender moments that have been found in the best episodes of the Fox sitcom will not only stand out as the strongest installments in this expansive series, but as some of the best comedy episodes ever.
But, surely, there are folks out there who will disagree! And if you are someone who doesn't think The Simpsons stands up against South Park, let us know why you think South Park is the superior show. Ultimately, there's a great case to be made for both shows, and each of them have earned their respective places in television history. Whether either show will come to an end anytime soon, though, remains in question. I guess we'll have to wait and see!
This poll is no longer available.
Your Daily Blend of Entertainment News
Will is an entertainment writer based in Pittsburgh, PA. His writing can also be found in The Playlist, Cut Print Film, We Got This Covered, The Young Folks, Slate and other outlets. He also co-hosts the weekly film/TV podcast Cinemaholics with Jon Negroni and he likes to think he's a professional Garfield enthusiast.
Your Daily Blend of Entertainment News
Thank you for signing up to CinemaBlend. You will receive a verification email shortly.
There was a problem. Please refresh the page and try again.