Is The Battlestar Galactica Reboot A Good Idea? Let's Talk This Out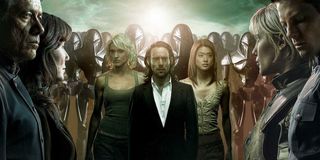 A lot of news has come out this morning about NBC's upcoming streaming service, now officially called Peacock, and among the biggest items is that Battlestar Galactica will be rebooted on the platform. Mr. Robot and Homecoming executive producer Sam Esmail is tackling this new take on the mythology that was originally depicted in the short-lived TV series created by Glen A. Larson, and was later re-imagined to great success under the helm of Ronald D. Moore.
Following the reveal that this new Battlestar Galactica would be among the pieces of original content on Peacock, Sam Esmail clarified on Twitter that his show would not be a remake of the then-Sci-Fi channel's version of Battlestar Galactica, but will "explore a new story within the mythology while staying true to the spirit of Battlestar." That has a lot of folks thinking it will exist in the same continuity of the last Battlestar series, but that has yet to be officially determined, and let's not forget that the term 'reboot' has a loose meaning nowadays (within the entertainment sphere, that is).
So now that we know a new Battlestar Galactica series is on the way, the question is posed: is this a good idea? That's what we're here to hash out, and frankly, it'll depend on if this series is indeed tied to the previous one or if's an entirely separate tale. But first, let's go over the previous iterations of Battlestar Galactica.
The History Of Battlestar Galactica Onscreen
As mentioned earlier, the original Battlestar Galactica, which followed the survivors of the Twelve Colonies of Mankind looking for a new home while the genocidal Cylons pursued them, didn't last long, airing for only one season from 1978 to 1979, and then followed a soon after by the even-shorter (and critically derided) Galactica 1980. Nevertheless, that first Battlestar series would become a cult classic, and in the late '90s, numerous attempts were made to revive the series, which ultimately lead to the cable reboot series that kicked off in 2003 with a three-hour miniseries and then ran as a proper series from 2004-2009.
That Battlestar Galactica couldn't have been more tonally different from its predecessor, and this gritty, more mature and introspective take on the material was met with critical acclaim, with its accolades including numerous Emmy nominations and a Peabody win. After Ron Moore's Battlestar Galactica series concluded, that continuity continued with two prequel shows: Caprica, which only aired for one season, and Blood and Chrome, which never made it past the pilot/TV film stage.
Finally, this Peacock Battlestar Galactica series isn't the first attempt to bring the franchise back post-Ron Moore show. Since the beginning of this decade, a Battlestar Galactica movie has been in development, and that was definitely going to be an entirely separate take on the mythos. The last major update concerning that project was that The Girl in the Spider's Web's Jay Basu was rewriting the script, but since this Peacock series is now being made, presumably the Battlestar movie has been shelved.
What If The New Battlestar Is A Straight-Up Reboot?
Assuming that the new Battlestar Galactica is a reboot in the truest sense of the word, there are two key things that will make it incredibly difficult to stand out, even it it won't closely resemble the previous series: time and critical reception.
Time-wise, it's only been 10 years since the last Battlestar Galactica show ended, and in this age of streaming, it's not like it's ever left the public consciousness. For a while it could be found on Hulu, and now folks can head to the Syfy website to watch all the episodes for free. We may be approaching the two-decade anniversary of when the show launched, but it's still feels quite relevant nowadays, and thus it feels too soon to have a new take on the material.
As far as critical reception goes, like a lot of shows, Battlestar Galactica's quality diminished in its laster seasons, and the series finale is still among one of the most polarizing endings to a show ever. Nevertheless, overall Battlestar Galactica is considered to be one of the best TV shows of all time, so how is this new series going to measure up if it's simply redoing the original concept again? Maybe if this show were 20-30 years separated from the last series, that would help when it comes to standing out, but right now, even with a talented showrunner like Sam Esmail running things, it's hard to imagine this new series coming close to the last series' level of quality, let alone exceeding it.
What If The New Battlestar Is A Continuation Of The Last Series?
If the new Battlestar Galactica is set within the same continuity as the previous series, then it stands a better chance of success since it wouldn't be rehashing the same basic concept again and there's no shortage of fans for the re-imagined series. As popular as existing intellectual properties are, audiences also crave original stories, so this approach provides the best of both worlds, although there's still the issue of if the story will be compelling enough.
Where this new series could pick up within that particular continuity is tricky. No spoilers here for anyone who hasn't finished the last Battlestar Galactica, but the way the series ended makes it incredibly difficult for a sequel story to be made. That means we're likely getting another prequel again, though given how Caprica and Blood and Chrome turned out, we've seen that Battlestar hasn't had the best luck in this area.
Of course, those projects came out before streaming became incredibly popular, so maybe in this new age of TV viewing, a new Battlestar Galactica series has a better chance of thriving. And while I am skeptical about if the new series measuring up to its predecessor, Sam Esmail showrunning does at least improve the odds of it being an enjoyable watch.
Is The Battlestar Galactica Reboot A Good Or Bad Idea?
As things stand now, there's more going against a new Battlestar Galactica series than is for it. The last series still looms fresh in our minds, making it an uphill battle for the new series to stand out if the franchise is starting from scratch again. Conversely, if the show is expanding on the continuity of the last series and following a brand-new cast of characters wrapped up in their own unique, though still Cylon-related problems, that's a more appealing prospect. But even then, it's been seven years since Blood and Chrome first aired, so one wonders if too much time has passed for enough people to care for another installment set in this particular universe.
Of course, we've only just learned about this new version of Battlestar Galactica, and while it remains to be seen when the first concrete details about it will arrive, perhaps I'll change my mind on the chances of its success. For now, though, while I am curious to see what's in store for this next chapter of the franchise, I believe it would have ultimately been a better call for a new Battlestar series to keep resting on the shelf.
Let us know what you think about this Battlestar Galactica reboot, and what you'd like to see from it, in the comments below. Stay tuned to CinemaBlend for more updates on the series and the other programming that will be available on Peacock, and browse through our fall TV premiere schedule to see when your favorite shows are coming back this season.
This poll is no longer available.
Your Daily Blend of Entertainment News
Connoisseur of Marvel, DC, Star Wars, John Wick, MonsterVerse and Doctor Who lore. He's aware he looks like Harry Potter and Clark Kent.
Your Daily Blend of Entertainment News
Thank you for signing up to CinemaBlend. You will receive a verification email shortly.
There was a problem. Please refresh the page and try again.