I'm Afraid I Need To Watch M. Night Shyamalan's Servant TV Show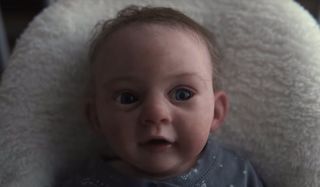 This week at New York Comic Con, a secret was revealed that was pretty huge for fans of writer/director M. Night Shyamalan. As part of an exclusive panel at this year's NYCC, the folks at Apple TV+ debuted the first trailer for Shyamalan's new thriller series Servant, which up until now has been shrouded in mystery. This trailer won't be revealed to the general public for another couple of weeks, but what I saw unfold has me instantly hooked; so much so that I'm afraid I will actually have to watch this show.
About now, you might be waiting for some sort of Unbreakable-esque twist to present itself. The first, and most minor, of any reveal here is that I'm not actually a huge fan of M. Night Shayamalan's work. And yet, after attending last night's Servant panel on behalf of CinemaBlend, I left feeling severely intrigued.
Servant boasts a concept that M. Night Shyamalan has never done before and he, along with creator Tony Basgallop (who wrote the entire season of episodes heading to Apple TV+), has crafted one hell of a narrative. If you want to wait for the trailer to drop to see what it's all about, bail out now, as I'm about go into detail about the mysterious new series Servant.
What The Hell Is Servant About?
Servant centers around four people and takes place in the single location of a Philadelphia townhouse for the entire season. That dwelling belongs to Toby Kebbell's Sean and Lauren Ambrose's Dorothy Turner. The story apparently starts out innocently enough: Sean and Dorothy have an infant son, Jericho, and they've hired young Leanne Grayson (Nell Tiger Free) to be his nanny. Throw in Rupert Grint's Julian Pearce, and you've got your character quartet that will be playing this drama out for Apple TV+.
Here comes the catch to Servant's narrative: Jericho isn't an ordinary baby, and isn't actually a baby at all. He's a lifelike doll that Dorothy has been given to care for, as part of a fringe therapy to help her get over the loss of the Turner family's actual baby. And it looks like Leanne is totally buying into it too. On top of all these fun and games, the questions rise up about what actually happened to Jericho's real-life counterpart, as well as who Leanne actually is.
Why I Already Know I Need To Watch Servant
As someone who isn't the biggest M. Night Shyamalan fan in the world, seeing Servant unfold its tightly guarded mystery premise hit me so hard that I cocked my head while watching the trailer. This actually looks darker than anything the filmmaker has done in his films, and with Tony Basgallop's story promising more twists and turns along the way, I'm pretty heavily invested at this early stage.
Plus, this Apple TV+ series is supposed to be a single location "sit-terror," which is indeed a sitcom pun. In doling this wild and weird story out in 30-minute spurts on a weekly basis, Servant sounds like it's going to be sharp, measured, and tense as hell. The trailer certainly did a good job of conveying that to the NYCC crowds, and considering there are more plans for a long-term execution of Servant, it may be a good thing that this streaming exercise will play out in a rather unconventional way.
The Potential Future Of Servant
In talking about Servant, M. Night Shyamalan mentioned the fact that there are some pretty big plans for where Nell Tiger Free's Leanne is concerned. In fact, Shyamalan stated that not only does he envision Servant lasting for 60 episodes over a six-year run, but he also thinks Leanne could lead to a broader anthology of stories that the Apple TV+ show will eventually tell.
In fact, Shyamalan mentioned that whenever he has a new project he wants to promote, he hopes that he can bring it to an event like New York Comic Con. He also dreams that the convention floor will one day have a flood of cosplayers all dressing up as Leanne. Depending on where this character goes, and what twists she suffers through, there could be some interesting variants of one of Servant's main characters on display in the years to come. Which means that if you're in the lifelike baby doll business, you're going to want to start studying up on the design of Servant's creepy central creation pretty closely.
I never thought that I was going to feel the urge to jump into the world of Servant, but as a master practitioner of twists, M. Night Shyamalan has pulled yet another out one of his hat here. Even when going in with a healthy level of skepticism, this story of a grieving family, its unclear tragedy, and the promise of some really nutso revelations have all cooked together into this kind of stew that has me ready to sit down and dig in.
Once you've seen the trailer for Apple TV+'s "sit-terror" project, you'll more than likely be pretty hooked on Servant yourself. A master of marketing teases at this point, Shyamalan doesn't skimp on information, but leaves just enough room for potential viewers to ask for more. There are a lot of questions surrounding the Turner household that need answers, and those will probably spawn even more questions, taking Servant's story into a spiral of darkness and drama up until its presumably baffling end.
Sadly, the trailer won't be on the internet for public consumption just yet. But believe me when I tell you that it's going to be worth the wait, if only to see the discourse around this mysterious baby doll start to unfold on the internet. There's a lot of fantastic components at work here, and the medium of streaming TV just might be the platform to turn the skeptic in me into a true believer of M. Night Shyamalan's talents.
I want to believe, and we'll find out soon enough as Servant welcomes us all into its home on Apple TV+ on Thursday, November 28th, just in time for Thanksgiving dinner! Meanwhile, the platform itself will launch on November 1st, with a handful of other shows available on launch day, such as See, The Morning Show, and For All Mankind.
Your Daily Blend of Entertainment News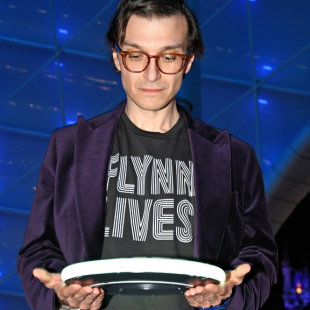 Senior Movies Contributor
CinemaBlend's James Bond (expert). Also versed in Large Scale Aggressors, time travel, and Guillermo del Toro. He fights for The User.