Apple TV Plus Is Investing $6 Billion On Original Content, Here's How It's Being Spent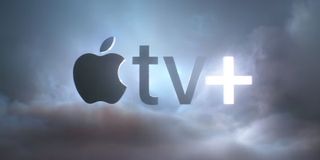 As Apple TV Plus, stylized as Apple TV+, prepares for its launch this fall, a wide swath of original content is being prepared to entice subscribers to join their ranks in the streaming wars. And that lineup is not only impressive from a casting standpoint, it's also pretty massive on the budgetary side of things. More specifically, $6 billion is being spent to try and make Apple TV Plus a streaming powerhouse, and there's a good selection of titles that look to put every penny of that budget on the screen.
While the list of Apple TV shows we're about to run through isn't the total list of programming that will be available upon launch, it's certainly a formidable lineup that's intended to strike fear into the competition. And that price tag above is what keeps the party going, so let's dive into the programming ledger Apple TV Plus looks to cash in on, with hopes of big ticket success.
The Morning Show
Perhaps the most high profile scripted show to be loaded into the debut season of Apple TV+ is The Morning Show, a dramedy starring Steve Carrell, Reese Witherspoon, and Jennifer Aniston. When Carrell's Mitch Kessler is fired amidst allegations of sexual misconduct, a conflict breaks out between his former co-host (Aniston) and a new challenger brought onto the show in the name of a fresh start (Witherspoon).
Allegedly, the costs for The Morning Show have been estimated at a total of $300 million, which covers two 10 episode seasons already ordered by Apple TV Plus. Certainly a good amount of that money is going towards the talent, as "upwards of" $1.25 million per episode is going to Witherspoon and Aniston, not only as stars, but also as executive producers. The show looks amazing, and Apple TV will certainly want it to hit with its audience, as that's a pretty big price tag for 20 episodes of star powered drama and comedy.
Dickinson
Telling the life story of poet Emily Dickinson, the aptly titled Dickinson is going to approach this biographical material with a more modern, comedic tone. And who better to cast in the lead role than Bumblebee's Hailee Steinfeld, as her particular skill set as a performer is perfect to bring this brilliant and acerbic character to life.
Naturally, with a period drama like Dickinson, a good amount of money is going to be spent on the period appropriate settings, costuming, and other accoutrement that will be required to make the show look as accurate as possible. Plus, with veteran TV stars like Jane Krakowski and Toby Huss on board, you can bet there's a mid-sized budget already sunk into this series.
Amazing Stories
Now here's a project that more than likely cost a pretty penny to assemble: a reboot of NBC's Amazing Stories, with original series creator/noted critic of streaming movie services Steven Spielberg. Much like CBS All Access' The Twilight Zone, this is another revival of an anthology series that takes viewers to strange and exciting places, both in the realms of horror and sci-fi. Also joining Spielberg as executive producers on this series are Once Upon A Time masterminds Edward Kitsis and Adam Horowitz.
That sort of talent doesn't come cheap, and bringing the Amazing Stories name out of stasis, and not on the NBCUniversal streaming service that's set to debut next week, may have brought a bit of a battle to the negotiation table. Not to mention, based on the series' concept and history as being a special effects playground, there's going to be some top shelf visuals at work.
For All Mankind
What if the United States lost the race to The Moon, but persevered in a longer space race with greater stakes? That's the question For All Mankind is looking to answer, as this alternative history sci-fi epic is already in the can and set to debut on Apple TV Plus on day one. It's coming from the creative force behind Battlestar Galactica and Star Trek, Ronald D. Moore. His involvement should mean we're going to get a high quality space epic.
Which means it's time to cue the dollar signs, as not only will For All Mankind require a lot of historically accurate costuming, props, and special effects, but this is probably the only show on Apple TV Plus's lineup that could rival Amazing Stories as an effects driven experience. Space isn't easy to convey, and nor is an alternate 1960's where Russia beat us to the Moon. While it might not be astronomical, this series sounds like it's going to fall among the stars when it comes to the budget it's spent.
See
In the future, humanity will lose its sight and evolve into a species that doesn't need to see to interact with each other and the world. That's the premise that Apple TV's sci-fi fantasy See is building itself on top of, and it's doing so with a pretty impressive cast to start. With Aquaman's Jason Momoa and legendary actor Alfre Woodard in the roster, See's current order of a single season is the definition of ambitious.
$15 million per episode must be a magic number over at Apple TV Plus, as not only is The Morning Show supposedly spending that figure on its current docket of two 10 episode seasons, but See is spending just as much on one season alone. A post-apocalyptic society is undoubtedly a costly proposition, and even in Momoa's casting alone, you can feel that Apple TV really wants the next Game of Thrones on its hands. Provided that Netflix hasn't already beat them to the punch with The Witcher, this crazy plan just might work.
Mythic Quest
It can't be cheap to hire talent that's already engaged in a record breaking TV hit such as It's Always Sunny In Philadelphia. NBCUniversal is about to learn that lesson as they've resurrected A.P. Bio for season 3, much to Glenn Howerton and Patton Oswalt's delight, and now Apple TV will be sharing that particular course, as Mythic Quest stars Howerton's long time co-star and collaborator, Rob McElhenney.
Co-created with another Sunny alum, Charlie Day, Mythic Quest is all about the day in and day out of a video game company. So think Silicon Valley, except with a lot more programming, and Academy Award Winner F. Murray Abraham along for the ride. As such, everything from scheduling to the cast currently on board, and even the prestige that McElhenney and Day bring with their names, might not have broken the bank on this one; but it's probably more costly than most shows of its type.
Snoopy In Space
On the surface, you wouldn't think a show like Snoopy In Space would cost that much. A brand new animated show, based on Charles Schultz's beloved Peanuts characters feels like something that, while potentially landing a prolific blow for Apple TV Plus's imprint, doesn't feel all that expensive to produce. Whether that's true or not, we don't know; but there is one factor that probably drove up the price. While Snoopy is headed off to the starry void of the universe, he won't be alone on Apple TV+'s streaming line-up.
Included in the deal to make Snoopy In Space happen was a condition that makes Apple TV Plus the exclusive streaming home for all Peanuts TV specials. So if you want to watch It's The Great Pumpkin, Charlie Brown and you miss it during ABC's traditional broadcast, you now know where you'll have to go to find it in the future. Considering that's something ABC's parent company Disney would have probably loved to have on their own proprietary service, that's a pretty big (and possibly expensive) get.
Lisey's Story
Josh Boone is one of the few creative forces that's landed himself in multiple Stephen King projects, without a franchise attached to his efforts. With The Stand set up over at CBS All Access, and now Lisey's Story being produced as an Apple TV Plus miniseries, Boone is in pretty good company and undoubtedly a busy man with an eight episode run planned for this particular project.
Here's where the money factors into things though, as not only is Julianne Moore cast to play Lisey, the recently widowed wife of a famous writer, but Stephen King is also signed on to write the entire run of the show. The man got his wish after all. Throw in the usually trippy King visuals and concepts that eventually present themselves, and you've got a recipe for a show that'll undoubtedly add some zeroes to its worth as it goes into production.
Oprah
There's content behind the fact that Oprah Winfrey is returning to TV through the invitation of Apple TV Plus, as not only is she releasing two documentaries, but she's also going to bring her world famous Book Club to the streamer. The return of a network TV titan through streaming is undoubtedly going to be something that her fans will rejoice. It's also probably going to cost Apple TV quite a bit.
No exact figures are floating around out there, but the Oprah brand isn't something that's going to just walk into your lineup for a song. As Winfrey also still has her own network, OWN, in operation, to be lured into creating content for a streaming upstart has to have a ring to it. Part of that tune is probably the dollar figure, while the other half is undoubtedly the fact that it will be a multi-year partnership between Apple TV Plus and Oprah Winfrey.
This is only part of what $6 billion will get Apple TV Plus, as there are a lot of other titles in the works. The Taika Waititi remake of Time Bandits, a whole new animated show from Bob's Burgers creator Loren Bouchard, and projects that feature talent like Octavia Spencer and Sara Bareilles are all in the works as well. Not to mention J.J. Abrams is lurking in the wings with some content he's also working on for Apple TV.
Even without exact figures for most of these shows, you can see just how this new provider is trying to compete with the streaming world at large. We'll see how successful the tech giant is this fall, when Apple Plus TV launches on a still unspecified date, ready to wow the world and drain its bank account.
Senior Movies Contributor
CinemaBlend's James Bond (expert). Also versed in Large Scale Aggressors, time travel, and Guillermo del Toro. He fights for The User.