Stranger Things' David Harbour Really Hated The Name 'Stranger Things' At First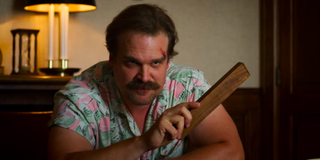 When Stranger Things left off in Season 3, it was unclear whether or not David Harbour's Sheriff Jim Hopper was alive or dead. It's still a long way to go before Season 4, of course, but with the confirmation of the Netflix series' renewal, there's a pretty big chance that the star and character will return. As popular as the show is now, fans might not know it wasn't always called Stranger Things.
In fact, Stranger Things first went by the name Montauk, and David Harbour recently admitted to preferring the original title to the current one.During an appearance on Late Night with Seth Myers, David Harbour admitted that, although he and Stranger Things' showrunners the Duffer Brothers get along great, they had a major quibble early on in their working relationship. It turns out Harbour wasn't a fan of changing the name of the show, and he let them know. Here's how he put it:
Admittedly, Stranger Things sounds better to me, and it looks like Seth Meyers agrees with that as well. But to each their own.
At least David Harbour wasn't destined to be mad about the title change forever. He came around to the idea eventually, saying:
Season 3 of Stranger Things saw Hopper and Joyce joining forces to stop the Russians from opening the gate to the Upside Down. However, Hopper was already too far out, and Joyce is seen closing the gates with him inside. It was a gut-wrenching scene and Joyce looked wrecked. Given that we didn't actually see Hopper die, and that the Russians confirmed they'd kidnapped an American in the post-credits scene, one can hope that the sheriff will live to see another day.
You can watch the full Late Night with Seth Meyers interview clip below!
Stranger Things has been renewed for a fourth season and The Duffer Brothers have signed a multi-year overall deal to produce films and TV series for Netflix. Season 3 of the sci-fi/fantasy series is currently available to stream. And be sure to check out our complete list of what's coming soon to Netflix for the rest of 2019.
Your Daily Blend of Entertainment News
Thank you for signing up to CinemaBlend. You will receive a verification email shortly.
There was a problem. Please refresh the page and try again.