The Stranger Things Creators Are Putting Together New Projects At Netflix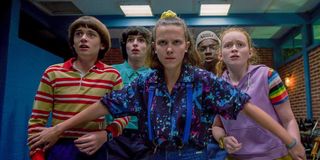 Stranger Things has been a fan favorite show since its Netflix premiere in July 2016. While so many subscribers are currently frustrated that Netflix staples like Friends and The Office are leaving the streaming service, Stranger Things actually boosted the company's subscriber number. Given the show's success, Netflix wasn't going to let Stranger Things creators The Duffer Brothers go that easily.
As it turns out, The Duffer Brothers have signed a multi-year film and series overall deal with Netflix. The news comes right on the heels of Stranger Things being renewed for Season 4. The renewal announcement really began with a teaser from the show's social media account, which included a picture of a clock. Rumors had already been swirling about Season 4 filming, previously reported to begin later this year.
With this mega deal, the Duffer Brothers follow in the footsteps of director Jordan Peele, who recently signed a five-year production partnership deal with Universal Pictures, Grey's Anatomy creator Shonda Rhimes, who signed on to produce new series for Netflix in 2017, and executive producer Greg Berlanti of the Arrow-verse, who inked a four-year deal to extend his existing contract with Warner Bros. TV.
Netflix's Chief Content Officer, Ted Sarandos, had this to say about continuing to work The Duffer Brothers:
Stranger Things wouldn't be what it is without the creativity of The Duffer Brothers and Netflix's partnership, so the deal works in favor of everyone. The Duffer Brothers also spoke highly of the Netflix team and expressed their excitement for getting to produce more content.
The teaser that came along with the Stranger Things Season 4 announcement offered fans a simple tagline: "We're not in Hawkins anymore." Does that mean that the majority of the characters will venture beyond the bounds of the small town? It sure sounds like it. Eleven and the Byers did move away at the end of Season 3.
Stranger Things Season 4 doesn't have a release date yet, but it will hopefully be out at some point next year. In the meantime, be sure to check out our detailed TV guide to every new and returning show airing this fall.
Your Daily Blend of Entertainment News