Power Star Reacts To Starz Drama's Latest Big Death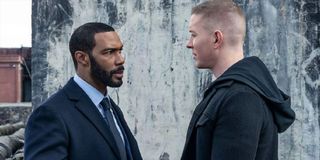 Warning! Major spoilers ahead for Power's Season 6, Episode 8, "Deal With the Devil."
They say you should keep your friends close and your enemies closer, but Starz's Power suggests that your friends can turn into your worst enemies, and everyone wants to kill you at some point. Power proved that yet again in Season 6 with the episode "Deal With the Devil," which featured Tasha (Naturi Naughton) shockingly gunning down and killing La La Anthony's LaKeisha.
La La Anthony spoke up about her character's death, and though no actor loves it when their character is killed off a show, Anthony says that LaKeisha's fate was to be expected given her journey so far. In her words:
It is sad because LaKeisha and Tasha used to be good friends. Although Tasha shooting LaKeisha in the stomach was an accident, Tasha felt she had no choice but to finish the job. LaKeisha put up a fight though, begging Tasha to spare her because of her son. It was clear that Tasha didn't feel such a strong sense of friendship anymore because she pondered whether or not to kill LaKeisha, but only for a second before pulling the trigger.
LaKeisha's death was definitely shocking for fans, just as other deaths have been, just as other deaths have been. While viewers might think that a character is safe after being on the show for six seasons, Power keeps things exciting by not sticking to the formula. No one is really safe. Look no further than Joe Proctor, who was killed off a few weeks ago. If nothing else, LaKeisha's death proved that old friendships mean nothing.
When asked by EW how she discovered that LaKeisha was meeting her doom in the final season, the actress said that she was given the rundown about her character's fate by Power showrunner Courtney Kemp.
LaKeisha definitely went out with a bang, though, and while many fans certainly hated her character and wanted her gone from Power, La La Anthony hopes that the character's permanent demise will make fans miss her. After all, distance (and death) makes the heart grow fonder, even for cable dramas.
Power Season 6 airs Sundays at 8 p.m. ET on Starz. For all your TV watching needs, be sure to check out our complete list of every new and returning show premiering this fall.
Your Daily Blend of Entertainment News