Power Star Thinks Latest Character Death Was 'Fitting'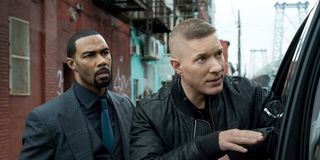 Warning! Spoilers for Power ahead.
After the death of Joe Proctor's ex-wife in last week's episode of Power, it seemed like only a matter of time before Proctor himself would kick the bucket, too. The lawyer, who got himself involved in all sorts of drama and sideways dealings, was killed off in the episode "King's Gambit," and actor Jerry Ferrera thinks his character's death was actually "fitting".
Power has always had plotlines that include a lot of twists and turns, making it one of Starz's most popular shows. No one has ever been safe, and considering how knee-deep Jerry Ferrera's Joe Proctor was in illegal dealings, it was inevitable for that character to face an explosive death at the hands of Joseph Sikora's Tommy. If you recall, Tommy had also killed Angela not that long ago.
In an interview with Entertainment Weekly, Ferrara discussed being killed off of Power, and how before he spoke with creator Courtney A. Kemp about the details, he believed a completely different character beyond Tommy would be responsible for taking Proctor down.
Even though Joe Proctor may be dead and not looking to return to Power, Jerry Ferrara teased that his character will continue to influence the storyline in Season 6, which might have everything to do with Proctor's shady connections. According to the actor:
With that last bit, Jerry Ferrara was referring to Joe Proctor's final words to Tommy before the end: "It's not fucking over." Whatever happens next, it will likely end in more corpses, so fans shouldn't stay too attached to anyone still standing ahead of the upcoming spinoff(s).
Power Season 6 airs Sundays at 8 p.m. ET on Starz. It's far from the only fall TV show out there, though, so be sure to check out all of the premiere dates to see what new and returning shows will catch your eye.
Your Daily Blend of Entertainment News
Your Daily Blend of Entertainment News
Thank you for signing up to CinemaBlend. You will receive a verification email shortly.
There was a problem. Please refresh the page and try again.