Game Of Thrones' Tormund Actor Proves He's A True Viking With New TV Role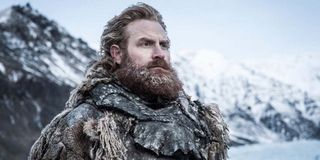 Now that Game of Thrones is over, the cast is ready for new roles, and, they've been busy. Kit Harington has gone off and joined the Marvel Cinematic Universe as The Eternals' Black Knight. Emilia Clarke is starring in the upcoming holiday film, Last Christmas, and the former Queen in the North, Sophie Turner, has landed a new role in the miniseries, Survive. Not one to be left behind in Westeros, Game of Thrones actor Kristofer Hivju will be joining the new competition series, True Viking.
Per Deadline, Kristofer Hivju, who played the beloved and loyal Tormund Giantsbane on the HBO drama series, will be playing an entirely new role on the reality show True Viking. The actor will be hosting the competition series, which will follow contestants as they are challenged by Viking-like tasks and skill sets.
In addition to hosting the series, Kristofer Hivju signed a deal to produce the show through his production company, Tindefilm. Hivju's company will co-produce True Viking alongside two British production companies, Zig Zag Productions and Wildflame.
The competition show will run for five weeks and the contestants will have to face Viking-like challenges and tasks that will test their physical and mental strength. Their challenges will include the likes of trekking through snowy mountainous terrain, ice fishing, hunting for their own food, and building shelters to sleep in and keep warm. I wonder if they'll have to fight like Vikings, too, but that remains to be seen.
The tasks themselves sound fairly dangerous and the contestants will definitely have their work cut out for them. In addition to the treacherous tasks they'll be doing, True Viking will honor the Viking culture by being set in the Norwegian region, including the location of one their most historic battles.
In a statement, Gry Molvær Hivju, Tindefilm's executive producer and wife of Kristofer Hivju, shared how excited the company is to be producing True Viking.
Paul Islwyn Thomas, CEO of Wildflame Productions, is also thrilled to be bringing a piece of history to the new series.
True Viking doesn't yet have a network or premiere date, but stay tuned to CinemaBlend for news as the series develops. In the meantime, be sure to check out our complete TV guide with details on every new and returning show and their premiere dates and times.
Your Daily Blend of Entertainment News
Thank you for signing up to CinemaBlend. You will receive a verification email shortly.
There was a problem. Please refresh the page and try again.