Why The Halo Franchise Has So Much Potential For TV, If Showtime Can Pull It Off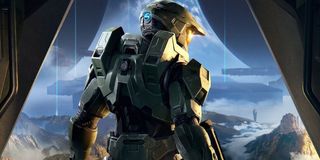 After what feels like a lifetime of development hell and strife, Showtime's Halo series is finally set to take the TV stage in 2021, bringing Bungie's legendary gaming franchise to life in a huge way. While there have been previous live-action adaptations of the franchise's saga, this is the first high-budget TV series that will venture into the legendary story of Pablo Schreiber's Master Chief and his role in the war against na evil alien alliance known as the Covenant.
The extended development period that Showtime dealt with in turning Halo a potential TV hit will likely be worth it, provided they can pull off the balance of spectacle and storytelling that the series will need to properly portray the world of the Bungie-created franchise. And should the cable channel be able to stick the landing, it will be able to tap into a seemingly limitless well of potential. Here's why the Halo franchise has so much so much of that potential.
Halo Fans Have Been Waiting For This Showtime Series For Years
First announced in 2013, Showtime's plans for a Halo series started in the ruins of the previously planned feature film franchise. With Steven Spielberg signed on as an executive producer, and the Xbox game series as hot as ever, an episodic TV series on Showtime was a prospect that sounded pretty exciting to Halo fans. By the time the Showtime series is supposed to hit the air in 2021, the most loyal supporters of Bungie's big ticket video game saga will have waited eight years for Halo to become a weekly TV fixture.
Normally, such a long wait may have caused fans' hopes and dreams for such a series to wane. However, with the new video game entry Halo Infinite dropping next year, the fandom will be nice and primed for this big leap in media. There's even a potential for crossing the video game narrative with the television show, depending on how the story is crafted. Even if that doesn't happen, though, there's plenty of material to draw from.
Halo Has An Extensive Established Canon That Can Be Easily Adapted
In its almost 20-year history as a franchise, Halo has crossed over into pretty much any media you can think of. Both feature films and shorts, both in live-action and animation, and there's also books, comics, and podcasts all fleshing out the Bungie series. It adds up to a vast universe that gives Master Chief, and anyone trying to craft his story, a lot of room to run around in.
Such freedom gives Showtime a blank check for the sort of tales they want to tell in the Covenant War's long history. We've already seen the beginnings of such a strategy, with Bokeem Woodbine's Soren-066 character acting as a link between "Pariah," a short story from the anthology book Halo: Evolutions, and the upcoming Halo series on Showtime. Even spinoff games like Halo 3: ODST could provide further avenues for the creative team to take, should they want to grow the fictional universe that much quicker.
The Halo Television Universe's Spinoff Potential Reaches Way Past Master Chief
If Showtime wants Halo spin-offs, they definitely have the right universe for such an endeavor. Again, books, comics, podcasts and video games could flesh out the world that the series has to offer, and in differing ways. While the Halo series proper could follow Master Chief's plights in the fight against The Covenant, obviously with Natascha McElhone's Cortana by his side, other side projects would be perfect for development as side stories.
The Fall of Reach alone would be prime for a miniseries that tells the story of one of the earliest, most memorable battles in the history of Halo's combat laden universe; that approach already worked in the video game Halo: Reach. Also, should the Halo TV series reach the era of Halo 5: Guardians' story, the podcast Hunt The Truth could provide Showtime with a journalistic mystery story, not unlike All The President's Men. So many different stories can be told in this saga, keeping the network busy for quite a while.
A Long Term Showtime TV Series Is The Best Approach To The Halo Universe
With such a vast universe to explore in the history of Halo's war torn saga, all of that material would come in handy when it comes to trying to craft a long-term saga for Showtime to hoist up as its flagship series. Rather than trying to cram all of that conflict into the more limited scope of a feature film series, both the network and EP Steven Spielberg took the wiser approach by telling this expansive story in a televised narrative.
Five games, and the huge canon of non-video game materials that Halo has in its back pocket, are already enough to keep this train rolling for as long as Showtime sees fit. And the best part is, unlike some other premium cable epics, there's no need to worry about whether or not the TV show might interfere with the development of future Halo properties outside of its realm.
The Casting For The Halo Series Brings A Lot Of Prestige
For a promising project like Halo, a lot of A+ talent is probably needed to help bring that vision to the masses. We've already mentioned some pretty heavy hitters in the Halo cast, as Orange Is The New Black and American Gods vet Pablo Schreiber has already been cast as John-117, better known as Master Chief. As well, Designated Survivor's Natascha McElhone is playing the dual roles of Dr. Catherine Halsey and the military A.I. she creates in her own image, Cortana.
Bokeem Woodbine's Soren-066, a deformed veteran of the Spartan II program, rounds out the big ticket lineup of the human side of the cast. Which means that on top of this trio of well-regarded actors, there's plenty of room for star power within the casting for characters central to The Covenant. All that's missing is an announcement that legendary actor Keith David will once again voice iconic Halo protagonist The Arbiter, and fans would be more than ready to settle in for the ride.
Showtime Could Have Its Own Game Of Thrones-Style Hit With Halo
Everyone is looking for "the next Game Of Thrones," as we've seen with Amazon's Prime Video picking up The Lord of the Rings and The Wheel of Time as long-term series prospects. Netflix's The Witcher is aiming for that same goal. It's possible that with the fanbase already built into the Bungie-originated franchise, a successful Halo series would only serve to be the cable network's ticket to a wider platform of star power and hype awareness.
Showtime has had niche hits with shows like Shameless, Ray Donovan, and the revival of David Lynch's Twin Peaks. Throw in award-worthy limited series like Escape From Dannemora, and the network's execs have quite a modern pedigree on their hands. The game could change in a huge way with Halo if it becomes one of the next pop culture touchstones, and all involved are certainly hoping to tell the story of The Covenant War in such a manner that pleases both fans and franchise-newbies alike.
The potential for a Halo series is infinite, provided that Showtime does right by those who've invested their time, patience, and fandom in the property's success. At the same time, fan service alone won't get this bird off the ground, as new fans are just waiting to be drawn to the space adventures that Master Chief, Cortana, and all the other men and women serving the United Nations Space Command.
The next year or so will be crucial to the development and execution of the Halo TV series. But one thing is for certain: in the right context, this series has the potential to be a huge TV landscape worth diving into. We'll see if the wait has been worth it, when Halo presumably premieres on Showtime in 2021.
Senior Movies Contributor
CinemaBlend's James Bond (expert). Also versed in Large Scale Aggressors, time travel, and Guillermo del Toro. He fights for The User.
Your Daily Blend of Entertainment News
Thank you for signing up to CinemaBlend. You will receive a verification email shortly.
There was a problem. Please refresh the page and try again.