Netflix's Unbelievable Could Become True Crime Anthology Series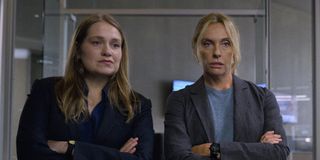 Netflix has become the home for a lot of popular true crime series and movies, including Mindhunter, Making a Murderer, Abducted in Plain Sight, and Ava DuVernay's When They See Us. Toni Collette and Merritt Wever's Unbelievable, the latest limited series crime drama, recently join those ranks in a big way. Given its popularity among streaming viewers, Netflix is reportedly interested in turning Unbelievable into a true crime anthology series.
Netflix recently revealed its third quarter numbers, which were more optimistic than those for Q2. Apparently, Unbelievable was watched by 32 million households within its first month of release. Whether or not that means the entire season was binged by all those people from start to finish remains a mystery, but its instant popularity reinvigorated Netflix's idea to turn the series into an anthology, which was a previously existing concept that execs had set aside. Now that it's clear Unbelievable is popular enough, though, an anthology series could finally become a priority.
However, even though it's been discussed, there are currently no concrete plans to go ahead with an Unbelievable anthology series (via Deadline). Still, those early numbers show the limited series to be one of the streaming service's highest-rated shows of 2019, so Netflix might start expanding sooner rather than later. Making the show an anthology means Season 2 wouldn't be beholden to the original Unbelievable plot, and the creators could focus on other true crime stories (of which there are many).
Based on T. Christian Miller and Ken Armstrong's Pulitzer Prize-winning article, "An Unbelievable Story of Rape," Unbelievable stars Toni Collette and Merritt Wever as detectives who are tasked with investigating Marie Adler (Kaitlyn Dever) after she's charged with falsifying a rape. (And the real Marie Adler had thoughts about the depiction of events.)
The limited series, which contained eight episodes, was immediately met with critical acclaim, and the positive reception primarily highlighted the performances of Toni Collette and Merritt Wever. In addition, Unbelievable is also one of the only true crime dramas currently streaming that focuses solely on female detectives investigating crime cases. This is incredibly rare, even in this day and age, and makes Unbelievable an all the more refreshing counterpart to HBO's True Detective.
Turning Unbelievable into an anthology series might be the smart way to go for Netflix, which seems to be hemorrhaging shows left and right. With so much competition in the streaming services market — Disney, Apple, CBS, and NBC all have streaming service plans, to name a few — Netflix could do with some more original programming. If only to satiate those fans who will be mourning the loss of staples like Friends and The Office, which are being relocated to HBO Max and NBC's Peacock, respectively.
With the popularity of Mindhunter and Making a Murderer, Netflix seems to have unexpectedly carved out its own niche of true crime dramas for fans to watch, so savvy subscribers can expect to see the service building on those trends.
Unbelievable is currently available to stream on Netflix. Interested in more true crime dramas? Be sure to check out our list of which true crime series are worth checking out on Netflix.
Your Daily Blend of Entertainment News