11 Unbelievable True Crime Series Worth Streaming On Netflix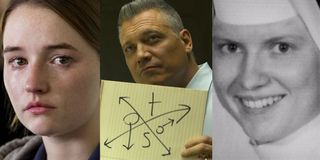 Making A Murderer became an obsession for millions of Netflix users, but it's far from the only "Unbelievable" true crime series on the streamer. Many of the series -- like Steven Avery's saga, which just got another update -- are documentary series. But others cast well-known actors for scripted adaptations of true crime stories. Every Monday I have a new set of streaming suggestions, and the 11 true crime titles below cover both nonfiction docuseries and scripted true crime series, starting with the one that recently blew me away...
Unbelievable
I just finished streaming this eight-episode limited series on a serial rapist and, oh man, does it live up to its title. I wanted to scream at so many people -- from the rapist himself to the cops who ignored teen victim Marie Adler to Marie's obnoxious foster mother. But I also found heroes in Merritt Wever's Det. Duvall and Toni Collette's Det. Rasmussen, and was astonished by the power of Kaitlyn Dever's performance as Marie. The real Marie Adler shared her thoughts on the series, and I'm sure you'll have strong feelings too.
Stream Unbelievable right now on Netflix.
Mindhunter
This scripted series has David Fincher as an executive producer and director of several episodes. That's probably all you need to know. But it's also based on the book Mindhunter: Inside the FBI's Elite Serial Crime Unit, with Jonathan Groff starring as Special Agent Holden Ford of the FBI's Behavioral Science Unit. Season 1 was set from 1977-1980 in the early days of criminal psychology, with Season 2 set from 1980 to 1981, basing storylines on real-life crimes. Fincher has an exact number of seasons in mind, so even though Netflix hasn't officially renewed it for Season 3 as of this writing, it's coming.
Stream Mindhunter on Netflix.
The Disappearance of Madeleine McCann
I wasn't sure about starting this docuseries, since I already know there's no happy ending. There's not even a sad ending. There is still no ending. I vividly remember the roller-coaster news coverage when 3-year-old Madeleine went missing during her family's holiday in Portugal. This documentary series zeroes in on the tabloid media frenzy, with the McCanns painted as victims and then as suspects then back to victims of the police, the press, and online commenters who were POSITIVE from thousands of miles away that the McCanns were guilty. It's exhaustive and exhausting and so well put together that you're sure the next lead is going to reveal what happened. I'm still thinking about this series months after its release in March 2019.
Stream The Disappearance of Madeleine McCann.
The Keepers
I struggled with The Keepers. I'd be shocked if anyone could get through it without being horrified, but as someone who went to Catholic school for years it was particularly tough to watch. It's about the unsolved murder of Sister Cathy Cesnik, who disappeared in 1969 and was found dead in 1970. But it's very much tied to the cover-up of widespread sexual abuse at Archbishop Keough High School in Baltimore. Everyone knows about Madeleine McCann and Amanda Knox, but Netflix really excels at digging into lesser-known crimes like this. The seven-episode series came out in 2017 and as hard as it is to watch, it's important.
Stream The Keepers.
Evil Genius: The True Story of America's Most Diabolical Bank Heist
At the very least, it has a great title! This true crime docuseries came to Netflix in 2018 as a four-part series. Evil Genius explored the bizarre 2003 murder of Brian Wells, whose death was sometimes called the "pizza bomber" case. You really have to watch the documentary series to try and understand how he fit into the larger botched bank robbery, which led to his death when an explosive collar around his neck detonated. There are a lot of angles to this one, and they're all grimly fascinating.
Stream Evil Genius.
Conversations with a Killer: The Ted Bundy Tapes
This year marked the 30th anniversary of Ted Bundy's execution, and that meant we got multiple Ted Bundy projects. Zac Efron starred as Ted Bundy in the Netflix movie Extremely Wicked, Shockingly Evil and Vile, leading to allegations that the serial killer was being glamorized. Maybe it's true. Conversations with a Killer came to Netflix in January 2019, with four hour-long episodes sourced from hundreds of hours of interviews and archival footage from Bundy, his surviving victims, family, and law enforcement.
Watch Conversations with a Killer: The Ted Bundy Tapes.
The Confession Tapes
False confessions used to baffle me. Why would someone confess to something they didn't do? But true crime has schooled me well on that front, from Unbelievable to this entire documentary series. The first season came out in 2017, covering six different cases of possible false confessions. Season 2 had four new episodes in 2019. Each case shows multiple potential scenarios for how a crime could've happened, with experts digging into the justice system and the many ways it can fail. Chilling stuff.
Watch The Confession Tapes.
The Innocent Man
This six-episode documentary series came out in 2018, based on the book by John Grisham. Yep, that John Grisham. The Innocent Man: Murder and Injustice in a Small Town is his only nonfiction book to date. The series examines two murders in the small town of Ada, Oklahoma -- the 1982 murder of Debra Sue Carter and the 1984 murder of Denice Haraway. The story follows the questionable cases against the four men convicted, including former minor league baseball player Ron Williamson, who was exonerated by DNA evidence after serving 11 years on death row.
Watch The Innocent Man.
Exhibit A
You watch enough true crime docuseries, you'll get to thinking the justice system is so flawed, everyone convicted is really innocent. That's not quite the case -- sometimes the system does work, and there's even another Netflix true crime series called I Am a Killer with actual killers talking about their murders. However, Exhibit A may have you doubting all evidence. The four-part series came to Netflix in June 2019 exploring how blood spatter, cadaver dogs, and other forensic tools can be manipulated and misinterpreted, sometimes resulting in false convictions.
Watch Exhibit A.
The Staircase
It feels like cheating to add The Staircase, since I already wrote about it on a list of documentary series to watch. But, to me, it's even more essential true crime viewing than Making a Murderer. The Staircase started as a French TV miniseries in 2004, following the case of Michael Peterson, who was accused of murdering his wife Kathleen. Simple set up. But there's still nothing simple about this case. I must've changed my mind on what happened a dozen times, as the story kept adding new details over the episodes and over the years of filming.
Watch The Staircase.
Wild Wild Country
This documentary series was a huge sensation last year. It's amazing how much of the real history from the 1980s was forgotten by the public until being revived on Netflix. The extremely addictive, maddening, and often hilarious six-part series follows the followers of Indian guru Bhagwan Shree Rajneesh in the Rajneeshpuram community in Wasco County, Oregon. Ma Anand Sheela owns the whole series, which is definitely worth a stream if you haven't already watched it.
Stream Wild Wild Country.
Although I prefer TV series when it comes to true crime -- because the filmmakers have more time to really dig into the subject and show all sides -- there are also plenty of true crime films worth streaming on Netflix, including Strong Island, Abducted in Plain Sight, and Amanda Knox.
If you're looking for more streaming recommendations, check out these past features:
• 5 Excellent Keanu Reeves Roles Worth Streaming On Netflix And Amazon
• 5 Sci-Fi TV Shows To Watch On Netflix: Our Streaming Recommendations
• 5 Documentary Series To Watch On Netflix: Our Streaming Recommendations
• 5 British TV Comedies On Netflix You Should Bloody Well Watch: Our Streaming Recommendations
• 3%, Occupied, Harlots, and Other Streaming Recommendations
• 5 Robert Downey Jr. Movies To Love 3000 On Netflix
• 5 Chris Evans Movies Worth Streaming On Netflix And Amazon
• 5 Ryan Reynolds Roles Worth Streaming On Netflix And Amazon
• 5 Will Smith Movies Worth Streaming Right Now On Netflix And Beyond
• 5 Refreshingly Non-Toxic Reality TV Shows Worth Streaming On Netflix
• 5 Joaquin Phoenix Movies Worth Streaming On Netflix And Amazon Ahead Of Joker
• 5 Stripper Movies Worth Streaming In Honor Of Jennifer Lopez's Hustlers
• The 5 Best Space Movies To Stream In Honor Of Brad Pitt's Ad Astra
What other Netflix true crime series would you recommend? Have you seen I Am a Killer yet, with interviews from death row inmates confessing to their crimes? That might be too grisly for me, but you can add it to your own list. Also, I highly recommend cleansing your soul with Great British Baking Show episodes between each true crime story. There is good in the world!
Your Daily Blend of Entertainment News
Gina grew up in Massachusetts and California in her own version of The Parent Trap. She went to three different middle schools, four high schools, and three universities -- including half a year in Perth, Western Australia. She currently lives in a small town in Maine, the kind Stephen King regularly sets terrible things in, so this may be the last you hear from her.