6 Things Netflix Rhythm + Flow Does Better Than The Voice And American Idol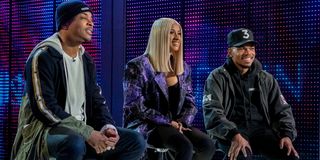 Move over, American Idol and The Voice, because Netflix has the next big singing competition that demands an audience. Granted, Rhythm + Flow is more of a rap competition than singing, but the weekly Netflix series is already doing a lot in its inaugural season that the big two singing competitions aren't doing, and it's much better for it.
Those who haven't watched yet are missing out, because this is the sleeper competition series that should have other shows scrambling to keep pace, especially if it's renewed for Season 2. Rhythm + Flow is legit, and the old guard could certainly learn a thing or two, or six from watching this awesome new show.
Insane Celebrity Guests And Unapologetic Judges
American Idol and The Voice have their fair share of guest stars, but even their best seasons of celebrity cameos have trouble comparing to Rhythm + Flow. Beyond legends of hip-hop like Snoop Dogg, Jadakiss, and Big Boi, the competition has pulled artists like Killer Mike and Quavo on to consult and help pick artists for the competition. These guys are still at the height of their careers, and having their input really adds some weight to the competitors.
Then we have the judges Cardi B and Chance the Rapper, two Grammy winners in the genre in the past three years. Then there's T.I. who's sitting there with 3 Grammy wins he captured in 2007. These three have nothing to prove, and they're outright brutal to anyone in this competition who thinks they've already made it. There have been some hurt feelings from contestants on the show already, and while I don't advocate being mean for the sake of entertainment, all the criticism has been valid and helped shape the competition towards some talented competitors.
Visually Striking And Constantly Changing Sets
It wasn't until I watched Rhythm + Flow that I realized there's something I hate about American Idol and The Voice. Their sets are pretty stagnant, and they rarely change from episode to episode. Hell, The Voice's competition takes place in the same studio with the same coaches' chairs visible throughout most if not all the season. It didn't feel like an important gripe on a singing competition until I saw what difference changing up sets on Rhythm + Flow made.
A great example of this is during the audition rounds, where different stages helped mix up the look and feel of episodes in an interesting way. I especially liked when Chance the Rapper held auditions in the old auditorium, and you could hear the contestants' words reverberating off the walls. It's a nice touch that keeps things from feeling repetitive, which is hard to do when so many episodes in singing competitions have to be dedicated to auditions.
Original Raps And Beats
A vast majority of the time, American Idol and The Voice contestants are performing classic songs viewers know and love. It makes sense why these shows do that, as the songs are tried and true and likely better than most original songs competitors will bring to perform. It's good and audiences seem to enjoy it, but this practice has a tendency to highlight artists who are better at "karaoke" than they may be at songwriting or being a musician.
The best thing about Rhythm + Flow is that a large chunk of what's being performed on the show is from the original artist. Sure, there's occasional lyrical input or consultation, but these competitors are being judged on their songwriting ability and raps over entirely original beats that aren't familiar. To me, it's a much better measure of talent than with the other shows, and it feels like Season 1 will end with a legitimate hip-hop star being crowned.
Competitors Are Judged On All Facets Of Their Character
Music competitions say they're looking for the best person who can go on and have a successful musical career, but it takes more than a voice to succeed in the music industry. If all it took was a strong voice, then most every American Idol and The Voice winner would be a multi-platinum artist, and only a few are. Obviously singing isn't the only factor.
Rhythm + Flow's judges made it clear early on they're looking for the whole package, and that's been evident in all phases of the competition. There are a couple contestants that look like they can forge a promising career out of the exposure from this show, and a few of those hopefuls were eliminated from the competition. If the losers are capable of having successful careers, imagine how things may blow up for Season 1's winner!
Real Tension Between Competitors
I'm not going to sit here and act like there's an insane amount of drama in Rhythm + Flow, but I do like the level of realness between competitors. Take that compared to the camaraderie of American Idol and The Voice where contestants are constantly going on about how they're all buddies when the cameras aren't rolling. While I understand being friendly, there has to be some tension between folks given what's on the line!
Rhythm + Flow isn't non-stop drama, but it's also unafraid of showing when competitors have issues with one another. There's some tension once things get rolling, and showing those encounters and how things evolve give a more realistic feel to the competition. It also once again breaks up the monotonous nature of singing-based competition shows, and gives the viewers something else to chew on other than performance after performance.
The Prize
Audiences are well familiar with the prizes of American Idol and The Voice, which are a cash prize and a record deal. Though the money is sweet, there's some nuance to these record deals that may contribute to the struggles of past winners taking off to super stardom, or why some haven't been as successful as others. For example, American Idol only awards $250k for a completed album, and then 15% on all royalties after. It's not necessarily a bad deal, though one could question how artist friendly these deals are.
Rhythm + Flow's prize is simple. The winner gets $250,000, no strings attached. They can use that money to make an album, help their family, or whatever. Rap is one of the most independent friendly genres in music at the present, with a fair amount of names coming up through Soundcloud and other streaming services. This cash prize allows the winner to get the resources to make a killer follow-up album to the win, and hopefully, be in a better position to negotiate once a record deal is finally thrown their way.
How Paula Abdul Feels About Katy Perry's $25 Million American Idol Payday
Rhythm + Flow (opens in new tab) is currently streaming on Netflix. Stick with CinemaBlend for continued updates on the world of streaming, television, and movies.
Mick likes good television, but also reality television. He grew up on Star Wars, DC, Marvel, and pro wrestling and loves to discuss and dissect most of it. He's been writing online for over a decade and never dreamed he'd be in the position he is today.
Your Daily Blend of Entertainment News
Thank you for signing up to CinemaBlend. You will receive a verification email shortly.
There was a problem. Please refresh the page and try again.