Lady Gaga, Miley Cyrus And Other Musicians Who Proved They Could Also Act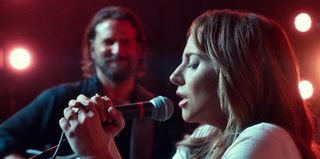 At this year's Academy Awards ceremony, Lady Gaga walked home with her first Oscar. But she almost found herself with two gold statues that night. The musician won Best Original Song, alongside Mark Ronson, Anthony Rossomando and Andrew Wyatt, for the undeniable smash hit, "Shallow," which has rocked the core of nearly every person who has listened to it these past several months. However, Lady Gaga was also in contention for Best Actress, although she ultimately lost to Olivia Colman.
Like many musicians, Lady Gaga has proven that her talents expand beyond her music. Though she was already a star when A Star Is Born made its way into theaters, Bradley Cooper's acclaimed remake of the classic Hollywood tale showed that Ms. Gaga had what it takes to be a bonafide movie star, in addition to being a world-renowned musician. She's not alone in that respect. There are plenty of musicians out there who have gone on to become movie and television stars as well, including Miley Cyrus in Netflix's latest controversial season of Black Mirror.
Of course, they aren't alone in spreading their talents, so I'll take a moment to list a few of the talented singers and musicians who made that leap.
Lady Gaga In A Star Is Born
As we mentioned above, Lady Gaga was well-accomplished as a singer. Beyond appearing in a season of FX's anthology series, American Horror Story, the singer's acting experience was limited — at best. It was not clear to some producers if Gaga had the acting chops to pull off playing the lead role — the title role, to an extent, no less — in this latest retelling of the iconic love story, A Star is Born. Nevertheless, director/co-star Bradley Cooper believed in her, as you probably heard throughout various press tours from Lady Gaga herself, and the results proved the first-time filmmaker was right.
Actually, that's putting it mildly. Lady Gaga's performance in A Star Is Born is an absolute powerhouse, an emotional rollercoaster that is astonishing for an actress with relatively limited experience such as Gaga. Both vulnerable and confident in a way that makes you believe that this incredibly famous musician could be a lowly, hard-working blue collar woman trying to make a name for herself as a singer someday, Lady Gaga's brazen performance is, at once, mild-mannered and electrifying, and capable of capturing the lengths our lead characters journey through throughout the tragedy that unfolds.
It became one of the year's best performances, and it proved that — in the right hands —Lady Gaga has what it takes to be a movie star in addition to being a beloved musician. Because, like she has often said, there can be a hundred people in the room, and 99 don't believe you, but if one does...
Miley Cyrus In Black Mirror
Having gotten her start on Disney Channel's Hannah Montana, Miley Cyrus can often be considered an actress and a singer at the same time. Still in recent years, away from Sofia Coppola's holiday special, A Very Murray Christmas, Woody Allen's Amazon mini-series, Crisis in Six Scenes, and a a handful of Saturday Night Live guest appearances, Miley Cyrus has opted to focus more on music than building an acting career. At least, that was the case until the famous musician made a controversial appearance on Netflix's British anthology sci-fi series, Black Mirror.
In the third episode of the fifth season, Miley Cyrus plays popstar Ashley O, who finds that a doll made in her likeness, Ashley Too, paves the way for some sinister outcomes. Having Miley Cyrus prominently featured in an episode of Black Mirror obviously garnered a lot of attention. When that episode premiered, the responses were mixed, particularly given the subject matter. However, there were many folks who praised Miley Cyrus for this darker, more mature turn, proving the actress has the dramatic range to expand herself into non-comedic roles, if she desires to go in that direction.
Flea In Baby Driver/Boy Erased
As part of the rock 'n' roll scene, Michael "Flea" Balzary has proven himself many times over as the bassist for the Red Hot Chili Peppers. What some music fans might not know, however, is that he has been working as a character actor throughout these past couple of decades on the side, turning in the occasional supporting turn or noteworthy appearance in films such as Back to the Future Part II, The Big Lebowski, and Fear and Loathing in Las Vegas, to only name a handful. Yet, it was his most recent work in two notable different films, Edgar Wright's Baby Driver and Joel Edgerton's Boy Erased, that really proved his talents as an actor.
In Baby Driver, Flea's turn as Eddie was maniacal-yet-transfixing. He brought that same heightened, extreme energy that he is often known to show on stage and brought it the cinema, giving audiences a taste for what the musician can do in action-comedies. Meanwhile, his most recent acting turn in Boy Erased showed a whole other side of Flea, one who could be menacing and unrelenting, brutal and vengeful, while also layered and dimensional. If you didn't know better, you may not think these two were the same people, let alone a musician who only acts occasionally. I hope Flea is given more opportunities to act. He's really quite good at it, by musician standards or otherwise, and it would be neat to see him play a bigger, meatier role.
Jennifer Hudson In Dreamgirls
It's a story of Hollywood dreams. Jennifer Hudson first made her way into the public spotlight as a contestant on the third season of American Idol. She didn't win, ultimately placing seventh overall. But that didn't stop her from hitting the big time. The singer made her acting debut in Dreamgirls, the 2006 musical directed by Bill Condon. Even though she had never appeared in a film prior to that, she made a hell of an impression. So much so that, when it came time for awards season, Hudson walked away with the Best Supporting Actress Oscar for her absolutely incredible turn as Effie White.
Since then, Jennifer Hudson has continued to develop an acting career. She starred in Sex and the City, Winnie Mandela, The Secret Life of Bees, The Three Stooges, The Inevitable Defeat of Mister & Pete, Black Nativity, Sing and Sandy Wexler, to name a few, but she never quite reached the heights that she hit with her first movie. No matter. You can't ask for a better rise-to-fame, especially in the movie business, and Jennifer Hudson will get another chance to showcase her music and acting talents when she appears in Tobe Hooper's adaptation of the hit Broadway musical Cats this year.
Justin Timberlake In The Social Network
Ever since he first appeared in 2006's Alpha Dog, moviegoers have been quick to remark, "Oh, wow. So he can act!" Critics at the time were ready to write off the musician as yet another example of a music-maker trying to overstep their boundaries as an actor. Ultimately, though, he proved to be a surprisingly sincere, intuitive actor, and that resulted in the performer earning a few more acting gigs down the road. Including his most prominent to date in David Fincher's 2010 masterpiece, The Social Network, where Timberlake played Sean Parker, the co-founder of Napster who takes an interest in Mark Zuckerberg (Jesse Eisenberg) and Eduardo Saverin's (Andrew Garfield) new business venture, the social media network we know as Facebook.
While Justin Timberlake was able to hold his own as an actor in Alpha Dog, The Social Network proved Justin Timberlake could deliver a truly great performance. With some regrettable acting turns in lackluster movies such as The Love Guru and Shrek the Third, Timberlake's fans were starting to wonder if perhaps his acting promise was limited to one exclusive role. Nevertheless, in this prestigious role in this award-winning drama, Timberlake more-than-prove himself as an actor, and it's a shame that many of his follow-up films haven't quite captured that same high level of potential and possibility.
Acting is a competitive business. You are never guaranteed to succeed, no matter how famous you might be in other creative fields. Therefore, it's a credit to the expendable talents of these actors that each of them have proven themselves as actors as well as musicians. And they aren't alone. In addition to the musicians listed above, we could've also talked about Jared Leto, Ice Cube, Jennifer Lopez, Will Smith, Mariah Carey, Willie Nelson, Tom Waits, Eminem, Common, Ludacris, Beyonce Knowles, Chance the Rapper, Yasiin Bey (formally known as Mos Def), Snoop Dogg, Queen Latifah, Dolly Parton and many, many more.
There are no shortage of talented musicians out there, and we were only able to list a few of them who successfully made the leap into acting. For example, we'll see Queen Bey do some voice acting in the live-action The Lion King later this year. But you can be sure to list your favorite musicians-turned-actors in the comment section below, and remind us of any actor/singers we missed.
Your Daily Blend of Entertainment News
Will is an entertainment writer based in Pittsburgh, PA. His writing can also be found in The Playlist, Cut Print Film, We Got This Covered, The Young Folks, Slate and other outlets. He also co-hosts the weekly film/TV podcast Cinemaholics with Jon Negroni and he likes to think he's a professional Garfield enthusiast.