One Chicago Drops After Killer Crossover, The World Series Strikes And More In This Week's TV Ratings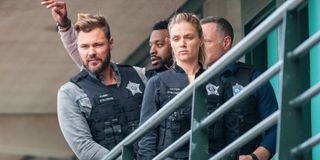 Fall TV season has been in full swing for a month now, and series are beginning to show whether they have what it takes to top the ratings charts for networks or they'll be waiting for the axe at the very bottom. The big October premieres for the broadcast networks have finished, and the heat is on for the Big 4 networks to dominate, with The CW in a little league of its own. With some huge numbers last week for One Chicago, some not-so-super superheroes, and more surprises, let's take a look at this week's newest TV trends and twists!
Note: all calculations are Live+Same day in the key 18-49 age demographic.
One Chicago Drops After Infection Crossover, But Don't Panic
NBC has something special going on Wednesdays thanks to its One Chicago universe, comprised of Chicago Med, Chicago Fire, and Chicago P.D. in a three-hour block of primetime. While One Chicago is hardly the only multi-show universe on broadcast television -- with the Arrow-verse over on The CW getting crazier than ever this season and NCIS as the franchise that just keeps going -- it is the only one with the capacity to air a three-show crossover in one night, as it did last week, with massive ratings as a result.
The "Infection" crossover was the most cohesive and cinematic One Chicago crossover to date, and the October 16 broadcast saw each show experience ratings percentages boosted by double digits, with Fire up 11%, Med up 27%, and P.D. up a whopping 41% in the 10 p.m. ET hour. Med (in Fire's usual 9 p.m. ET slot) and P.D. both won their time slots in both ratings and viewership, and it wasn't even close in either case. Fire, in Med's usual 8 p.m. ET slot, came in third in the ratings behind Fox's The Masked Singer and (slightly behind) Survivor on CBS, but was the top in viewership.
Basically, it was clear as soon as the Live+Same day numbers were in last week that NBC had a huge win with the "Infection" crossover, but the big question was: could Chicago Med, Fire, and P.D. hold on to these numbers once the shows went back to regularly scheduled broadcasts that don't involve flesh-eating bacteria?
Not quite. All three of the One Chicago shows experienced significant drops in the week following the "Infection" crossover, according to TV Series Finale. Back in its regular slot, Chicago Med dropped 17% in ratings to a 1.2 and 14% in viewership to 7.7 million. Fire, burning up the 9 p.m. slot once more, dipped 11% in the ratings to a 1.2 and 5% in viewership to 7.81 million. Fire would be the Chicago show with the smallest drops.
Unfortunately, Chicago P.D. -- which surprised me this fall by quickly passing Fire and becoming my favorite Chicago show after its superior finale in the spring -- experienced the biggest drop, going down 18% in the ratings to a 1.1, and a disappointing 22% in viewership to 6.69 million.
Now, none of these numbers are emergencies, especially since Game 1 of the World Series was an outlier that may have skewed totals for the entire night. (More on that later.) For now, let's take baseball out of the equation. The Masked Singer was off this week, Chicago Med came in just 0.1 behind Survivor in the ratings, and defeated its competition in viewership. Med was the only Chicago series not to beat its closest competition in both categories as well, as Fire and P.D. easily won their time slots despite the drops.
Basically, while these numbers are disappointing when compared to the crossover totals, regular episodes were never going to score the same ratings and viewership as a three-part flesh-eating bacteria TV event, especially with a professional sports broadcast as competition. NBC didn't totally win the night of October 23, but it sure didn't lose with One Chicago!
The Simpsons Kills With Treehouse Of Horror XXX
Whoever says that The Simpsons doesn't have what it takes to draw an audience after 30 years must not be familiar with the "Treehouse of Horror" Halloween specials! The Simpsons goes all out every year in creating an unforgettable Halloween episode, often packed with the best kinds of horror movie parodies. For "Treehouse of Horror XXX," The Simpsons got off to a strong start on the TV front by parodying Netflix's smash hit series Stranger Things for the couch gag. Would people tune in to see it?
Absolutely. The numbers for "Treehouse of Horror XXX" mark such a huge shift from the previous week that I did a double take myself, and I'm somebody who covers TV for a living! In the 8 p.m. ET slot on Sunday, October 20, The Simpsons scored a rating of 2.1 and was watched by an audience of 5.7 million. Were those the highest numbers of primetime TV this week? Not quite. Do they make an insane boost from week to week? 100%.
Actually, to be more precise, a boost of more than 100%. With the 2.1, "Treehouse of Horror XXX" bumped The Simpsons up 159% from the week before, and the 5.7 million is a bump up 166% from the week before. On the non-sports front, The Simpsons was more than three times higher in the ratings than the new episodes of God Friended Me on CBS, Kids Say The Darndest Things on ABC, and Batwoman on The CW in the 8 p.m. hour. In fact, The Simpsons was the highest-rated non-football broadcast of the night.
Just like when animation dominated a couple of weeks ago, the early audience for The Simpsons at 8 p.m. ET seems to have resulted in boosts for the rest of Fox's animation block. Bless the Harts was up more than 95% in both ratings and viewership at 8:30 p.m., Bob's Burgers was up 67% in the ratings and 54% in viewership, and Family Guy bumped up 71% in ratings and 44% in viewership. Imagine a jump of 44% being a network's lowest of the night! Well done, Fox. Well done.
The World Series 2019 Swings For The Fences
The 2019 World Series kicked off this week, with Game 1 between the Washington Nationals and the Houston Astros airing Tuesday, October 22 and Game 2 on Wednesday, October 23. The best-of-seven series will run for at least two more games as of the time of writing, so the ratings totals for the World Series won't be available until next week. Still, the numbers for the first two games are worth looking at for how they stand out of the regular primetime lineup.
In fact, the ratings for the first two games of the 2019 World Series serve as stark reminders of why I usually leave sports broadcasts out of my weekly TV ratings rundowns. Even diehard football fans would have to admit that it would be boring to say "Football won again!" for a couple of days each week. Since the World Series is something special, however, and an outlier for how it takes over different slots throughout a week on a network that usually airs original programming, we should see how the 2019 series is doing so far.
It should come as no surprise that both Game 1 and Game 2 won their nights in ratings and viewership, although NCIS came surprisingly close to matching Game 1 in viewership, with the game watched by 11.6 million and the latest episode of NCIS winning an audience of 11 million. The World Series winning with its first two games isn't what's noteworthy; rather, it's the consistency from the first game to the second.
Game 1 on Tuesday at 8 p.m. ET started the World Series strongly with its 11.6 million viewers and 2.9 rating, and Game 2 on Wednesday was only slightly different with 11.8 million viewers and a 2.8 rating. The World Series more or less retaining its audience from the first night to its second is an accomplishment, and it should be interesting to see how the numbers for the coming games compare. If the series goes to Game 6 and 7, then there will be one more week of Tuesday and Wednesday likely being dominated by baseball.
As a Clevelander who has finally accepted in recent years that my sports teams are cursed whenever we don't have somebody whose name rhymes with SheBron Shames on board, my favorite thing about the 2019 World Series so far is rooting for Walgreens. Sorry, Houston, but if you want somebody totally uninvested in your series to pull for you, then your logo needs to be easy to joke about. Go Walgreens!
Arrow Quivers While The Flash Races Ahead
The full fall Arrow-verse lineup on The CW is finally airing post-premiere episodes, so it's fair to compare them to one another. Of course, special consideration has to go to Arrow, and not just because I'm already nostalgically mourning the looming end. Arrow is the original show without which The Flash, Legends of Tomorrow, Batwoman, and likely even Supergirl (even though the Girl of Steel's series technically started over on CBS), it's ending in eight more episodes, and it's tasked with setting up "Crisis on Infinite Earths" even more than The Flash. So, the question was: would the ratings reflect all of this significance?
Not so far, sadly. In fact, for this past week, Arrow on Tuesday night was the least-watched of the four Arrow-verse series, with only 0.78 million viewers, and that was a drop of 8% from its Season 8 premiere. The good news for Arrow (although less good for the Girl of Steel) is that it didn't have the lowest rating, as Arrow's 0.3 beat Supergirl's 0.23. It was a rough week almost all around for the Arrow-verse, as Arrow, Supergirl, and Batwoman all dropped in both ratings and viewership.
The Flash is the exception, and it has basically lapped the other Arrow-verse series by virtue of how far it has raced ahead. So far, The Flash is the only one of the four Arrow-verse series not to drop from one week to the next. In the 8 p.m. ET time slot on Tuesday, The Flash remained steady in the ratings, keeping its 0.5 in the key demo. Even more remarkably, The Flash grew its audience more than 8%, with around 1.4 million tuning in this week rather than the around 1.28 million of the week before.
Now, why can't some of these viewers stick around for Arrow? I know the 9 p.m. ET time slot on Tuesdays is competitive, with Arrow up against This Is Us (which is actually beating The Masked Singer on one key way) on NBC, FBI on CBS, and mixed-ish on ABC, but surely the Emerald Archer deserves a bigger live audience than he's getting right now, right? The guy could die!
So, there you have some of the most notable trends, disappointing turnouts, and exciting beginnings from this past week in broadcast network ratings! Be sure to check back next week for a new rundown of the Sunday-Thursday ratings, and if you're ready for some streaming after all of this, swing by our 2019 Netflix premiere guide for some options!
Your Daily Blend of Entertainment News
Laura turned a lifelong love of television into a valid reason to write and think about TV on a daily basis. She's not a doctor, lawyer, or detective, but watches a lot of them in primetime. Resident of One Chicago, the galaxy far, far away, and Northeast Ohio. Will not time travel, but will sneak references to The X-Files into daily conversation.
Your Daily Blend of Entertainment News
Thank you for signing up to CinemaBlend. You will receive a verification email shortly.
There was a problem. Please refresh the page and try again.