Ranking The Chicago Med, Fire And P.D. Finales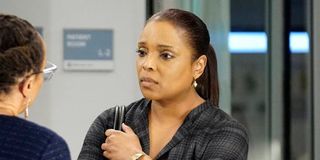 (Image credit: NBC)
Another season of Chicago action has come to an end, and the three-hour block of Chicago Med, Chicago Fire, and Chicago P.D. was packed with medical crises, burning buildings, crime, betrayal, arrests, injuries, diagnoses, and even some relationship drama. The three season finales made for a jam-packed evening on NBC, and it was hard not to be exhausted by the end.
Not all season finales are created equal, though. So, as we head into a Chicago hiatus, take a look at a ranking of the Chicago Med, Chicago Fire, and Chicago P.D. finales!
Spoilers ahead for all three season finales.
3. Chicago Fire
Chicago Fire has actually produced some of my favorite finale cliffhangers from the last decade or so of television, but the Season 7 finale felt like something I'd seen plenty of times before, and not quite major enough to pack a punch that will keep viewers on the edges of their seats for the next several months.
Yes, the cliffhanger left most of the characters in danger of burning -- even the EMTs -- to death in the basement of a mattress factory that exploded. For me at least, some of the suspense of Chicago Fire finale cliffhangers involving huge fires has been lost since the killer Season 5 cliffhanger that left several firefighters in mortal danger, complete with Casey's heartbreaking farewell to Dawson over the radio.
That finale seemed like it had to kill off somebody, even if Casey himself was too major a character to bite the dust. These kinds of cliffhangers just don't work as well since the Season 6 premiere fell short of payoff on Season 5, and the Season 7 finale suffered for it.
I cried as Casey said his goodbye to Dawson when he and other major characters were facing almost certain death in the final moments of Season 5; I didn't feel much of anything with most of the cast in mortal danger in this finale.
I also remain unconvinced about the romance building between Brett and Casey. It started awfully fast in the same season that Casey was getting over the end of Chicago Fire's biggest relationship, and there are a lot of objectionable elements to it at this point.
Brett and Casey didn't have the same kind of build as Dawson and Casey or Stella and Severide or even Mouch and Trudy, so the suspense over whether Brett will marry the chaplain rather than give Casey a shot doesn't work just yet.
That said, Stella and Severide seemingly getting back together after solving the arson case and then Severide confessing his determination to become a better man for her was an enjoyable twist that came at the end of logical progression. All in all, the finale was perfectly fine as an episode of Chicago Fire. It just didn't raise the stakes to feel like a mind-blowing finale. So, Chicago Fire gets third place in the Chicago finale rankings.
2. Chicago Med
The Season 4 finale of Med actually did feel like a finale, so that gives it an edge on Chicago Fire. The stakes were raised on several fronts: Maggie probably has metastatic breast cancer (and now only one kidney), April might be pregnant, Ethan didn't have the most enthusiastic response to April maybe being pregnant, Dr. Charles married his dying ex-wife, and Natalie and Will were seriously injured after a vengeful criminal rammed Will's car with his own vehicle. Oh, and Ava might have killed Connor's dad.
Under normal circumstances, Ava possibly killing Connor's dad would be arguably the biggest twist to come out of the season finale, even if it is a twist that a lot of fans probably called. It was certainly creepy, as Ava tried to tell Connor that they were free to be together now that his dad was dead, then called him an "ungrateful prick" when he firmly shot her down. But it was far from a confirmation, and that made it disappointing considering the cast changes for Season 5.
Fans who keep up with Chicago Med news went into the finale knowing that it would be Connor and Ava's final episode as series regulars, as actors Colin Donnell and Norma Kuhling were cut from the show. So, it stood to reason that Med would give them a proper sendoff or at least open the door for them to make a fateful decision to take them out of Chicago.
As it stands, there are a lot of possible explanations for why they won't be around in Season 5, but most will be unsatisfying since neither character will be around to deliver a resolution. At this point, my biggest hope is that the actors are brought back as guest stars for the Season 5 premiere.
Their departures also mean that there's a big of a lack of suspense about Natalie and Will's fates. They could definitely be seriously injured, with consequences to follow, but I can't see Chicago Med coming back for Season 4 with three or four regulars gone. Was the finale ruined by the lack of a worthy sendoff for Connor and Ava? Certainly not. Did it prevent Chicago Med from taking the top spot on the rankings? Yep.
3. Chicago P.D.
Yes, the top spot goes to the Chicago P.D. finale. Admittedly, this episode also failed to give a grand sendoff to a character who won't be around when the show returns for the 2019-2020 TV season, as Antonio was last seen preparing to take a pill in his car but not on death's door or on his way out of Chicago or anything despite the fact that Jon Seda is out for Season 7.
Antonio's ambiguous ending aside, the Chicago P.D. finale was suspenseful to the point of being stressful on several fronts, and that is fitting for a season ender. The growing problem of Ruzek and Voight covering for Antonio's crime came to a head, and Internal Affairs came down on Ruzek to amend his original statement to cast blame on Voight and Antonio.
Ruzek refused to give up Antonio and Voight, and he ended the episode in custody, and cops in custody never goes well if they wind up in general population. Meanwhile Kelton won the mayoral election, and Voight went to see him to deliver a reckoning. The episode later showed him driving away from Kelton's home... where Kelton was murdered.
So, the Intelligence unit is going to be down at least two members of the team when Season 7 kicks off, and Voight might be out of the picture as well, depending on what happens to him after leaving Kelton. Even if he didn't kill the new mayor, he'd be a likely suspect.
The finale pointed toward Halstead taking over the Intelligence Unit, even though he admitted earlier in the episode that he'd follow Upton wherever she went after the IU was disbanded. They had some loaded moments in the season finale; could we be in for an Upstead romance in Season 7? Or will their friendship continue to deepen? Or will it be super weird and difficult to continue any kind of relationship if Halstead becomes her boss?
Upton was burned by dating a superior officer in the past, so she might be reluctant about anything more than a work relationship with her former partner, if he does land the promotion. Basically, there are a lot of questions to be asked, and they're good questions to keep fans talking. So, Chicago P.D.'s finale ranks as the best of Chicago finale night.
All three Chicago series will return to NBC with new seasons in the 2019-2020 TV season. For now, there are plenty of TV options to fill the primetime hours even while Chicago Med, Fire, and P.D. are on hiatus.
Laura turned a lifelong love of television into a valid reason to write and think about TV on a daily basis. She's not a doctor, lawyer, or detective, but watches a lot of them in primetime. Resident of One Chicago, the galaxy far, far away, and Northeast Ohio. Will not time travel, but will sneak references to The X-Files into daily conversation.
Your Daily Blend of Entertainment News
Thank you for signing up to CinemaBlend. You will receive a verification email shortly.
There was a problem. Please refresh the page and try again.