George R.R. Martin Promises Winds Of Winter Before Writing For Game Of Thrones Prequel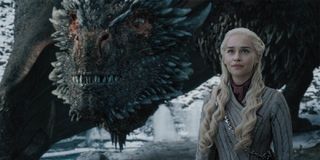 For fans of George R.R. Martin's book series A Song of Ice and Fire, the wait for the sixth installment has been a very long one. The good news? The acclaimed author, whose novels were the blueprint for the HBO series Game of Thrones, is now promising readers that The Winds of Winter will be his priority before writing any episodes for the newly-announced Game of Thrones prequel series, House of the Dragon.
George R.R. Martin, who wrote a few episodes for Game of Thrones in its first few seasons, seems excited for the latest HBO prequel series, House of the Dragon, which will be based on his book, Fire & Blood. The series will be set a few hundred years before Game of Thrones and will center on House Targaryen (and their dragons) before they were all killed off.
In a blog post, George R.R. Martin revealed that House of the Dragon, which was given a 10-episode order shortly after HBO scrapped the prequel series starring Naomi Watts, had actually been in development for quite some time, even before Game of Thrones was coming together at the subscription cabler. However, he did make it clear that he will finish The Winds of Winter before venturing into more TV writing.
This is great news for book fans who have been frustrated with the lack of published work from George R.R. Martin and particularly the series over the years. Fans of Game of Thrones even blamed the lack of new material from the author as the reason for some of the show complaints later in the series. No source material meant that showrunners David Benioff and D.B. Weiss, who are no longer working on the next Star Wars trilogy, had to make do without it.
George R.R. Martin has consistently been asked about when he would publish the sixth installment of A Song of Ice & Fire book series (which will include seven books in total). In fact, Winds of Winter was supposed to be published in 2018, but it wasn't. The author has gone so far as to blame Game of Thrones for delaying the final books in the series, saying that the "very thing that should have speeded me up actually slowed me down."
Since House of the Dragon is based on the published book detailing the history of House Targaryen, George R.R. Martin should have plenty of time to finish Winds of Winter. Still, the author has tried and failed to deliver on promises before, so here's hoping he actually sticks to it this time around.
In the meantime, you can rewatch Game of Thrones Season 8, which is now available on digital and stay tuned to CinemaBlend for updates about HBO's prequel series, House of the Dragon.
Your Daily Blend of Entertainment News