Power's Showrunner Talks Shocking Cliffhanger, What To Expect From Ghost In Final Episodes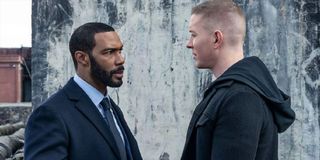 Warning! Spoilers ahead for Power's Season 6 midseason finale.
Power's sixth and final season delivered the ultimate shocker. After ten episodes of non-stop tension, Power's Season 6 midseason finale ended with a shocking cliffhanger, leaving Ghost bleeding out on his nightclub floor after being shot and seemingly killed. Is this the end of Ghost for good?
Ghost has survived a lot of things over the course of six seasons. He's lived through the death of his daughter in Season 4 and made it out of some precarious situations, so it seemed like a matter of time before everything caught up to him. In Season 6, Episode 10, Ghost had a plan to move in on his club. Unfortunately, seven of his enemies also had the same idea and it ended with Ghost being shot. There was so much blood, he was surely dead.
How could Power gun down its main character with five episodes left in the final season? Power's creator and showrunner Courtney Kemp is being pretty coy in teasing what to expect from Ghost in the show's final episodes. Speaking with Deadline, Power showrunner Courtney Kemp sort of answered whether Ghost is dead or not.
That's an interesting take, especially since Omari Hardwick posted a long message to Instagram that sounded a hell of a lot like a formal goodbye to the show and its fanbase.
Check out a portion of the star's post below.
Yes, Courtney Kemp did see the message from Omari Hardwick. However, she confirms that fans haven't seen the last of Ghost just yet.
It's unclear what that'll mean for Ghost and whether it means he's gone for good or if he'll appear as a – dare we say it – ghost in the final eps. However the show decides to play it, Courtney Kemp is confident that they did the right thing. She didn't think Ghost would ride off into the sunset or anything because that "would've been so cheap" given his journey. In her words:
Ghost had previously been accused of killing Angela, but it was really Tommy who did it. And, in a season that has killed off so many characters already, including LaKiesha's demise at the hands of former best friend Tasha and Joe Proctor's death, Power continues delivering unexpected deaths. Unfortunately, fans will have to wait until 2020 to find out who shot Ghost and how he will be factored into the final five episodes. So let the speculation begin!
You can read Omari Hardwick's full post below, which includes a big thank you to Courtney Kemp, to judge for yourself how much finality is there to read between the lines.
Power Season 6 is done for a while on Starz, but it will return in 2020. While waiting for the final five episodes to air, be sure to check out our complete guide to every new and returning show premiering through the end of November.
Your Daily Blend of Entertainment News