Goodbye Outlander And Power? Millions Of Cable Subscribers Are About To Lose Starz Shows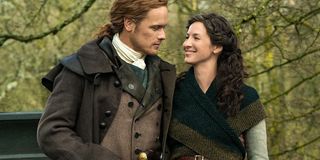 Relationships between cable companies and cable networks/studios have always required a balancing act to maintain. This was apparent back in 2010 when CBS and Comcast were close to ending their partnership because they couldn't reach a deal, and various situations occurred this year that went against viewer favor. Now, the same thing is happening between Comcast and the Starz network, and cable subscribers could stand to lose access to shows like Outlander, Power, and more.
On Wednesday, Comcast announced to Xfinity subscribers that Starz, Encore and host of other networks are on the verge of being dropped completely from cable packages come December 10. Starz then released its own statement, saying it seems part of the problem stems from the inability to reach an agreement that honors the precedent set by the television industry.
Comcast's attempt to drop Starz from its programming isn't exactly new information. Comcast has apparently been telling Starz executives that they intended to drop the premium channel from their programming for a while (via Variety). The company plans on replacing the Starz channels with MGM's Epix, which has struck a deal with Comcast that expands Epix's services with Comcast's Xfinity packages.
This is a major blow to every Comcast subscriber who is paying to watch Outlander and Power on Starz, not to mention Encore and other premium cable networks. For one, those subscriptions are not cheap. Much like HBO, cable subscribers have to pay an additional amount to get these cable channels, which flows down to consumers.. Though Comcast is already brokering a deal with Epix, cable subscribers may not want to pay for that if they're already losing something else.
Therein lies the problem, though. In the age of streaming services such as Hulu, Amazon, and Netflix, companies like Starz and HBO have brokered deals beyond the cable market. In a statement from Comcast, that's one of the reasons cited for not being able to reach a final agreement.
The negotiations sure sound intense, but whatever happens, subscribers are getting the short end of the stick. Since it doesn't seem like Comcast will budge on the matter, viewers who enjoyed watching American Gods, Outlander and Vida on Starz might have to start considering additional streaming a-la-carte services, after all.
Sad as this is, we'll have to wait and see what happens. Anything can change between now and December. In the meantime, there's plenty more TV to watch elsewhere, so be sure to check out our complete fall guide to every new and returning show premiering through November.
Your Daily Blend of Entertainment News