What It's Like For The Little Mermaid Live's Auli'i Cravalho To Play Both Ariel And Moana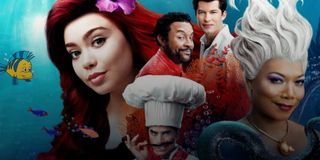 Auli'i Cravalho has had a big last few years in Hollywood. In fact, the Hawaiian actress has gotten to play not one, but two Disney Princesses; or at least, she will once The Little Mermaid Live! airs on ABC. At that point she'll have both Moana and Ariel under her belt.
Obviously, it's easy to see why this is a big deal. Most people never get the opportunity to play one Disney princess, much less two. However, if you've been wondering what the opportunity has been like for Auli'i Cravalho, the actress recently revealed it's been hard for her to describe, noting,
I hadn't even thought to connect the fact that Moana is an island princess who craves sailing and Ariel is a water princess who craves land until Auli'i Cravalho made these comments in an interview with EW, but she's right. Most of Disney's other princesses are firmly landlocked. Although, it's worth pointing out we've seen Elsa trying to tame a raging ocean in one of the first look clips at Frozen II. Perhaps next Disney can create another water-oriented princess for Auli'i Cravalho to tackle.
As for The Little Mermaid Live!, the new program has been coming together over at ABC since 2017, but was postponed at one point due to budgetary issues before getting revived in 2019. At one point it looked like it might never happen, but then Auli'i Cravalho was cast back in August and the cast continued to fill out in the months subsequent. We've seen some early looks behind the scenes and more, which have revealed the actual movie will be playing along with the live action, and Cravalho has said this production will also not be "taking any liberties" with the original film's plot.
Related -- ABC's The Little Mermaid Live: An Updated Cast List
Although fans have seen these types of Live! productions before, The Little Mermaid Live! will actually be the first foray for ABC, so it's no real shock the network would want to go with such a notable property. What is interesting is the timing, considering ABC's parent company Disney also has it's own live-action version of The Little Mermaid in the works. That version will star Halle Bailey and other notable names and isn't expected to be released until 2021.
The TV production, however, is actually set to air on November 5 at 8 p.m. ET. So it's release is imminent. After which, Auli'i Cravalho can officially declare herself a Disney princess twice over.
Reality TV fan with a pinch of Disney fairy dust thrown in. Theme park junkie. If you've created a rom-com I've probably watched it.
Your Daily Blend of Entertainment News
Thank you for signing up to CinemaBlend. You will receive a verification email shortly.
There was a problem. Please refresh the page and try again.