The Flash Changed Its Latest Villain After He Became 'Too Intense'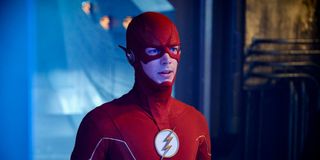 Spoilers ahead for Season 6, Episode 5 of The Flash**.**
The Flash has introduced several of its main characters' doppelgängers over the seasons. That is best exemplified by Tom Cavanagh's Harrison Wells, whose doppelgängers show up every year to work with the team. In The Flash's most recent episode, it was Cisco who faced one of his villainous doubles, dubbed Echo. As it turns out, Echo's backstory was changed at the last minute after he became "too intense".
In "Kiss Kiss Breach Breach," Carlos Valdes' Cisco Ramon had to contend with the death of his ex-girlfriend, Cynthia. Before he could solve the mystery of her murder, though, he had to prove his own innocence, and later discovered that it was his Earth-19 counterpart, Echo, who actually killed Cynthia and framed him.
According to Carlos Valdes, the villain's original backstory wasn't the one that fans saw onscreen. The actor explained the change.
That's interesting, because Echo was still quite intense in the finished product. However, it's possible the storyline was changed because it was headed into a Savitar-esque territory. Back in Season 3, one of Barry Allen's time remnants eventually became Savitar, the villain who tried to kill Candice Patton's Iris West-Allen (whose natural curls made their debut in last night's episode).
The Flash's Eric Wallace may have been trying to avoid creating that very same dilemma. Perhaps they altered Echo by making him from another Earth, and not a future version of Cisco, though I'm just spitballing.
Speaking to TVLine, Carlos Valdes explained how the change affected his performance:
I'm not sure about you, but Carlos Valdes killed it as Echo, and the personality distinction between the doppelgangers worked to elevate the intensity. The focus on Cisco's storyline is a cause of concern though. With "Crisis on Infinite Earths" coming up soon, is The Flash setting up Cisco's death in the crossover?
Last season, rumors swirled that Carlos Valdes would be leaving The Flash at some point in Season 6. During San Diego Comic-Con, Valdes cleared the air, assuring fans that he wasn't "leaving the show this season." Ok, that's good to know, but people have lied about things on this show before.
With the five-episode crossover set to begin December 8, there's no telling what will happen. The Flash's next new episode will air on The CW on Tuesday, November 19, at 8 p.m. ET.
Your Daily Blend of Entertainment News
Thank you for signing up to CinemaBlend. You will receive a verification email shortly.
There was a problem. Please refresh the page and try again.