Why The Flash Is Giving Iris A Fun New Look In Season 6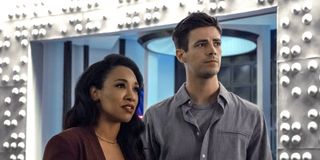 Iris West-Allen is getting a new look in Season 6 of The Flash and we're here for it. Leading lady Candice Patton took to social media to share her exciting new hairdo and it was a bit of a different look than what we're used to seeing Iris sporting on the show. Patton wrote about how much it means to be wearing her natural curls on the show and that the new hairdo will debut in Season 6, Episode 5. Not only will Iris have a new hairstyle, but series showrunner Eric Wallace found an in-show reason for her curly locks to make an appearance.
Eric Wallace, who took over from previous showrunner Todd Helbing, is very excited about Iris' hairstyle, too. Speaking to TVLine, the showrunner spoke about the hairstyle change and how it will include Iris letting loose a bit and "being herself". After all, she was just faced with the disappearance of her and Barry's daughter, Nora West-Allen, she'll be busy trying to grow her newspaper, and will also be dealing with Barry's impending death. So, Iris definitely deserves a break from all that stress.
Iris' hair change is noteworthy because Candice Patton has never before been allowed to wear her natural hair on The Flash, though the actress has asked about it before and fans have been fighting for it for a long time. It's not only a big change, but it's so important for representation. Not only does it mean a lot to Patton, but she knows that it's important for the women and young girls who "look like" her to see Iris showcase various sides of her personality and life as a black woman. That includes rocking her natural curly locks, which she showed off on Twitter.
Over the summer, Patton's co-star, series lead Grant Gustin, made a statement addressing the racist attacks that the actress has been facing since the moment she was cast in 2014. While it was long-overdue, Gustin made it clear that Candice Patton "is our Iris" and that she "always will be".
The Flash Season 6 will start ten seconds after the Season 5 finale and will see Barry and Iris struggling to grieve Nora as well as getting a visit from the Monitor himself with the news that Barry will die in the upcoming crossover, "Crisis on Infinite Earths". Per Eric Wallace, Season 6 will be split into two major parts: pre and post-"Crisis", with the first half of the season introducing the villain, Bloodwork, played by Sendhil Ramamurthy. And if the San Diego Comic-Con sizzle trailer is anything to go by, then Iris, Barry, and the rest of Team Flash will have their hands full.
The Flash Season 6 will premiere on Tuesday, October 8 at 8/7c on the CW. For a full list of TV shows premiering this fall, be sure to check out our schedule.
Your Daily Blend of Entertainment News
Your Daily Blend of Entertainment News
Thank you for signing up to CinemaBlend. You will receive a verification email shortly.
There was a problem. Please refresh the page and try again.