Ziva Returns To NCIS For A 'Life Or Death' Situation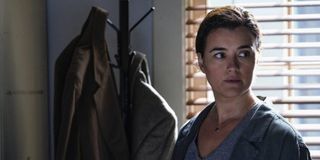 When Ziva David returned to NCIS in the Season 16 finale, after leaving the show in Season 11 to go back to Israel, something had changed. After losing her daughter and faking her own death, she was bound to evolve into a different Ziva. While Cote de Pablo's beloved character appeared in the first couple of episodes early in Season 17, co-star Diona Reasonover teased Ziva's return to NCIS in the midseason finale as being because of a "life or death" situation.
Before the beginning of NCIS Season 17, CBS confirmed that Cote de Pablo's Ziva David would indeed return to the show (proving she hadn't been a hallucination, after all). With a bunch of loose ends left to tie up, Ziva's appearance in the first two episodes of Season 17 indicated there was more to come for her story.
The midseason finale would be one of two episodes (the other being the midseason premiere in January) that would focus on Ziva, and hopefully shed some more light on what happened to her in the years since she left. Diona Reasonover (Kasie Hines), who joined the NCIS cast in Season 16 following Pauley Perrette's departure, previews the reasons for Ziva's return.
It sounds like Ziva's return will be full of tension and won't involve the NCIS team going out for drinks to play catch up. Prior to Ziva's big comeback, everyone thought she had died in an explosion in Israel. However, it turns out that the explosion, which was specifically targeting her, left her with a need for vengeance and this focused mission changed her in the years since she left. Gibbs even noticed she takes anxiety pills now.
For Diona Reasonover's Kasie, Ziva is more of a legend. When Ziva appeared early on in Season 17, Kasie was far too focused on the case to care much about what was going on with her. As a newcomer, though, Kasie hasn't really had the chance to bond with Ziva or get to know her. According to Reasonover, when speaking with TV Insider, that will change upon Ziva's return in the midseason finale.
As exciting as it is to have Ziva back on the show, fans were hoping for a reunion between her and Michael Weatherly's Tony, who left the team to care for his and Ziva's daughter, Tali. Unfortunately, Cote de Pablo made it clear that it isn't likely to happen.
Keep an eye out for Ziva's return in the NCIS midseason finale, which will air on December 17 at 8 p.m. ET on CBS. For more information about what shows are premiering through the end of 2019, be sure to check out our complete TV guide.
Your Daily Blend of Entertainment News
Thank you for signing up to CinemaBlend. You will receive a verification email shortly.
There was a problem. Please refresh the page and try again.