Disney+ Has Some Classic TV Shows We Weren't Expecting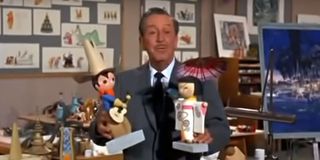 CinemaBlend participates in affiliate programs with various companies. We may a earn commission when you click on or make purchases via links.
Prior to the launch of Disney+ we received a massive list on Twitter of many of the shows and movies that would be available when the service arrived on our televisions. In the weeks since then, even more content was announced for day one. Now, Disney+ is finally here, and it turns out there's even more available, and some of it will be of particular interest to the most serious Disney fans.
Whether you're an older Disney fan who has been following the company for decades, or a younger fan who has simply never had the opportunity before to see the early days of Disney television, there are a few items worth seeking out on the new streaming service. Hopefully, these will be the first of many more to come. If you'd like to check out everything available on the platform, you can sign up for a free 7-day trial here.
The Mickey Mouse Club
There's no name as associated with Walt Disney and television as The Mickey Mouse Club, the series has had four different iterations in the U.S. over the decades, on TV or online, and international editions as well, but it all started back in 1955. The first Mickey Mouse Club TV series ran for four seasons on ABC.
The show ran five days a week during it's initial run, and the first week of shows, the first five episodes, are currently available for viewing on Disney+. The fact that it's only the first week of shows and there are hundreds more episodes, makes one wonder if we could see the number of episodes expand a week at a time. If we are going to see regular releases, perhaps when Disney+ has released all the episodes of the initial run, it could move into the show's 1970s revival or the 1990s version from the Disney Channel. Wouldn't that be something.
The Adventures Of Spin And Marty
We may only have the first week of The Mickey Mouse Club at the moment, but one element of the show is available in much greater numbers. Among the various elements of its variety show format, The Mickey Mouse Club included serialized drama. One of the serials presented focused on two boys named Spin and Marty attending a western themed summer camp.
The Adventures of Spin and Marty was the first of three serials to focus on the boys, and it is available in its entirely right now on Disney+. As with The Mickey Mouse Club itself, it's curious that more of this sort of content wasn't dropped up front. There are two other Spin and Marty adventures, and numerous other serialized shows that debuted on Mickey Mouse Club. Perhaps there's a plan to release this content over time, in the same way Disney+'s original shows are seeing weekly releases.
Walt Disney's Wonderful World of Color - Disneyland Around the Seasons
If somebody had let me program Disney+, as the nerd that I am, I would have made sure to include Disney's first foray into television. Disneyland was a television show a year before it was an actual place. The anthology series, that would eventually morph into the better known The Wonderful World of Disney, was little more than a commercial for the forthcoming theme park, but as a fan of that park, I would love to see the how that promotion was done, simply because it's something I've largely never seen.
The third iteration of the anthology series, that ran throughout the 1960s was called Walt Disney's Wonderful World of Color, because it was the first version of the show to be broadcast in color. Right now, there is but a single episode of World of Color, titled "Disneyland Around the Seasons" available on Disney+. It's noteworthy, if for no other reason that it's one of the few places on Disney+ where you can actually see Walt Disney himself right now.
It's not shocking these shows weren't part of the promotion of Disney+ leading up to launch, they're not the sorts of things that are going to sell subscriptions. Still, if you already have a subscription, they are certainly nice additions.
Hopefully, they're the first of many of this type of material that us super Disney geeks can sink our teeth into.
Your Daily Blend of Entertainment News
Content Producer/Theme Park Beat
CinemaBlend's resident theme park junkie and amateur Disney historian. Armchair Imagineer. Epcot Stan. Future Club 33 Member.
Your Daily Blend of Entertainment News
Thank you for signing up to CinemaBlend. You will receive a verification email shortly.
There was a problem. Please refresh the page and try again.