Carol's Second Act Writers Quit After Complaints Against Patricia Heaton's Producer Husband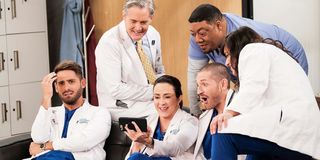 Carol's Second Act runs as part of CBS' comedy lineup. It's been doing well in the ratings so far and is likely to come back for a second season – that is, if it can get it together behind the scenes. News broke this weekend that two writers quit the Patricia Heaton-led show following complaints that Heaton's husband David Hunt – an executive producer on the series – was behaving inappropriately.
The allegations state that one writer, Broti Gupta, went to HR earlier this TV season to report David Hunt for "touching her inappropriately," according to a NY Times report. The incident reportedly occurred at a post-hours work event at a restaurant called Pizzeria Mozza. Gupta met David Hunt at the event, after which he hugged her and allegedly ran a hand up the side of her thigh.
A second incident happened, according to Broti Gupta, when David Hunt touched her on the shoulders and allegedly "jerked her forward" while on the set of the CBS series.
David Hunt has denied the allegations and has spoken through his lawyer Bryan Freedman to note he does not believe he rubbed "anyone's thigh." He also "disputes the characterization" of the first incident. He does remember looking for a script related to the second incident, though he denies harming Broti Gupta's shoulders.
After the second incident allegedly happened, Broti Gupta says she was encouraged to go to HR with the complaint. CBS notes the situation was dealt with internally and that David Hunt completed sexual harassment training, which was what Gupta requested should happen when she made her initial complaint. She stated in the New York Times article she did not think the producer should be fired.
Later, a second female writer on Carol's Second Act, Margee Magee, says she quit due to speaking out about what allegedly happened to Broti Gupta and how her complaint was handled in the aftermath. Magee reportedly witnessed the shoulder-oriented event and encouraged Gupta to take the complaint to HR, but she now says the way CBS handled the event was unfair, given writers were allegedly discouraged from being on the show's set afterward. CBS says this latter change to the Carol's Second Act set is an unrelated workflow plan. Broti Gupta disagrees, and has taken to social media to also talk about how she believes HR failed her.
CBS has defended its human resources staff, saying,
Broti Gupta left Carol's Second Act in September. Margee Magee's exit occurred in October. Patricia Heaton and David Hunt remain executive producers on the show, which Heaton also stars in.
Both Broti Gupta and Margee Magee have taken legal action against CBS in the wake of quitting Carol's Second Act. They hired a law firm called Chesler McCaffrey in order to request money they say they were still owed under their contracts. CBS paid both women and neither former writer was required to sign an NDA.
The move comes after some major CBS names were publicly outed after complaints about behavior, including the now-infamous exit of Les Moonves. Reports indicate CBS has taken some steps to prevent more issues such as these, and sent out an email back in May to address sexual harassment in the workplace and how it would be handled moving forward.
Carol's Second Act is still in production and airing new episodes on Thursday nights at 9:30 p.m. ET. It airs following Young Sheldon, The Unicorn and Mom as part of the Eye Network's Thursday night comedy lineup.
Reality TV fan with a pinch of Disney fairy dust thrown in. Theme park junkie. If you've created a rom-com I've probably watched it.
Your Daily Blend of Entertainment News
Thank you for signing up to CinemaBlend. You will receive a verification email shortly.
There was a problem. Please refresh the page and try again.