American Gods' Orlando Jones Has Blunt Words About Being Fired As Mr. Nancy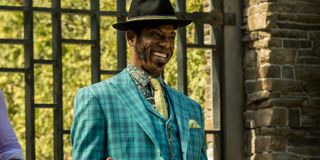 American Gods' Orlando Jones has some very blunt words about being fired from the Starz series. In a video shared to Twitter, Jones sent a no-nonsense message to fans that alleged that current American Gods showrunner Charles Eglee fired him because his character Mr. Nancy sent the "wrong message."
Orlando Jones took to Twitter to share the news of his firing from American Gods Season 3, which reportedly occurred in September 2019. He prefaced the message by saying that he knows fans will have a lot of questions about his firing, but that he'll always tell them "the truth and nothing but." Here's what Jones had to say regarding his firing:
Unfortunately, trouble behind-the-scenes of American Gods isn't new and Orlando Jones' firing is just another red flag that lends itself to the controversy. The news comes almost two years after the departure of Season 2 showrunners Bryan Fuller and Michael Green, who left halfway through production on American Gods' sophomore season.
They were replaced by Jesse Alexander, who was also "fired but not fired" from the series long before Season 2 was over and was allegedly ousted as a writer and kept out of the editing room. Jesse Alexander's firing led to Orlando Jones being promoted to a writer and producer of the series in Season 2 to prevent any potential violation of guild rules.
In his video message, Orlando Jones thanked Neil Gaiman, who reportedly wanted more control over the series and former American Gods showrunners Bryan Fuller and Michael Green.
In a subsequent tweet, Orlando Jones corrected his initial report that claimed he was fired in September 2018. The actor also called out Fremantle, the company that produces American Gods, saying it was a "nightmare." Jones claimed the company "treated you like a 2nd class citizen for doing your job [too] well."
Unsurprisingly, American Gods fans were not happy about Orlando Jones' firing and several have tweeted their support of Jones and expressed anger over what happened. One fan claimed they only watched the show for Mr. Nancy and, now that he's gone, Starz can count on the loss of their viewership.
Meanwhile, another fan expressed sympathy toward Orlando Jones' predicament, calling his performance "exquisite."
American Gods showrunner Charles Eglee, Starz, and Fremantle have yet to respond to the video and allegations. Stay tuned to CinemaBlend for more on this story as it breaks. In the meantime, be sure to check out our 2020 midseason schedule to find out what shows are premiering.
Your Daily Blend of Entertainment News