The Witcher's Henry Cavill Had A 'Miserable' Dehydration Diet To Look Ripped Shirtless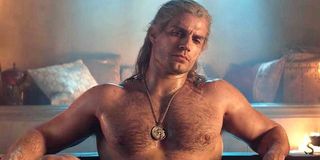 Henry Cavill's no stranger to baring his muscles for the camera. Fans have seen him shirtless enough times in movies and his role as Geralt of Rivia in Netflix's The Witcher is further proof of his exceptional physique. However, that doesn't mean it was all sunshine and daisies to get the results he sought. In fact, Cavill recently admitted that he had a "miserable" dehydration diet to look ripped shirtless while filming The Witcher.
In order to tone his muscles and appear fit onscreen, Henry Cavill says he gave up drinking water altogether. The Witcher actor dehydrated himself over the course of several days to get his "skin really thin, so it sits on the muscles" in scenes requiring him to be shirtless. Here's what Cavill had to say about his experience without water:
That diet sounds a bit unhealthy, though Henry Cavill clarifies that it wasn't that he had absolutely no water for all three days. Rather, he had a dwindling amount over a period of time. In his December 27 appearance on The Graham Norton Show, Cavill explains that he drank a liter and a half of water on the first day, a half a liter on the second, and absolutely no water on the third.
After the fourth day shooting these shirtless scenes sans water, Henry Cavill admits to being "the most miserable person on the planet." However, Cavill revealed that, though this regimen was for aesthetic reasons, it was also used to remain fit without injuring the body.
You can watch the clip of Henry Cavill discussing his health regimen below!
I imagine fans of The Witcher are grateful for Henry Cavill's health regimen and have thirsted over his hotness on Twitter. Even showrunner Lauren Schmidt Hissrich admitted that her decision to include the famous Bathtub Geralt scene in the show was for good reason.
Thankfully, the regimen didn't last very long and Henry Cavill seems to be in good health and spirits. However, it's likely he'll have to get back to drinking less water fairly soon since The Witcher Season 2 is due to start filming as early as the spring of 2020.
The Witcher Season 1 is currently available to stream on Netflix. For more on what to watch in the new year, be sure to check out our 2020 midseason schedule to find out when new and returning shows are premiering.
Your Daily Blend of Entertainment News
Your Daily Blend of Entertainment News
Thank you for signing up to CinemaBlend. You will receive a verification email shortly.
There was a problem. Please refresh the page and try again.