How The Witcher Author Feels About Henry Cavill's New Netflix Series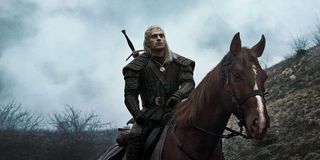 Henry Cavill has left the world of superheroes for a more fantastical land in Netflix's new series, The Witcher. While many have already offered their two cents regarding the show, The Witcher, which was adapted from the eight-book series by Polish author Andrzej Sapkowski, also received the stamp of approval from the author himself. Sapkowski recently shared how he feels about the Netflix show and Cavill's role.
Here's what he had to say about Henry Cavill playing Geralt in The Witcher:
That's a great compliment coming from the author of The Witcher. The Netflix series, which dropped all eight episodes on December 20, has received mixed reviews so far. While some praised the fantasy series, other critics panned it, calling it "fairly bad" when getting too serious. However, Andrzej Sapkowski's praise of the series and of Henry Cavill's take on Geralt is what ultimately matters. Showrunner Tomek Baginski also praised Cavill's commitment to Geralt, so this is icing on top of the cake.
It's often hard for adaptations to please authors of the original work. Alan Moore is a prime example, though Damon Lindelof had the perfect response to Moore's displeasure with the HBO adaptation of Watchmen.
While Andrzej Sapkowski says he didn't have much to do with The Witcher's artistic direction — something he's perfectly fine with — he told PEOPLE what he hoped audiences ultimately took away from Season 1.
It sure sounds like the author is referring to all the wizard nudity and overall hotness of Henry Cavill's Geralt in The Witcher. Simply based on the internet's reaction, viewers are already feeling the heat, so Andrzej Sapkowski has nothing to worry about on that front. Here's one fan who didn't think Cavill was all that great before, but The Witcher has altered their opinion.
The thirst continues in another tweet. It's clear Henry Cavill is having a huge effect on people as Geralt. Maybe it's the wig.
The Witcher Season 1 is currently streaming on Netflix. Season 2 has already been renewed and may start filming as early as this spring.
Stay tuned to CinemaBlend for all the latest info on The Witcher and for more on what to watch, be sure to check out our complete guide to everything premiering in the winter and spring of 2020.
NOTE: A previous version of this article said Netflix had not yet made the decision as to whether to renew the show for Season 2. The show has already been renewed and may start filming as early as Spring 2020. We apologize for the mistake.
Your Daily Blend of Entertainment News
Thank you for signing up to CinemaBlend. You will receive a verification email shortly.
There was a problem. Please refresh the page and try again.