6 Disney+ Shows That Could Follow Up Rise Of Skywalker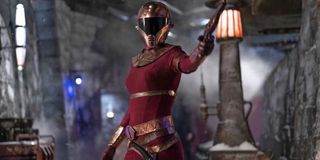 (Image credit: (Lucasfilm))
CinemaBlend participates in affiliate programs with various companies. We may earn a commission when you click on or make purchases via links.
Spoilers ahead for Star Wars: Rise of Skywalker.
The Skywalker Saga is officially over and it's going to be a few years before another Star Wars movie hits the big screen. But, while Rise of Skywalker wrapped up over 40 years of storylines centering on Luke, Leia and their lineage, the new trilogy has also introduced a ton of subplots that have yet to be fully explored! What better place is there than Disney+?
The new streaming platform recently aired its full first season of The Mandalorian and it became a huge hit (especially thanks to the viral adorableness of Baby Yoda). We now have a taste of how well Star Wars on television works! Plus, with TV, the time constraint of packing all our expectations in one two-hour movie dissipates, allowing the luxury to cruise the galaxy instead of hitting lightspeed with these stories. Yes, a series for Ewan McGregor's Obi-Wan Kenobi and one based on Rogue One's Cassian Andor are already on the way. (Start your free 7-day trial here (opens in new tab).) Still, here are some more Star Wars television show ideas to follow-up Rise of Skywalker!
Rose Tico
One gripe many fans had with Rise of Skywalker was the sidelining of Kelly Marie Tran's Rose Tico after her introduction in 2017's The Last Jedi. Shortly after the recent release of Episode 9, fans on Twitter got "Rose Tico Deserved Better" trending, explaining their disappointment in her becoming a glorified extra in the movie. Apparently Rose is only in Rise of Skywalker of 1 minute and 16 seconds of the 2 hour and 35 minute runtime. Put her on Disney+!
Crazy Rich Asians director Jon M. Chu has already asked the streaming service to put him in via Twitter. Kelly Marie Tran's character has an interesting backstory to explore. She and her sister (who dies at the beginning of The Last Jedi) valiantly joined the Resistance together. A Disney+ show could follow their early adventures or Rose when she finds a higher rank. There's certainly a fan base behind it!
The Spice Runners of Kijimi
One highlight of Rise of Skywalker was when Poe Dameron takes the crew to Kijimi to see Babu Frik – a tiny droid-smith who helps them reprogram Threepio go he can translate the Sith Dagger for them. There we meet Poe's old flame, Keri Russell's Zorii Bliss and a standoffish droid named D-0. We learn that Oscar Isaac's Resistance pilot used to roll with them as a Spice Runner (which is basically a cool Star Wars name for drug dealing).
Wouldn't it be interesting to explore this group of smugglers on Disney+? The internet has already fallen head over heels for Babu Frik. Keri Russell's Zorii was an awesome character and it would be a shame if her last appearance was such a small one. The Americans is over, so get her another television series! If Poe joined we could learn about his past, or The Adventures of Zorii & Babu Frik could be plenty entertaining without him too!
The First Order
The new Star Wars trilogy placed a heavy focus on Adam Driver's Kylo Ren and rightfully so! However, now that it's all over it'd be fun to see more of the inner workings of the First Order. The talented Domhnall Gleeson was highly underutilized as General Hux, but what if he starred in his own Disney+ series? But wait, I have a twist on this: make it a workplace comedy (i.e. The Office).
The greatness of General Hux lies in his uptight villainy and it should not be taken seriously. It would be fun to see Domhnall Gleeson play with this more, especially through his hate of Kylo Ren. It leads him to become a spy! Turning the Starkiller base into an office where crazy, evil things happen would work great as 30-minute dark comedy with shenanigans. Remember when SNL did something like this in the fashion of Undercover Boss? It was hilarious!
Droids
Star Wars might be at a divisive place among fans right now, but if there's one thing that unites us all, it's droids. We love them. They're adorable and interesting. Their witty conversations often provide comedic relief through moments of peril in the movies, but now it's time for them to get the spotlight in a Disney+ television series to call their own. The possibilities are endless for a show like this!
Perhaps it takes place in a Jawa sandcrawler like where Threepio and R2D2 once found themselves. Tons of droids come and go in places such as this from adventures, tragedies, and missions. This could basically be WALL-E the series as far as "cute factor," filled with hilarious quips, or a gritty commentary on their likeness to humans.
Stormtroopers
The new Star Wars trilogy began and ended by giving Stormtroopers a defined story beyond their white helmets. In The Force Awakens, John Boyega's Finn escapes his post as a Stormtrooper to save Poe Dameron and goes on an amazing journey with Rey to defeat the First Order. In Rise of Skywalker, he also meets Naomi Ackie's Jannah, who tells him that she and her crew also used to be Stormtroopers before they deserted!
There could certainly be a Disney+ series that focuses on these Stormtroopers who were abducted as children and brought into the First Order. What's this experience like? What does it mean to be a Stormtrooper? I imagine something close to The Mandalorian could work for a television show like this. Using a main character to take us inside something we've always wondered about. Or, since Finn is Force sensitive and there just wasn't enough Jannah, more of them please!
Leia
Last but not least, let's talk about Princess Leia. While yes, the filmmakers were put in a tough spot to do her character justice when Carrie Fisher died back in 2016, they did a good job with what they had. It's pretty amazing the actress could be featured in Rise of Skywalker with the implementation of unused footage from The Force Awakens. At the end of the day, she's an iconic heroine and another actress could continue her role.
It would surely be controversial, but Solo happened! What if Princess Leia had her own series on Disney+? It might be interesting to explore her life on Alderaan before A New Hope or with Han following Return of the Jedi. How was Ben Solo raised? It's never exactly clear how their parenting went and how the couple dealt with it. There's a lot about Leia we don't know and a series could properly explore her character!
What do you think? Would you be excited to see any of these stories continued via Disney+? Sound off in the comments and vote in our poll below!
This poll is no longer available.
YA genre tribute. Horror May Queen. Word webslinger. All her writing should be read in Sarah Connor's Terminator 2 voice over.