Rob Lowe Was Originally Supposed To Star In Nip/Tuck, And I Weep Over What Could Have Been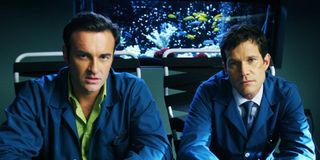 As long as there have been movies and TV shows that hit the big time and become major hits, there have been stories about the actors who almost starred in those super popular properties. However, it can take years for those revelations to come to light, and that's the case with the newest such tale. We now know that long-time star Rob Lowe could have actually led one of FX's first hits, the balls-to-the-wall plastic surgery drama Nip/Tuck. Mind. Blown.
The Television Critics Association Winter Press Tour is going on right now, and, as today saw Rob Lowe and the rest of the cast speak on behalf of their new show, 9-1-1: Lone Star, we've found out an interesting tidbit about why Lowe is doing the Ryan Murphy spinoff. Apparently, Murphy actually wrote his breakout show, Nip/Tuck, for him. According to The Hollywood Reporter, though, Lowe's "agents didn't give it to" him. Thus, he never had a chance to see the script and make his own decision about whether or not to star in one of TV's most outrageous series.
But, that missed opportunity led to Rob Lowe and Ryan Murphy wanting to work together, with them trying to find a way to make their combined magic happen for quite a while. When Murphy's 9-1-1 became a hit and a spinoff was proposed, though, they finally found their moment.
Oh. My. GAWD. There are a lot of things that I need to unpack from this reveal, but let's back up just a bit, because Nip/Tuck has been off of the air for almost a whole 10 years, and some people might need to be reminded of the wonders of that show. Nip/Tuck focused on the plastic surgery practice of best friends Christian Troy (Julian McMahon) and Sean McNamara (Dylan Walsh). As they handle some of the craziest surgery cases, they also deal with many, many troubles in their personal lives, including Sean's family issues and Christian's dozens of sex partners.
If you never watched Nip/Tuck, that description might not sound like a big deal. But, trust me when I say that the series, which ran from 2003-2010, was a striking tribute to sheer batshittery for its entire run. Oh, you need examples? Fine. One medical plot focused on a man who wanted his penis made shorter...because he spent all of his free time giving himself blowjobs with his own mouth. There were serial killers, organ-stealing prostitutes, graphic medical procedures, a murder committed with a teddy bear-making machine, incest, pedophilia, gangsters, drug-dealing, at least one eunuch, couples therapy for Sean and Christian and waaaay more insanity, all packed into 100 episodes.
Now, let's pretend we just got back from Bermuda, and do that unpacking. As much as I loved the leads of Nip/Tuck, I need to know who Ryan Murphy wanted Rob Lowe to play! While I believe that Lowe is a good enough actor to pull off either character, I have literally shed a tear at the thought that he could have played sex-obsessed Christian. I mean, Lowe had a nearly career destroying sex tape come out in 1989, y'all. Can't you imagine him tearing up the TV sheets and (consensually) destroying lady parts all over town? I know you can! Dammit, Rob Lowe's agents!
Speaking of those agents...How dare they think they know what's best for Rob Lowe to the point where they didn't even show him the Nip/Tuck script! I mean, it all turned out alright for him (I guess). He was already enjoying a major career renaissance at the time by starring on The West Wing, and went on to bring us non-Christian Troy aspects of his personality in Brothers & Sisters, Parks and Recreation, The Grinder and lots of other cool things. So, maybe if he had brought Christian to life on that wackadoo show, his career would have gone in a different, Chris Traeger-free trajectory. And, that would have literally been a shame.
Well, we might have missed Rob Lowe on Nip/Tuck, but we can see him on 9-1-1: Lone Star when the series debuts on Sunday, January 19 at 10 p.m. EST on Fox. For more on what you can watch in the coming weeks, check out our 2020 winter / spring premiere guide!
Bachelor Nation, Gilmore Girl; will Vulcan nerve pinch pretty much anyone if prompted with cheese...Yes, even Jamie Fraser.
Your Daily Blend of Entertainment News
Thank you for signing up to CinemaBlend. You will receive a verification email shortly.
There was a problem. Please refresh the page and try again.