The Internet Is Having A Field Day With The Bachelor's Dramatic Champagne Meltdown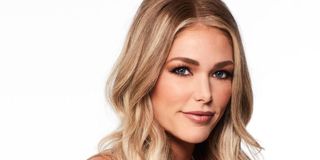 First of all, most of you lovely Bachelor Nation people probably caught this moment live on TV last night, but if you didn't, it's a classic and we will be sharing it below. So, spoilers, obviously.
The Bachelor had a big episode last night. Maybe big isn't the accurate way to put it, as a small champagne bottle ultimately ended up causing problems between franchise returnee Hannah Brown and Season 24's Kelsey Weier. The problems started when Hannah Ann and Peter popped open a bottle of champagne Kelsey had allegedly been hanging onto since she got there from Des Moines.
Ultimately, it turned out there were two bottles of champagne and Hannah Ann opened the wrong one inadvertently or possibly on purpose. Kelsey was willing to believe the latter and the exchanges about what happened escalated. Kelsey even brought her feelings to Peter's attention, then attempted to drink champagne straight from the bottle, leading to a moment that a lot of people are talking about on the Internet. But don't take it from me. Just watch it again. And again. And again.
Here's the gist. I have no idea how so much drama could surround a bottle of champagne, but last night's episode of The Bachelor was basically an episode of Masterpiece Mysteries with Peter stuck playing detective after being confronted with two sides of a story. Was Hannah Ann cracking open the wrong bottle of champagne on purpose or on accident? She claims the latter. Kelsey claims the former. Stay tuned.
Meanwhile, there are Bachelor fans online who are happy to claim this as an example of the producers behind the ABC series stirring the pot.
That Mickey meme is amusing, but this next tweet is really hammers this idea home.
This isn't the end to all of the online reactions, as the champagne mixup got a lot of people talking and not just sharing memes. I'm sure that Kelsey, when she had her wildest dreams of making it onto reality TV come true, never thought she'd be compared to Kermit the Frog on the Internet, but here we are.
Bless her heart. And just in case you wondered, directly before that champagne gulp, Kelsey even noted, "I'm not a classy bitch all the time." This has obviously led to even more tweets.
I would like to point out, this isn't the worst thing that could have happened with a champagne bottle. Remember that other reality star who was blinded in one eye after a cork accident? So maybe this is the TV moment that will launch a thousand memes, but things can always be much worse.
So, now you are caught up, or at least were able to enjoy some amazing reactions to one of last night's biggest TV moments. For more on Season 24, tune in to new episodes on ABC, Monday nights at 8 p.m. ET. And by all means, bring the champagne next time. And remember, kids, there is a way to open a champagne bottle safely and with flair.
Your Daily Blend of Entertainment News
Reality TV fan with a pinch of Disney fairy dust thrown in. Theme park junkie. If you've created a rom-com I've probably watched it.