Doctor Who Fave John Barrowman Says 'It's About Time' Captain Jack Returned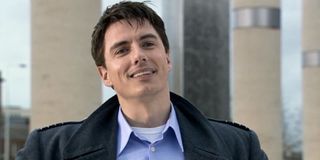 Warning! Spoilers ahead for Doctor Who's Season 12, Episode 5, "Fugitive of the Judoon."
It's been a long time since John Barrowman's Captain Jack Harkness has appeared in a Doctor Who episode official, but that changed in Season 12's "Fugitive of the Judoon." In a surprise and shocking twist, the charismatic fan-favorite character popped in for a memorable appearance that fans won't soon forget.
John Barrowman was also thrilled by this turn of events, agreeing with Whovians everywhere that "it's about time" Captain Jack made a comeback, both to the franchise and to the flagship series itself. Here's what the actor had to say about his long-overdue return to Doctor Who:
In "Fugitive of the Judoon," Captain Jack's appearance is quick, but he's insistent on finding the Doctor. Instead, though, he happens upon the Doctor's companions and warns them of what's to come: "Beware a lone Cyberman."
The message is ominous and mysterious, but John Barrowman's amazing return was so distracting that I haven't fully thought about what it might mean just yet. At least, beyond the obvious.
John Barrowman, who's always been down to return to Doctor Who since his years leading the spinoff Torchwood, predicted that the Internet would go wild following his surprise appearance. Suffice it to say that the Doctor Who actor is just as happy to be back as Captain Jack as the fans are to see him. But was this just a one-off appearance (unlikely) or can audiences hope for Chris Chibnall to have wooed Captain Jack back for multiple episodes?
In an interview with RadioTimes, John Barrowman is being cryptic about what his return means for the long run, but it all seemed to work out in everyone's favor. In his words:
I'm hoping that John Barrowman's return wasn't simply a one-off appearance. He was a sight for sore eyes! So it's still unclear whether or not Captain Jack will be back again after issuing his warning, and it's hard to tell if he'll ever get to interact with Jodie Whittaker's version of the Doctor. But he has to, right?
As exciting as it was to see John Barrowman on the show again, his appearance brings with it a lot of questions. Will Captain Jack offer more information about this mysterious lone Cyberman and help the Doctor decipher what it all means? It's always a possibility on Doctor Who (which was recently referenced in Netflix's Dracula, created by former showrunner Steven Moffat), but nothing is confirmed yet. Whatever the case, Doctor Who has ventured into new territory and Captain Jack's appearance seems to be a game-changer in Season 12.
Doctor Who Season 12 is back with new episodes every Sunday at 8 p.m. ET on BBC America. For more on what to watch, be sure to check out our 2020 midseason schedule for updated premiere dates and times.
Your Daily Blend of Entertainment News