The Wild Doctor Who Reference That Appeared In The New Dracula TV Show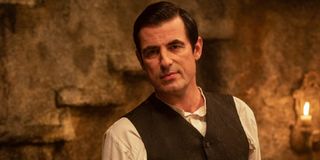 Dracula has debuted on Netflix and it's already offered fans plenty to discuss. In its recounting of the famous tale of Count Dracula, the series sets the stage for a plethora of new stories. However, one of the most surprising moments from the new TV show's first episode had nothing to do with Dracula at all, but involved a wild reference to Doctor Who.
In Dracula's premiere, the series, co-created by former Doctor Who showrunner Steven Moffat and Mark Gatiss, made a direct and subtle reference to one of the show's most well-known characters: Clara Oswald. After lawyer Jonathan Harker (John Heffernan) goes to Transylvania to visit with Claes Bang's Dracula, he receives a letter from his fianceé Mina. In the letter, she makes brief mention of an "adorable barmaid" working at The Rose and Crown.
For some background, Jenna-Louise Coleman's Clara Oswald appeared in the 2012 Doctor Who Christmas special, titled "The Snowmen." In the episode, she played a governess-turned-barmaid who worked at The Rose and Crown. While Coleman had previously appeared in an episode of Doctor Who, her turn as the barmaid in Victorian London was the first episode to formally introduce her as a companion to the Eleventh Doctor, then played by Matt Smith.
It's a clever reference, because it wasn't over-the-top and worked as a nod to Doctor Who and the show's fans without missing a beat. The reference makes sense, too, since both Steven Moffat and Mark Gatiss both used to work on the show.
In another twist, Steven Moffat and Mark Gatiss also added in another in-show reference. This one belonged to Sherlock Holmes, of course, which the duo also worked on together. In the scene that introduced the true identity of Van Helsing, Sister Agatha tells Jonathan Harker that she has a "detective acquaintance in London."
At a screening of Dracula's premiere, the creators confirmed (via Radio Times) that her sleuthing friend was, in fact, the famed Sherlock Holmes. Steven Moffat and Mark Gatiss, who also co-created Sherlock together, admitted that they didn't think anyone would pick up on the gentle nod. However, fans are nothing if not detectives themselves.
I imagine many fans wouldn't be opposed to a crossover between all three shows down the line, but a Doctor Who crossover would be more likely than Sherlock at this point, though they've both stated that they haven't said "goodbye" to Sherlock just yet. However, they're currently busy with Dracula at the moment.
Dracula, which is one of several shows premiering on Netflix in January, is now available to stream. For more on what to watch, be sure to check out our midseason schedule to find out what's new and returning to TV in 2020.
Your Daily Blend of Entertainment News
Thank you for signing up to CinemaBlend. You will receive a verification email shortly.
There was a problem. Please refresh the page and try again.