Will Shameless Get Emmy Rossum Back For Final Season?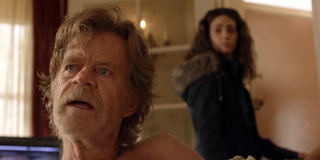 Fans were stunned when Shameless star Emmy Rossum decided to take her leave of the long-running series after Season 9. They were obviously worried that with the heart of the Gallagher clan gone that the show wouldn't be brought back, but a Season 10 renewal was granted. Now, though, we know that Shameless will, indeed, end with the Season 11 finale, which will land on Showtime at some point later this year. So, audiences want to know: will Rossum be back at all for the final season? Unfortunately, the answer isn't as cut and dry as anyone would like.
Shameless aired its Season 10 finale last night, and while a lot of things came to a nice sort-of end, there are plenty of places that showrunner John Wells and his team of writers can take the Gallaghers (and their friends) in the last season. But, the biggest question on everyone's minds will probably be whether or not anything will lead to a return from former star Emmy Rossum during Season 11. Here's what Wells had to say when asked if getting Rossum back before the end is a priority:
Well, this answer from John Wells, who spoke with TVLine, is certainly not of the more-Emmy-Rossum-on-Shameless dream crushing variety, but I think we can all see why I mentioned above that it wouldn't be a simple one, either. It's pretty clear that, even though Rossum and the show seem to have parted on very good terms, getting her back on Shameless, even for just a teeny surprise guest spot, will be a wait-and-see situation for the show, as much as it is for fans.
John Wells admitted that, had he his druthers, he never would have had to figure out a way to write out Emmy Rossum's Fiona in the first place, and that rings true considering how she left the show. Instead of having Fiona burn alive in a fire, overdose on drugs, get caught in some very illegal gun play or succumb to her injuries after a drunk driving incident, the long-suffering (sometimes through her own fault) Gallagher care-taker got a windfall and decided to use the cash to take off and leave Chicago's South Side (and her nutty family) behind.
With the notable and quite obvious exception of her dad, Frank, Fiona was thanked by the many family members she sacrificed for throughout her young life in order to try giving everyone a more stable childhood and actual promising future. Basically, Fiona was fed up and needed a break, and we know that she's been in contact with some of her folks since leaving, so, technically, she could pop back up in Chicago at any time.
As John Wells noted, Emmy Rossum is working on other things for the foreseeable future. Currently, Rossum is starring in the steamy story of Los Angeles' famous billboard queen in the eponymous Angelyne, so her schedule is likely pretty tight right now. With Shameless wrapping up this year, it'll probably be a bit of a struggle to get her on set before all is said and done, but it's not really impossible.
If you're worried, though, about Shameless ending without more Fiona sightings and think it would negatively impact the show, John Wells can at least put you at ease on that front. Here's what he had to say about whether or not he thinks the Gallaghers need her for their ending to have some real closure::
That's a very zen response, isn't it? Fans might be desperate for Emmy Rossum to bring Fiona back before the finale rolls credits for the last time, but it's good to know that John Wells feels it isn't an absolute necessity in order for Shameless to get the send off it deserves after eleven seasons.
Shameless Season 11 doesn't have a premiere date yet, but it is coming later this year, so stay tuned to CinemaBlend for the latest on the Gallagher family saga as it winds down.
Bachelor Nation, Gilmore Girl; will Vulcan nerve pinch pretty much anyone if prompted with cheese...Yes, even Jamie Fraser.
Your Daily Blend of Entertainment News
Thank you for signing up to CinemaBlend. You will receive a verification email shortly.
There was a problem. Please refresh the page and try again.