Love Island Host Caroline Flack's Death Confirmed After Family Reveals Unseen Instagram Post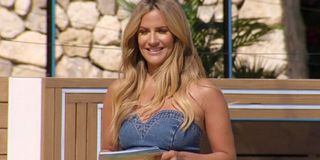 Former Love Island host Caroline Flack died on February 15. She was found unresponsive in her London apartment. At the time of her death, Flack's family lawyer reported she had committed suicide. Coroners confirmed her death and Flack's family recently revealed a previously unseen Instagram post written by the late host not long before she died.
Per Variety, the U.K. coroner revealed Caroline Flack's death was caused by suicide by hanging. The news of Flack's death came ahead of her scheduled court date on March 4. Flack had been charged with assault last December. Her family understandably asked for privacy following Flack's death. They have since released an unpublished Instagram post that the late host had written, but was reportedly told not to publish to social media. The post (via Eastern Daily Press), opens as follows:
In the unpublished Instagram message, Caroline Flack explained her feelings about what she'd been going through since her arrest. She seemingly wanted to make it very clear that she was not a domestic abuser, even though she took responsibility for the events of the night that resulted in her arrest.
She went on in the post to elaborate on her feelings:
Following the charges of assault, the late Caroline Flack had chosen to step down as host of Love Island ahead of its sixth season. At the time of her departure from the U.K. edition of the reality show, Flack cited not wanting to "detract attention" from the series, which was filming in Cape Town, South Africa.
Caroline Flack was 40 at the time of her death. Love Island U.K. returned to television this past Monday, but on a somber note. Narrator Iain Stirling opened the show with a tribute to Flack, recalling her "her passion, warmth and infectious enthusiasm."
Love Island got a U.S. edition, which aired in the summer of 2019 and will return for a second season this summer on CBS. For more on what to watch, be sure to check out our midseason schedule.
Your Daily Blend of Entertainment News
Your Daily Blend of Entertainment News
Thank you for signing up to CinemaBlend. You will receive a verification email shortly.
There was a problem. Please refresh the page and try again.