Outer Limits Movie Coming From The Sinister Team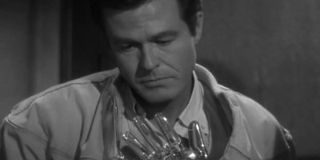 It very much seems as if Scott Derrickson has been called up to the big leagues for good. The director has a shiny new gig as helmer for 2016's (?) Doctor Strange, and his chiller Deliver Us From Evil is about to open on the Fourth Of July weekend. Everyone is going to want to be in the Scott Derrickson business, so it just makes sense that MGM would enlist the filmmaker to re-ignite one of their most treasured properties, The Outer Limits.
Variety reports that Derrickson is coming aboard MGM's The Outer Limits to write and direct the project, which recently had been languishing in development hell. A previous version of this adaptation was being penned by Patrick Melton and Marcus Dunstan, arguably the most successful people to come out of Project Greenlight. Apparently, the writers of Saw 3D couldn't earn favor with MGM with their treatment, so Derrickson and C. Robert Cargill (whuzzup, Massawyrm!) are coming onboard to provide a new treatment.
The Outer Limits was an anthology science fiction series that aired from 1963 to 1965, spawning two revivals in the 90's (on Showtime) and the early 2000's (on the Sci-Fi Channel). While an anthology show is a dicey choice for an adaptation (and the fans excited by this are likely in their 40-50's), apparently this adaptation will be focused primarily on the classic episode Demon With A Glass Hand penned by Harlan Ellison.
Fans of Demon With A Glass Hand know why this is eerily significant. The classic story, which aired in season two, finds a man with no memory who discovers his hand has been computerized, and that he is chased by an alien race from the future. As he unravels the mystery, he learns key elements of his existence that makes him question his identity. Famously, several elements from Demon With A Glass Hand popped up in The Terminator – a lawsuit added to confusion that Ellison further obscured by saying The Terminator swiped from Soldier, another old The Outer Limits episode.
Cargill and Derrickson last collaborated on Sinister, one of the spookier mainstream horror films in recent years. They've also written the sequel, which Ciaran Foy is directing, so they have a pretty steady working relationship by now. MGM has been eager to get their older properties back into working condition, and while that worked with James Bond and The Hobbit, it stalled in regards to Robocop. Perhaps The Outer Limits could be their next resurrection success.
Your Daily Blend of Entertainment News
Thank you for signing up to CinemaBlend. You will receive a verification email shortly.
There was a problem. Please refresh the page and try again.