How Better Call Saul Brought Back Breaking Bad's Hank And Gomez, And What It Means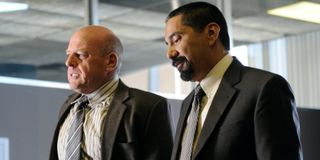 (Image credit: amc press)
Warning! Spoilers below for the third episode of Better Call Saul Season 5.
Ever since fans learned in January that Better Call Saul would be ending in Season 6 and further closing in on Breaking Bad by bringing back Dean Norris' Hank Schrader and Steven Michael Quezada's Steven Gomez, it made the wait for Season 5 as excruciating as the story is getting for these characters. Thankfully, the universe didn't collapse on itself before Hank and Gomez arrived to give Bob Odenkirk's Saul Goodman a hard time. At least, they thought they were giving him a hard time.
Below, let's take a look at how things played out for Hank and Gomez on Better Call Saul, and what it means for the show's characters in the future, among other things.
How Hank Shrader And Steven Gomez Showed Up On Better Call Saul
It would feel weird to call this a return for the Breaking Bad characters, seeing as how Better Call Saul is still taking place ahead of the flagship drama's central timeline. But it was indeed a return to the franchise for former co-stars Dean Norris and Steven Michael Quesada, whose DEA agents made a very fruitful appearance to question the currently incarcerated Domingo Molina. (It was just one episode prior when the character earned his Krazy-8 nickname from Lalo.)
Rightfully, both Hank and Gomez entered the questioning with some reservations, considering Krazy-8 had previously refused to talk. And they didn't even know that Nacho coached Saul, who then coached Krazy-8, about what the new game plan was. Rather than keeping silent, Krazy-8 had to put on an act to convince the DEA agents that he knew several locations used as dead drops for drug money to change hands. The ploy here, of course, is that Krazy-8 isn't narcing on Lalo's side of the business, but rather Gustavo Fring's.
Not that Fring will be blindsided by the busts. His back-pocket snitch Nacho fully clued him in on what the DEA is planning to do at the dead drops. But rather than being able to cleanly pull his resources in order to avoid detection, Fring made the decision to let the money drops continue as planned, since doing the opposite would prove that there was a mole within the organization. Nacho might not be the very first suspect in that scenario, but it wouldn't take Lalo too long to figure everything out.
Plus, we already know that Krazy-8 survives long enough to make it to Breaking Bad's first season, where he gets killed by Walt. As such, it's likely everything will work out to get him released from jail in the very near future. I just hope he's not counting on the DEA's protection to keep him safe forever.
How Will Hank And Gomez Connect Better Call Saul's Future To Breaking Bad?
Now that Hank Shrader and Steven Gomez are getting looped into the ever-expanding drug cartel empires, it means that Better Call Saul's intrinsic connection to Breaking Bad is just around the metaphorical corner. The DEA's involvement, after all, further threatens the criminal enterprise establishment from within, and possibly leads to Nacho's eventual exit.
In the first place, the episode "The Guy for This" introduced Bob Odenkirk's still-evolving Saul Goodman to Tony Dalton's Lalo, which is what sets up Saul's first episode of Breaking Bad. In the Season 2 installment, in which he's brought in to represent Badger, he's kidnapped by Walt and Jesse and taken out into the desert with a hood on his head. It's there where he first uttered Lalo's name, believing him to be responsible for his mysterious apprehension. While not a confirmation, that would imply that Saul is unaware of what Lalo's final fate was at that point in the narrative.
If it wasn't already quite clear that Fring has his sights set on eliminating Lalo from the drug-dealing food chain, Krazy-8's admission to the DEA will no doubt hasten Fring's methods of retaliation, though it's not entirely clear how that plan will go down. Now that some of his dead drop locations are known, it's possible he'll have Nacho spread different information about Lalo's side of the business. We know that Fring isn't entirely against dealing with federal agencies if it helps his own efforts, and also that Dean Norris and Steven Michael Quezada will be around for Episode 4. So we just might see them crossing paths with Fring.
What fans probably want to see more than government involvement is another scene featuring Giancarlo Esposito's Fring and Tony Dalton's Lalo going at it head to head, allowing all of their personal and emotional angst to come to the forefront. If anything, that would very likely end in Lalo's grisly death, so I can't imagine it happening before the Season 5 finale, and that's assuming Lalo doesn't survive until Season 6.
Whenever Hank and Gomez first enter the picture in Breaking Bad, Hank is bragging to Walt and others about a recent meth lab bust which resulted in the confiscation of around $700,000. All that talk leads him to invite Walt on the ride-along that first links the chemistry teacher to former student Jesse Pinkman and his own meth connections.
Which all ties back to how exceedingly comfortable and slightly cocky Hank had gotten about how well the DEA was doing with the local meth scene by that point in Breaking Bad, implying he'll be making several high-profile busts prior to that point that almost definitely stem from the events in "The Guy for This" and "Namaste." Here's hoping things start seriously unraveling for the drug kingpins next week.
Does This Mean Walt And Jesse Might Show Up Soon?
When Better Call Saul brings in some big Breaking Bad guns like Hank Shrader, fans might start gathering assumptions that the show will at last introduce Aaron Paul's Jesse Pinkman and Bryan Cranston's Walter White to the sun-baked festivities. It's an understandable thought train, though it's not necessarily one that's heading to the most pleasurable destination for all involved.
What I mean is, Better Call Saul co-creators have already provided their yearly update on that front and confirmed that neither Walt nor Jesse will be around in Season 5, despite Bryan Cranston's readiness to join the show. But don't let that stop you from holding out hope for the sixth and final season. Here's how Peter Gould and Vince Gilligan put it when speaking at the show's panel during this year's Television Critics Association winter press tour.
While perhaps disappointing, Vince Gilligan and Peter Gould's update isn't out of the ordinary, and it makes all the sense in the world that they would want or need to wait until the final season to fully connect Better Call Saul to Breaking Bad's most important pair of characters. It's gotta be so epic that nothing better could possibly follow it up. No pressure, right Vince and Peter?
Better Call Saul airs Monday nights on AMC at 9:00 p.m. ET, so be sure to keep watching to see where things go next.
Assistant Managing Editor
Nick is a Cajun Country native, and is often asked why he doesn't sound like that's the case. His love for his wife and daughters is almost equaled by his love of gasp-for-breath laughter and gasp-for-breath horror. A lifetime spent in the vicinity of a television screen led to his current dream job, as well as his knowledge of too many TV themes and ad jingles.
Your Daily Blend of Entertainment News
Thank you for signing up to CinemaBlend. You will receive a verification email shortly.
There was a problem. Please refresh the page and try again.