Josh Peck's Kid And John Stamos' Kid Did Not Get Along While Filming Fuller House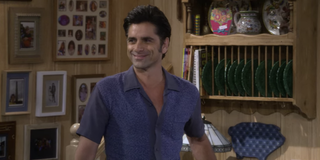 It's hard being a new dad, especially when your kid does something that totally embarrasses you. John Stamos experienced that feeling first-hand after his son, Billy, visited him on the Fuller House set the same day his former Grandfathered co-star Josh Peck was on the set with his son, Max. It's safe to say the two did not hit it off right away.
Josh Peck, who's set to star in the upcoming Disney+ TV series reboot of Turner And Hooch, was guest-starring on Fuller House when his wife brought his son for a visit. John Stamos' wife also brought Billy and the two proud papas decided to pose with the boys for a photo. That's where things took a turn, as John Stamos told Extra.
Kids do the darndest things and there's not much that a parent can do to stop them, even a dad with as much star power as John Stamos. Though he joked in the interview that the Drake And Josh star owns his house now as payback for the incident, there don't seem to be any hard feelings after the incident on the Netflix show. Still, it can be hard on a parent to see their perfect little angel act more like a little devil.
Though Fuller House was canceled after five seasons, the cast seems to have gotten along great. Like a real family, they were all on board for group events like Bob Saget's wedding. They also remained mum when asked about Lori Loughlin, aka Aunt Becky, and her involvement in the college admissions scandal. Even after Lori Loughlin was dropped from the fifth and final season, the rest of the cast held firm against the onslaught of questions about her legal woes.
Whatever project John Stamos is working on, Billy easily livens things up with every visit. While John Stamos was rehearsing for Little Mermaid Live!, Billy didn't hold back his excitement at seeing his dad performing silly feats, like dancing on table tops. The 1-year-old's enthusiastic response might have interrupted the rehearsal, but something tells us no one minded all that much.
John Stamos doesn't really mind the interruptions and slight embarrassments that come with fatherhood, however. Considering all the work it took to make little Billy--including the awkward time John Stamos almost accidentally masturbated to Fuller House--the joy of having the little guy in his life seems to far outweigh the negatives.
Brianna Morton was once duped by a tabloid. Once. Since then, she's dedicated her life to exposing those gossip rags for the liars they are. Nothing's better than celebrity gossip, and nothing's worse than falling for false rumors.
Your Daily Blend of Entertainment News
Thank you for signing up to CinemaBlend. You will receive a verification email shortly.
There was a problem. Please refresh the page and try again.