Really? Ellen Pompeo Thinks Grey's Anatomy Gave Justin Chambers' Alex Karev 'The Best Send Off'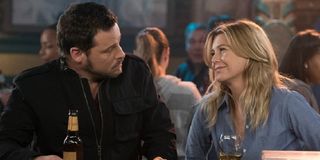 While Grey's Anatomy finally said goodbye to Justin Chambers' Alex Karev, it wasn't exactly the send off most fans were hoping for. In fact, many fans were quite livid with the way the long-running ABC series wrapped up Alex's storyline. As one of only a handful of original cast members left on the medical drama, viewers expected a bit more from his exit, with some wishing the writers had actually killed him off instead. However, Ellen Pompeo thinks Grey's Anatomy gave Alex Karev "the best send off." Really?
When Justin Chambers formally announced that he was leaving Grey's Anatomy for good in January, with his final episode having already aired last November, Ellen Pompeo took to social media to react to her long-time co-star's departure. While her response at the time was brief, Pompeo recently took to Instagram to share her expanded thoughts on Alex's ending, explaining why that controversial ending was a good one for Alex. In her words:
Alongside her message -- which did not mention actor Justin Chambers -- Ellen Pompeo posted a video of all of Meredith and Alex's moments together over the years. Their friendship really has been one for the ages and will remain a cornerstone of Grey's Anatomy. Check out the video and full caption below!
Personally, the flashbacks to Alex's early days were nostalgic, but they were more to remind fans that he and Izzie Stevens were together. Alex, who leaves letters behind to those most important to him, including his wife Jo, explained that he'd reconnected with his ex-wife Izzie and that she'd given birth to twins she'd failed to tell him about them for five years. After 16 seasons on the show and so much character development, fans wondered whether Grey's Anatomy ruined Alex by having him leave Jo for Izzie so abruptly.
For what it's worth, Ellen Pompeo clearly doesn't think so, encouraging fans not to be "sad" about Alex's departure or the way that he left Grey Sloan behind. However, considering that Pompeo's Meredith Grey relied on Alex's support to get her medical license back and how close a friendship they've had all these years, I'm honestly surprised she thought his ending was the "best possible storyline," but to each their own.
Grey's Anatomy airs Thursday nights at 9 p.m. ET. For more on what to watch, be sure to check out our 2020 midseason schedule for updated premiere dates and times.
Your Daily Blend of Entertainment News